Security Guard Wows With Impromptu Singing Tribute to Queen Elizabeth II
A musician has shared footage of the moment she was joined by a railway worker with a stunning voice for a spectacular impromptu tribute to Queen Elizabeth II at a central London train station.
Anna Lapwood, an organist and the director of music at Pembroke College at the University of Cambridge, took to Twitter with a video of the magical performance, which took place Sunday evening at London Bridge Station.
The organ set up at the station was rescued, restored and installed by Pipe Up For Pipe Organs, a charity initiative set up to find new homes for church organs no longer in use.
Lapwood told Newsweek she'd visited the organ countless times before during visits to London and would often play if she had 10 minutes to spare. This past Sunday, however, she felt a particular need to play in light of the queen's passing.
"I thought I'd go and play a couple of pieces that might help soothe people who were feeling sad with what's going on," she said. "I started playing and ended up playing for about three hours as people started to come over and listen."
One of those people was Marcella, a member of station staff who, it quickly emerged, had a secret talent. As Lapwood recalled: "We were talking about the national anthem, and she just sang a phrase of it. And I went 'hang on a minute...'"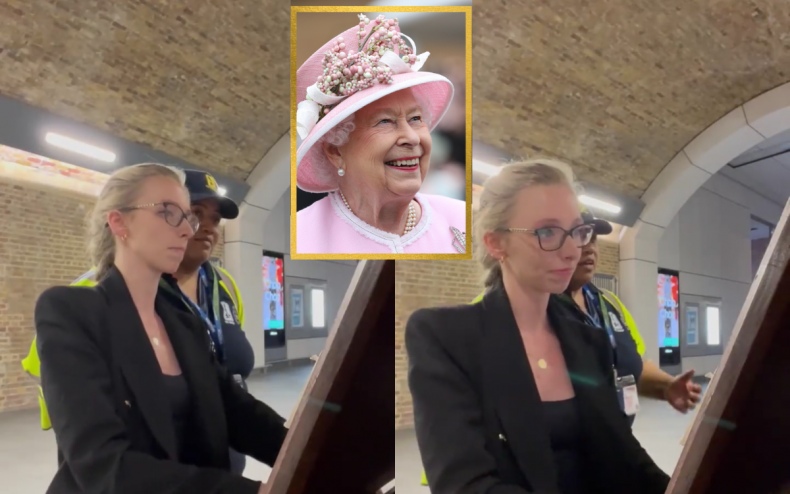 The pair proceeded to perform a duet of the national anthem with Lapwood in awe of Marcella's incredible voice - but they weren't finished.
Marcella, who revealed she was a trained singer, then suggested they perform George Frideric Handel's "Lascia ch'io pianga." While Marcella's face is largely obscured on the video due to the positioning of the camera, it still captured Lapwood's emotional reaction to hearing her voice in all of its glory. "It was soaring," she said. "Suddenly her voice opened up in a way I hadn't heard before."
"This lady who has just been walking around the station and probably hasn't had people give her a second glance, had this talent and had been gracious enough to share it with me and everyone there. It just felt like such a special moment. I was having to try quite hard not to cry."
The performance drew a crowd with Lapwood and Marcella earning a rousing round of applause for their efforts when they finished. Lapwood's video drew a similar response on social media, where viewers were moved to tears, describing the footage of the performance as "magnificent" and "extraordinary" among other things.
At the time of writing, Lapwood's video has amassed more than 4 million views, the footage resonating with many of those mourning the loss of the British monarch.
"We're all feeling the need for human connection," Lapwood acknowledged. "None of us quite know what we're supposed to be feeling. It came as a bit of a shock to everyone that the Queen died quite so suddenly. So I think people have responded to that element of the video."
Lapwood has since returned to the station to catch up with Marcella with fans hoping for a repeat performance in the not-too-distant future.
"I think as musicians, we sort of converse through music," Lapwood reflected. "So it's easier for us to sit down and do an impromptu video with someone than it is for us to sit down and have an impromptu conversation with someone. It felt like the perfect example of that."
She expressed hope that the video will inspire others to use music as an outlet to explore their feelings.
"You see everyone online being like, 'Oh, you need to go and be a professional singer.' And actually, we all need to also support the idea of people giving music as a hobby, for fun, and as something that soothes them and provides an emotional," she said.
"If she wants to be a professional then brilliant, but also she just wants to do it for her own enjoyment then that is equally brilliant."
The impromptu gig is one of a plethora of heartfelt tributes to Queen Elizabeth II, who died on Thursday at 96.
Oscar winner Olivia Colman, who previously played the monarch in The Crown, was among those to pay her respects, while mourners in London have been asked to stop leaving marmalade sandwiches out in tribute to the Queen.
Newsweek has contacted Brooks for comment.