Transgender Woman Arrested After Man Calls Cops On Her for Using Denny's Ladies Restroom
A transgender woman was arrested on disorderly conduct charges at a Denny's in North Carolina this week, after a fellow customer told police she used the women's restroom.
An unnamed man notified cops that the woman, 22, was in the bathroom at the restaurant in Shelby, about 45 miles from Charlotte, while his wife was using the facilities as well. The officers who responded explained that the trans woman hadn't broken any laws. But the argument escalated and the transgender customer allegedly spit in the direction of the man and his family.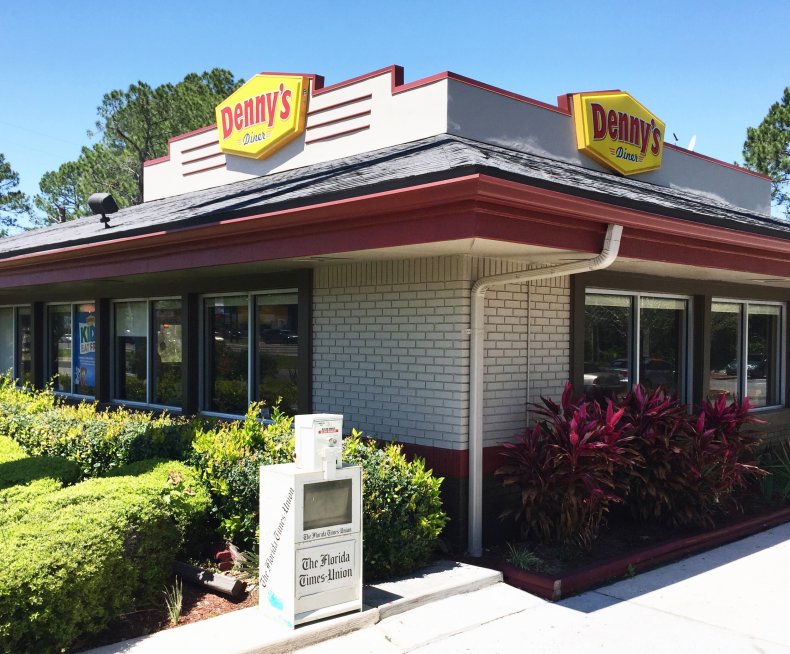 In a statement, Denny's said customers at any of its locations nationwide should feel free to use the bathroom that matches their gender identity. The statement added that the company "does not tolerate discrimination of any kind" and it expects customers to treat people equally.
Public bathrooms became a battleground issue in America in 2016, when several states starting drafting legislation barring trans people from using facilities that aligned with the gender identity.
North Carolina was one such state, passing HB2, a law that both banned trans people from using bathrooms matching their gender identity and prohibited cities from passing LGBT-rights ordinances. Protests and boycotts, including from the NCAA, cost the state an estimated $560 million in revenue and led to Republican Governor Pat McCrory losing his bid for reelection.
When HB2 was repealed in 2017, it left North Carolina in the same gray zone it was before the bill passed. And the repeal measure, HB 142, also put a moratorium on pro-trans bathroom ordinances until December 1, 2020.
In October 2018, a federal court declared that House Bill 142 doesn't bar transgender people from using the appropriate facilities.
"I am relieved to finally have the court unequivocally say that there is no law in North Carolina that can be used to bar transgender people from using restrooms that match who we are," said plaintiff Joaquin Carcaño, a transgender man. "For the past two and a half years, I have been unable to use restrooms in my home state without worrying that I will be subject to discrimination, harassment, or even arrest."
In May 2018, Republican congressional candidate Jazmina Saavedra filmed herself barging in on a transgender woman using the women's room at a Denny's in Los Angeles.
In a Facebook live clip, Saavedra turned the camera to the stall door and said "there's a man here saying that he's a lady."
"Why you use the ladies' room?" Saavedra can be heard asking. The person replied, "I'm a woman, and I deserve to use the ladies room."
Transgender Woman Arrested After Man Calls Cops On Her for Using Denny's Ladies Restroom | News