Trans Rights Protesters Occupying Oklahoma Capitol Building Sparks Debate
The occupying of the Oklahoma State Capitol by transgender rights activists has sparked an online debate about whether the demonstration is comparable to the January 6 U.S. Capitol insurrection by Trump supporters.
According to the Oklahoma Daily, around 150 people entered the building on Monday, protesting two bills introduced to the state senate that would restrict gender-related healthcare. Many sported trans flags and held placards that carried phrases including "we are not a threat so stop making us a target" and "stop healthcare bans on trans."
Footage taken by Nick Camper, a reporter for local news channel KFOR, shows activists chanting "trans lives matter" in the main atrium of the capitol. In other clips, they can be seen shouting "protect trans kids" and "we are Oklahoma." Later, protesters appear on balconies on the floors above chanting: "This is our house."
The protest comes in response to Senate Bill 129—which would ban gender reassignment surgery for those under 26 years of age—and Senate Bill 122, which would prohibit people under the age of 18 from undergoing medical treatment for gender reassignment. Both bills were introduced by Republican state senators.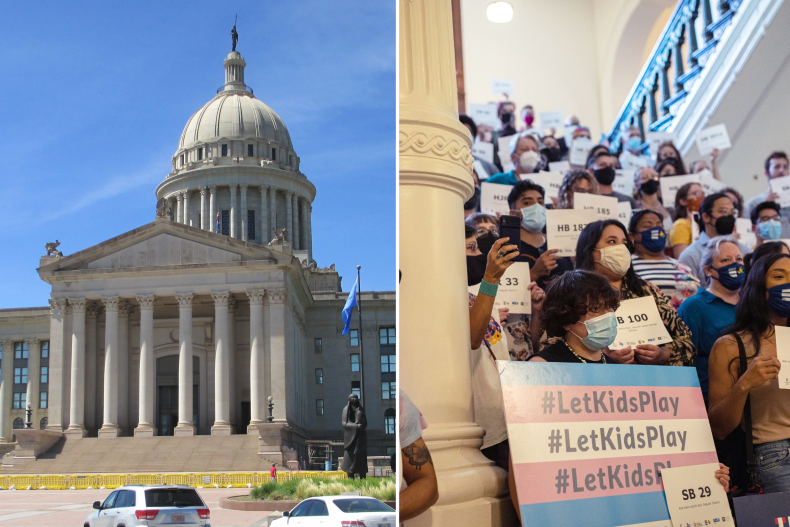 The demonstration occurred on the same day that Oklahoma Governor Kevin Stitt gave his State of the State address, in which he endorsed Senate Bill 122. "As governor, I will never shy away from calling out right from wrong," he said in his speech. "I will not be intimidated by partisan interest groups or make decisions based on groupthink."
Benjamin Patterson, a transgender man, told the Oklahoma Daily that the protest was "aiming to bring the community together," while Zephyr Cove, one of the demonstrators, said: "These kids shouldn't be forced to have to deny that just because the people around them won't listen to them."
However, social media users have been quick to use the February 6 demonstration to draw parallels with the January 6, 2021, riots, insinuating that the trans protesters would receive different treatment.
"Oklahoma came under attack today by a group of insurrectionists," tweeted Libs of TikTok, a conservative, anti-LGBT account owned by Chaya Raichik. "I'm sure the FBI is already on it and will use every available resource to identify all these domestic terrorists."
Meanwhile, Jack Posobiec, senior editor of conservative outlet Human Events, said the group had "stormed and occupied" the state capitol. Other users commented that it was "January 6 all over again" while others called it a "transurrection."
The January 6 uprising saw supporters of Donald Trump storm the U.S. Capitol in an attempt to prevent the certification of Joe Biden as the president in an election Trump has on numerous occasions described as "rigged." The event saw the deaths of five people, the suicide of four responding officers and damage costing more than $2.7 million.
From the footage of the Oklahoma protest, however, there does not appear to be any damage to the building and demonstrators can't be seen causing any destruction.
"I don't see any broken windows or destroyed property," @AmazonEve tweeted, adding: "They are two different events and vastly different level of violence."
"Did they break through any barriers? Or were the doors opened for them to come in?" @TaraLaRosa asked.
Newsweek has contacted the Oklahoma governor and the state's district attorney for comment.