Transgender Student Questions Glenn Youngkin on Restrooms
Virginia Governor Glenn Youngkin faced questions about his state's LGBT guidelines for public education from a transgender student from Arlington during a CNN town hall Thursday.
According to Virginia's Department of Education (DOE) Model Policies released in 2022, students would be required to use bathrooms, locker rooms and participate in sport leagues that correspond to their biological sex. Schools are also only permitted to change the legal name or sex of a student's record "if a parent or eligible student submits a legal document ... substantiating the student or former student's change of legal name or sex."
During the town hall Thursday, Youngkin was pushed on several of Virginia's proposed guidelines by students in attendance, such as 17-year-old high-schooler Niko, who identifies as a transgender man.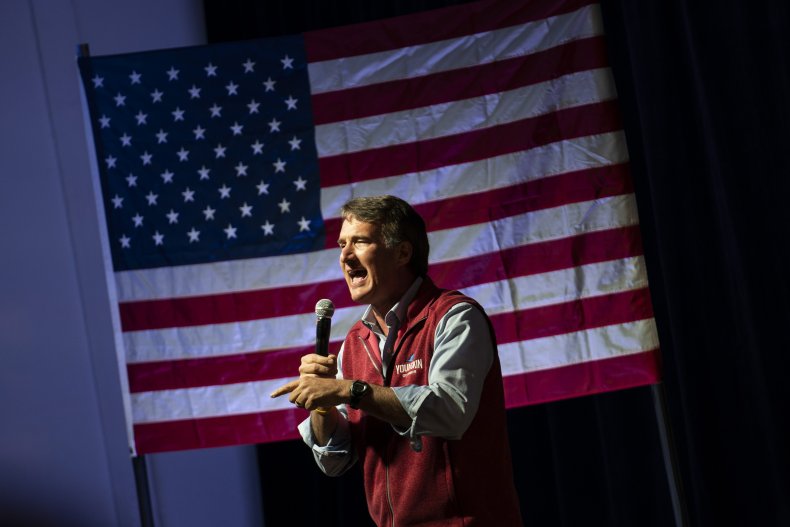 "Governor Youngkin, your transgender model policies require that students play on the sports teams and use the restrooms that correspond with their sex assigned at birth," Niko said. "Look at me. I am a transgender man. Do you really think that the girls in my high school would feel comfortable sharing a restroom with me?"
In a clip of the exchange posted by CNN on Twitter, Youngkin starts by thanking Niko for attending the town hall, and said that it was "really important" for parents to be engaged in conversations about gender policies in schools.
"I also think that there are lots of students involved in this decision, and what's most important is we try very hard to accommodate students," the governor continued. "That's why I have said many, many times, we just need extra bathrooms in schools. We need gender-neutral bathrooms, so that people can use a bathroom that they, in fact, are comfortable with."
Youngkin also took time in his answer to defend the state's guidelines on transgender student athletes, saying, "I think sports are very clear. And I don't think it's controversial. I don't think that biological boys should be playing sports with biological girls. There's been decades of efforts in order to gain opportunities for women in sports, and it's just not fair."
The governor's answers throughout the night were met with backlash from some LGBT activists on Twitter, such as the Human Rights Campaign (HRC), which tweeted, "Gov. Youngkin is falsely claiming he's an advocate for the rights of all parents so they can ensure their children are supported."
"He's only looking out for the interest of SOME parents," the HRC continued. "His policies strip LGBTQ+ students of the support & resources needed to thrive."
Virginia state Senator Ghazala Hashmi also reposted a clip of Youngkin's exchange with Niko, writing that the governor's "proposed 'model policy' for transgender students would deny Niko the right to be seen and acknowledged as a transgender man."
Youngkin's administration has not established a clear timeline for when the model policies will take effect in Virginia. In the fall, the state was still reviewing more than 71,000 comments it had received during a public-feedback period for the policies, and in December, a commission of state lawmakers filed an objection to the guidelines, reported the The Center Square.
The DOE previously said that the policies "will become effective when finalized by the superintendent of public instruction."
Under Virginia DOE's previous guidelines, students are allowed to use the pronouns, bathrooms or locker rooms that reflect their gender identity. Schools are also advised not to disclose a student's gender identity to other students or parents.
Youngkin's new guidelines state that, "No policy, guidance, training, or other written material issued ... may encourage or instruct teachers to conceal material information about a student from the student's parent, including information related to gender."
Throughout the town hall on Thursday, Youngkin said that his approach to LGBT issues and other educational policies starts with a focus on "parents and transparency." When asked about his position on the removal of certain books from school libraries, the governor said it was important "to make sure parents know what's in the library, and parents understand what materials are being used in the curriculum."
Newsweek has emailed Youngkin's press secretary, Macaulay Porter, for comment on Thursday's town hall.