Florida TV Cuts Feed as Ron DeSantis Shows Explicit Content in School Books
Gov. Ron DeSantis showed a video featuring explicit content in some books pulled from schools during a news conference.
Some news stations cut their live feeds when books with graphic content were displayed, the governor's press secretary said.
Mahsa Saeidi from WFLA said the station's live feed was taken down when a warning said sexually explicit content would be shown.
Several Florida news stations reportedly cut their feeds as Gov. Ron DeSantis showed a video featuring explicit content in some books during a news conference.
During a press conference on Wednesday, the governor said reports that his administration was banning books was "a hoax" after viral videos showed empty bookshelves in Florida schools as districts sough to comply with a new DeSantis–backed law that requires all books to be approved by a certified media specialist.
DeSantis then proceeded to defend the removal of books from school libraries for containing "pornographic" content, moments after a six-minute video was shown spotlighting several books that have been pulled from schools. They include Maia Kobabe's memoir Gender Queer and Mike Curato's graphic novel Flamer, which the video noted has a shower scene where a boy has an erection, and another where characters masturbate together.
Some local news affiliates cut their live feeds as the video was shown, the governor's press secretary Bryan Griffin wrote on Twitter. "Some of the media had to cut their feed when books with graphic content were displayed that were found in K-12 school libraries," Griffin wrote. He has been contacted for further comment.
DeSantis also addressed it during the news conference, saying: "I think some of the news had to cut the feed because it's graphic."
Mahsa Saeidi, an investigative journalist with WFLA, said on Twitter that the station's live feed was taken down when a warning said sexually explicit content would be shown, but that it was also disrupted briefly later on due to a technical issue.
"Our feed is back up on @WFLA — @GovRonDeSantis takes stage —after 5 minute video showing sexually explicit content/books that DeSantis' office says were found in Florida schools," Saeidi wrote.
She later added: "I'll say it again. When we were told sexually explicit content would be shown—we went down. I am not disputing that. I emailed my newsroom, concerned. Then after that—around 11:21—we had a technical issue when [state Senator Manny Diaz Jr.] was speaking. True technical issue."
In another tweet, she wrote: "I am NOT saying we would air that content. It was explicit. I have not seen that on our news before— there would have to be a discussion and manager approval— however, the warning is why we did not show it."
DeSantis held the press conference following viral videos and reports about empty shelves in school libraries as districts worked to comply with House Bill 1467, which took effect in July 2022. The law requires that all books and materials be reviewed by a district employee holding a valid educational media specialist certificate, who will determine if books are age-appropriate, free of pornography and "suited to student needs and their ability to comprehend the material presented."
In February, a substitute teacher who was fired after posting videos of the empty bookshelves, told Newsweek that teachers were afraid of falling foul of the law and losing their teaching licenses.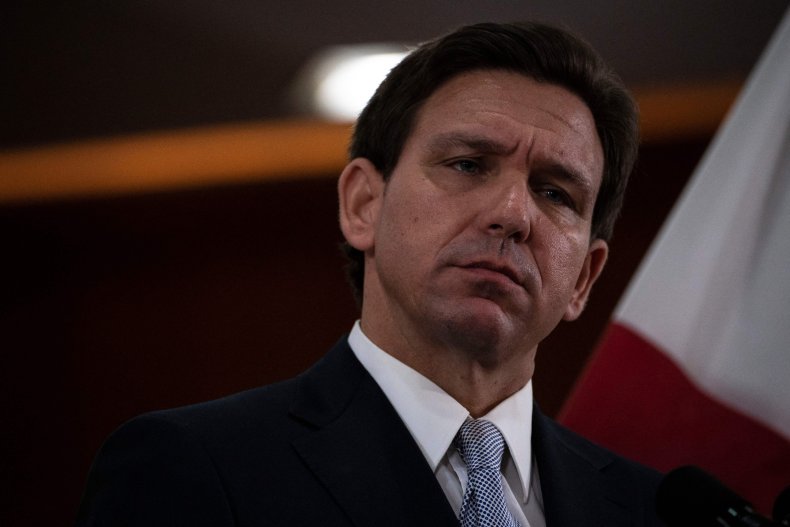 At Wednesday's news conference, DeSantis called those videos part of an attempt to create a political narrative.
"And it's a false political narrative," he said. "And that's bad enough as it is, I guess, but for me, the important thing is that's a false narrative in service of using our schools for indoctrination rather than education."
Suzanne Nossel, the CEO of PEN America, a nonprofit that works to defend free expression, hit back at DeSantis' remarks in a Twitter thread.
"If we take the Governor at his word that he is simply aiming to protect students from porn and sexualized texts, then the approaches and methods being legislated statewide go far beyond any conceivable effort in service of that goal," Nossel wrote.
She said the state had passed "vague laws limiting what books can be in schools and libraries with stiff penalties."
It is possible that some schools have been "overly cautious" in removing books, Nossel wrote. "But that is how censorship works—it sweeps up not just material directly banned but also exerts a well-documented 'chilling effect' whereby a wider circle of books and ideas are off limits to avoid risk of punishment."
Some districts are being sued under the new laws, Nossel said, while some activists and parents take them "as license to demand removal of any books they don't care for" and districts "feel pressure to relent."
She said PEN America documented 565 books banned in Florida schools in the 2021-22 school year, some permanently and others temporarily pending investigation.
"The result is the same: students can't access books," Nossel wrote.