A father is being bashed for giving his daughter a necklace that belonged to his late wife instead of to the woman's daughter, garnering him a lot of harsh criticism for the move.
The now-viral Reddit post, titled, "AITA for telling my husband he should be ashamed of himself, and he would be incredibly lucky if his oldest daughter ever speaks to him again," has been upvoted 17,900 times since it was shared to the subreddit "Am I the A**hole." Redditor @KayRanDoe shared the post that received 1,600 comments.
The original poster (OP) married her husband three years ago, and he was divorced and widowed before that. He has two daughters, Annie who is 26 from his first marriage, and he has another daughter named Amy, who is 17, from his second marriage.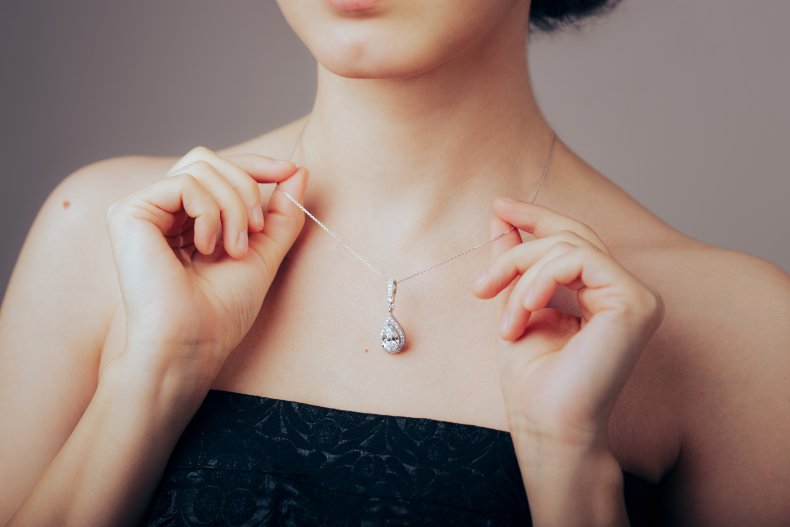 "My husband told me about his late wife, his ex-wife, the issues he had as a blended family when he remarried, and Annie was not on board with him remarrying and the fact this strain ended his second marriage," the OP revealed. "He was also honest that Annie never forgave him for remarrying and never wanted anything to do with Amy or him after she turned 18."
However, what her husband didn't tell her was the "major role he played" in all of it. She found out the new information three weeks ago at a dinner with her husband's extended family.
When Amy was about 5, she took a liking to a necklace that belonged to Annie's mother and the OP's husband's late wife. He gave Amy the necklace, which "upset" Annie because all of her mom's possessions were supposed to go to her.
SWNS Digital reports that a OnePoll survey for Shinola found that more than half (54 percent) of respondents' most prized items were a piece of jewelry. A large percentage, 65 percent, valued family photos as their most prized item as well. In addition, 29 percent of people hoped to inherit a piece of jewelry.
The OP continued: "My husband told Annie that it was just one item and she needed to get over it because Amy was entitled to have something too. Annie had brought up that it was the piece her mother wore the most. My husband told her that it was a special gift to give to her sister, that she was being selfish."
The man's ex-wife told Annie that her mom would want "someone as special as your sister" to have the necklace as well, and Annie "never got over" the situation. She even tried to take it from her sister, and she was punished. The last time Annie saw them, "she told them all to go to f**king hell."
Amy still has the necklace as well, and she "let it get into a bad way." She also talks about it like her father purchased it for her. In another comment, the OP revealed Amy has let the necklace get "broken" and "damaged" in many ways. "It looks so different from a photo of it from a few years ago," she said, "which is such a shame given the history there."
The OP admitted she was "shocked," and she never would have "expected" her husband to be like that. She also said he was "very unapologetic" about the whole thing, and he told her Annie would have to "get over it someday." She also added in a comment that he was "very, very cold about the whole thing when it did come out," and he doesn't see anything wrong with what he did.
But the OP added her own feelings into the conversation. "I told him he should be ashamed of himself," she wrote. "That he should have allowed Annie's mother's possessions to be hers to do with as she chose, that Amy did not give a crap about his late wife or the significance of those items, but Annie would have. I told him he will be incredibly lucky if his daughter ever speaks to him again, and I would not blame her if she never did."
Apparently, her husband was "furious" that she "judged" him, and his family said she should take his side over Annie who she doesn't know. However, the niece and nephew in the family, who explained the entire story, also think the man did a "f**ked up thing."
In a comment to another Redditor, the OP added: "If my surviving parent had given my deceased parents' stuff, especially something as sentimental as their most worn item to my sibling who was not my deceased parents' child, I would not 'get over it.' Speaking as someone who has lost a parent, it's a betrayal."
She also mentioned how he "blamed" Annie for "everything," and he never mentioned the necklace. The OP also added that the fact that her husband was "so cold" about the situation when she did find out "speaks so much to me as an alarm bell."
"He doesn't even have any guilt," she said. "Even if I thought I did the right thing, I would still feel bad about how things turned out that it left me without a relationship with my own child. He had expressed regret about it before. But when the truth was revealed, he was so dismissive and cold."
The OP revealed she is "essentially ready to divorce" over the situation. "He's not the man I believed him to be, and I would forever worry that my children (two adult kids) would be f**ked over if I died before him," she said. "He has shown how callous he can be to his own child. I don't see why he'd care about my grown ones more. Or why he'd care more for me than his first wife."
Redditor Reactions: 'Just Terrible'
The comments came pouring in, and many people are supporting the OP and slamming her husband given the circumstances. One user thinks that "losing a parent" while young is "bad enough," but having your "remaining parent" not respect boundaries about items of the deceased parent "is just terrible."
"OP did nothing wrong and spoke the truth to her husband," the Redditor pointed out. "He has no one to blame but himself that he doesn't have a relationship with his eldest daughter. To gild the lily, he then chose to bring his family into the argument with you, which is never good."
Another Redditor voted NTA, or not the a**hole as their verdict, and they think it's "no wonder" Annie "hates" her father. "Guaranteed that the necklace was only the beginning of the story of how he prioritized his new family over his existing daughter and made her feel like she wasn't important," they wrote. "Good for you for speaking up for her. Acknowledging a wrong doesn't require that you know the person who was wronged."
Others brought up divorce over the new information uncovered by the OP. "I think I would divorce him over this big of [a] lie," a Redditor admitted. "His family is stupid to think that you should take his side when he screwed up so bad."
Another user called the man a "prime a**hole," adding, "And to have treated his daughter like this is inexcusable. To have hidden the details of this from you is also not [OK], and the fact that he thinks he is in the right would make me worry about the person I married. Watch out."
A user said the man "took a piece" of his daughter's inheritance and gave it to a "child not related" to his late wife. "He broke her trust, disrespected Annie, and his dead wife," they expressed. "That's why she cut him off. That was a gift from her dead mom, and [he] disrespected her memory and wishes."
Other comments included things like, "NTA, your husband and the family who agree with him are walking trash though," and others even offered a "solution.
"This is horrible. Is there any way you could take the necklace and find a way to message Annie and arrange for it to get back to her?"
Newsweek reached out to Redditor @KayRanDoe for comment.
This isn't the only viral post involving relationships. A woman was backed for telling her family to "beg" her husband "for forgiveness." A wife was supported for not letting her husband use the Internet until he helps pay for it. In addition, the Internet backed a "toxic" wife for saying no to her husband.