Muslim Americans 'Thrilled' Ahead of Travel Ban Being Lifted
It's being hailed by advocacy groups as a day of hope, one after which families may once more be able to reunite with loved ones, marking the end of a "dark legacy". Muslim Americans are anticipating the end of a travel ban President Trump imposed on predominantly Muslim countries, a ban President-elect Biden has vowed to repeal on his first day in office.
According to a memo sent by Biden's Chief of Staff Ron Klain to senior staff, Biden is planning to sign a raft of executive orders on his first day as President to mark a clean break with his predecessor, including an order to rejoin the Paris Agreement on the climate and the reversal of the travel ban on several Muslim-majority countries.
Labeled a Muslim ban by critics, an executive order was signed by President Trump in January 2017 barring entry into the U.S. from seven Muslim-majority countries from traveling to the country for 90 days. It also banned the admission of Syrian refugees and suspended the U.S. refugee admissions program for 120 days.
President Trump said the travel ban was necessary in order to keep America safe from terrorism and that it was not a ban against Muslims. During his campaign for president, Trump had called for "a total and complete shutdown of Muslims entering the United States until our country's representatives can figure out what is going on." Justifying the imposition of his ban by executive order, Trump said: "Making America safe is my number one priority. We will not admit those into our country we cannot safely vet."
During his campaign, Biden promised to "end the Muslim ban on day one" of his time in office. Biden told attendees of the Million Muslim Votes Summit, an online conference hosted by Emgage Action, a Muslim-American political group: "Muslim communities were the first to feel Donald Trump's assault on Black and brown communities in this country with his vile Muslim ban. That fight was the opening barrage in what has been nearly four years of constant pressure and insults, and attacks against Muslim American communities."
Ahead of the expected repealing of the ban on Wednesday, Iman Awad, deputy director of Emgage Action told Newsweek that she was "thrilled." She said: "From the first time we heard President-elect Biden say that he was going to end the Muslim ban on day one, the community was definitely thrilled because that to us is a validation of how poor of a policy the Muslim ban was from the beginning.
"The fact that the Biden administration is upkeeping that promise, we're very hopeful because again when somebody's running a campaign and when President-elect Biden was stating he was going to rescind the ban there were still some questions around it but we are incredibly grateful that he's upholding that campaign promise."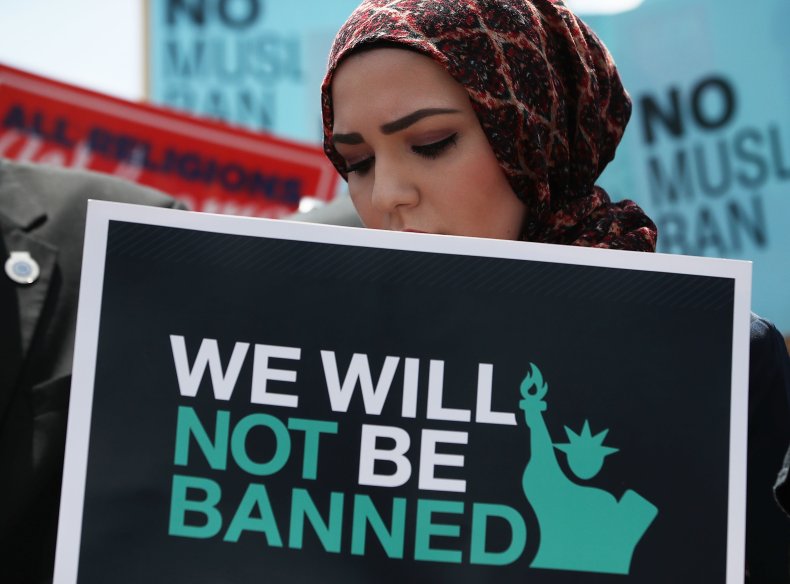 Awad described the ban as heartbreaking because it targeted some of the world's most vulnerable populations. "These were individuals that were fleeing war, fleeing political imprisonment there was a lot of things that were concerning," Awad says.
In February 2017, a U.S. appeals court upheld a ruling suspending Trump's travel ban order, with the judges rejecting the claim of presidential authority and questioning its motives in ordering the ban. White House adviser Stephen Miller said at the time that the court ruling was a "judicial usurpation of power" and that "the president's powers here are beyond question."
The Supreme Court later upheld a revised version of the ban in June 2018, one that not only barred almost all travelers from five mainly Muslim countries — Iran, Syria, Yemen, Libya and Somalia — but also added a ban on travelers from North Korea and government officials from Venezuela. In a 5-4 ruling, the court accepted the government's argument that the ban was within the president's power to craft national security policy and secure the country's borders and that he had the authority to "suspend entry of aliens into the United States".
Amnesty International described the ban as a "license to discriminate, disguised as a national security measure." Among those affected was Mohamed Gula, a Libyan American.
Gula told Newsweek: "When he [President Trump] first announced the ban he called it a 'Muslim ban' and called upon a commission to advise him on how to do it 'the right way, legally'. I had never felt more insecure as an American."
Gula says his aunts and uncles missed out on the birth of his child as a result of the ban, as well as the birth of his niece, brother and sisters' graduation and other family occasions. He says: "For four years, I wasn't fighting for my opinion on policy, I was fighting to have access to my family. I was fighting for my child to grow up in a future that included his cousins, aunts, and uncles.
"I was fighting to ensure that moving forward it would not be 'constitutional' or 'legal' for future administrations to ban people that look like me, sound like me, or pray like me. To do that, not only will we celebrate and honor this important first step in rescinding Trump's executive order, but we will continue to fight to pass the No Ban Act through Congress so that this never happens again."
The No Ban Act would limit the ability of a president to issue such sweeping travel bans in the future. Gula is just one example of families being separated from loved ones as a result of the ban. In January 2019, the Cato Institute reported that the new restrictions had already prevented more than 15,000 spouses and adopted children of U.S. citizens from joining their spouses or parents in the U.S.
"We have families in every pocket of the U.S. who have been separated either from their parents their spouses, from their children with no clear indication of when that would end," Awad says. "With the Biden administration upholding this policy to rescind the ban on day one, people are looking forward to just being reunited with their families which for four years were confused as to why they were not able to do so."
Awad says the travel ban also served to further entrench Islamophobia in the U.S., which she says was "unequivocally a Muslim ban" but is hopeful that the Biden and Harris administration will try to heal some of the widening divisions that have emerged in recent years. She says: "What we witnessed on January 6 and the insurrection, unfortunately, wasn't a surprise to a lot of minority communities.
"We're painfully aware of the rhetoric surrounding our communities so all we can hope for in an administration with Joe Biden and Kamala Harris we can work towards some sort of unity some sort of understanding and recognition that these past four years didn't just impact the Muslim American community it was terrible for all minority communities. I do believe we have a champion in this administration that will help tackle this."
Newsweek has approached The White House for comment.