Travis Barker's Last Marriage Ended After Ex Found Illicit Emails—Memoir
Travis Barker's marriage to his ex-wife, Shanna Moakler, came to an end after she discovered illicit emails he had been exchanging with a host of women.
Blink-182 rocker Barker, who tied the knot with Kourtney Kardashian in a surprise Las Vegas ceremony in the early hours of Monday morning, wrote candidly in his 2015 memoir, Can I Say, about his infidelity while with other women.
And the musician, who was married to model Moakler between 2004 and 2008, revealed that as he recovered in hospital from his 2008 plane crash, his then-wife discovered his indiscretions as she looked through his new laptop while he slept.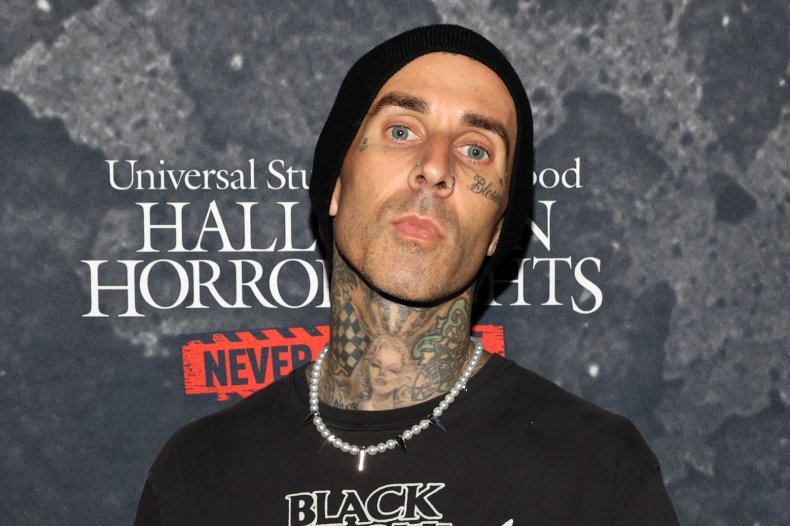 "While I was sleeping, Shanna went onto my laptop, and my e-mail accounts were all open," he recounted in the book. "She saw all my e-mails from the previous three or four years, including messages from about thirteen different girls I had been messing around with in the year before the plane crash.
"We had been on and off in that time, but that didn't mean she wanted to know about it. We both did our own thing when we were split up, but I never would have told her, 'Look, I'm banging this girl and that girl' and so on. She was my baby mama, so I tried to keep a clean slate, just in case we got back together.
"There were plenty of girls she had wondered about and some that she knew nothing about. And how it was all out in the open. I was f***ed."
Naked Pictures
On waking up and finding Moakler was not by his side, Barker soon realized why she was absent when he took a look through his laptop.
"I opened my computer and looked at my sent e-mails-and she had written to every single girl, he recounted. "If they had sent me naked pictures or videos or a dirty e-mail, she went in on all of 'em. They all got a message along the lines of 'F*** you b****, how dare you mess with my man, this is Shanna, f*** you.'"
For her part, Shanna said in the book that she shed tears on learning of Barker's extramarital relationships.
He also discussed his short-lived marriage to his first wife, Melissa Kennedy, with whom he tied the knot in 2001. Barker admitted that the union was also marred by infidelity before they even made it down the aisle. They divorced in 2002.
"Before Melissa and I got married, I was constantly looking for other girls, picking them up at strip clubs and wherever else I could find them. Even on the night of my bachelor party: I wasn't married yet.
"Once we were husband and wife, I resolved to be good, and I stuck to that. But even walking down the aisle, it felt like I was making a mistake."
Wild Bachelor Party
However, his friend, Brett Vann recounted how the star indulged in something of an "orgy" at his bachelor party at a California bar days before his wedding.
"Next thing you know, this girl started sucking his d*** on the dance floor," Vann said of Barker. "So they brought him up onstage and said, 'Okay, let the strippers begin'—and s*** started getting crazy. There were twenty strippers onstage, doing their thing, and Travis was just sitting there, smiling."
Other women also made their way onto the stage. "Then girls were sucking his d*** again," Vann said. "Not one girl, not two girls, not twenty girls. Every woman wanted to suck his d***. Travis had the lips of at least thirty to forty different women on his d***, two days before his wedding."
Eventually, Barker ended his marriage to Kennedy after meeting another woman who made an impression on him. "We hadn't even been married a year, but I was already moving on," Barker said.
Attraction to Kim Kardashian
Elsewhere in his book, Barker wrote about spending time in Amsterdam with Paris Hilton, and a pre-fame Kim Kardashian, younger sister of his now-wife, while he was on tour.
"Kim used to organize people's closets, and at the time, she was working as Paris's closet girl," he recalled. "She would grab Paris's bags, put them in the closet, unpack them, put them everywhere where Paris could find it."
As the group spent the day together in the city, Barker recalled: "I was having a blast and was happy to let the world know it. I kept on secretly checking out Kim, telling [assistant] Lil Chris. 'I don't care if she's the closet girl, she's f****** hot.'"
While Barker and Kim Kardashian retained a close relationship after their trip to the Netherlands, the drummer said that Moakler was none too pleased.
"Shanna and I started talking to each other again, and we reunited one more time—but I really wanted to see Kim (Shanna caught wind of what was going on-she poured a drink on Kim at a party thrown by Carmen Electra. I felt terrible.) Kim and I never touched each other. It just wasn't meant to be."
Drug Use
Other elements that affected Barker and Moakler's marriage was the musician's drug use, particularly when it came to pills and marijuana.
Sharing her own take on their issues in Barker's biography, Moakler said: "I think the demise of our relationship was we had a lot of third parties in our relationship, at a time when Travis was partaking in drugs and pills.
"These guys didn't want him with me, because it took away from their time they wanted him to go to the clubs, because then they felt like rock stars too. There were always mew people filtering in, and he and I would fight about them.
"I would say, 'This person's not good,' and he would defend him. And then a week later, he'd be gone. And there'd be a new a**hole to replace him."
Red Flag
Excerpts from the book resurfaced on Reddit late last year, with a number of readers comparing him unfavorably to her past ill-fated relationship with Scott Disick, with whom she shares three children.
"Wow. I will say that Travis treated Shanna A MILLION times worse than how Scott treated Kourtney," wrote one Reddit user. "Shana is the way she is now probably because of Travis and the damage he did to her.
"This man is a serial cheater and sex addict and I'm sorry but you aren't convincing me he's changed his life long patterns in a matter of years. Plus his current actions with the EXCESSIVE PDA and love bombing show all the same signs as before.
"Kourtney is enjoying it all now but does she really know what she's in for? What happens when she no longer wants to have sex as often or the newness wears off? He's a walking [red flag]."
Barker has been in a relationship with Kourtney Kardashian since early 2020, after having been friends for several years. Barker proposed in October and the couple tied the knot hours after attending the star-studded Grammy Awards in Las Vegas.