Who Is Travis Reinking? Waffle House Shooting Suspect Sought by Tennessee Police
Updated I The Metro Nashville Police Department announced Sunday it is seeking Travis Reinking, 29, of Morton, Illinois, as a suspect in the Tennessee Waffle House shooting that left four people dead. Police first named Reinking as a person of interest, but updated his status as a suspect in the attack.
Police said in a Sunday afternoon press conference they suspect Reinking of having "mental issues." He was previously interviewed by the FBI and Sheriff's Department in Illinois over past incidents. A rifle and handgun are among the four weapons tied to Reinking and his father, but Memphis police said he was not on their radar from any previous criminal incidents and they are unsure if he currently has any additional weapons.
The Metro Nashville Police Department acknowledged that the weapons "would not lawfully have been possessed" under Illinois state law, but Tennessee state law would not have conflicted with his right to possess those guns. They believe he is currently on foot and urged locals to stay on alert.
Police confirmed the identities of the four victims killed in the incident in a Sunday press conference in which they described Reinking as "still at large." Taurean C. Sanderlin, 29, of Goodlettsville, who was a Waffle House employee, was fatally wounded while standing outside the restaurant. Joe R. Perez, 20, of Nashville was also fatally wounded while standing outside. Akilah Dasilva, 23, of Antioch, was critically wounded and died later at Vanderbilt University Medical Center. And a 21-year-old woman whose family has not yet been notified was also among those killed.
In July of 2017, Reinking was apprehended by the U.S. Secret Service outside the White House and later released, authorities said in the ongoing Sunday press conference.
Waffle House confirmed one of their employees was among the four people killed in the shooting, WSMV-TV's Nancy Amons first reported.
Reinking was named a person of interest in the Antioch, Tennessee, Waffle House shooting at 3571 Murfreesboro Pike near Nashville around 3:30 a.m. Sunday. Police said four additional people were wounded as a result of the attack. Witnesses pointed out to police the pickup truck the gunman arrived in early Sunday morning. The vehicle is registered to Reinking, who is from an Illinois town near Peoria, Metro Nashville police announced. The alleged gunman was last seen walking south on Murfreesboro Pike, where witnesses told police he shed his clothing at a nearby apartment. A massive manhunt began Sunday morning in a wooded area near the restaurant.
Police say they believe the shooting was random.
Court records first obtained by Heavy describe Reinking as caucasian, 6'4″ and weighing about 180 pounds. Authorities said both the FBI and local Illinois police were aware of the suspect.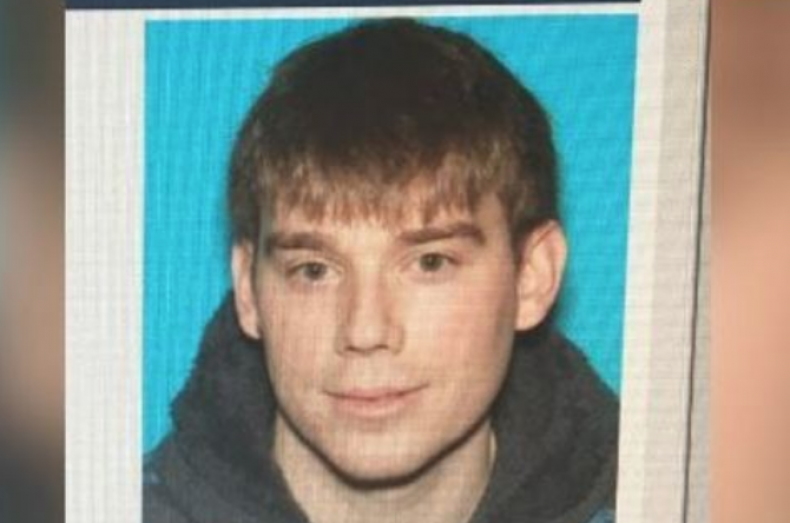 Nashville police posted several photos of the crime scene including a rifle left by the suspect. Don Aaron, spokesman for the Metropolitan Nashville Police Department, told WTFV-TV that a Good Samaritan customer, later identified by The Tennessean as James Shaw Jr., 29, emerged from the bathroom and grappled with the Reinking for control of his weapon. Aaron told reporters Shaw was a "hero."
"I don't really know, when everyone said that (of being a hero), it feels selfish," Shaw Jr. told the The Tennessean. "I was just trying to get myself out. I saw the opportunity and pretty much took it." He added that suspect was wearing a green bomber jacket when he briskly walked away from the scene. Another witness said the suspect left wearing only black pants.
Aaron also remarked on witnesses reporting last seeing the suspect flee scene while naked. "If you see a nude guy walking around this morning call the police department," he added.
Witnesses described the scene of the shooting to WKRN-TV, saying the white male shooter didn't utter a word throughout the entire incident. Three of the victims in the shooting were rushed to nearby Vanderbilt University Hospital. Two of the victims are in critical condition and one person died at the hospital. Multiple law enforcement agencies including Metro Police SWAT team and Tennessee State Police troopers are using dogs and aerial surveillance in the ongoing search for Reinking.
This post has been updated to include new information about the suspect from a police press conference.