Travis Scott's BetterHelp Offer After AstroWorld Tragedy Branded 'Exploitative'
Travis Scott is facing a new backlash after offering AstroWorld attendees one free month of therapy, following the deadly crush at his festival that left eight people dead in Texas last Friday.
Scott, 30, has partnered with online counseling service BetterHelp for the initiative. However, the move is not going down well with fans, many of whom have labeled it "offensive" and "inadequate" on social media.
On Monday the "Goosebumps" rapper confirmed that he would cover funeral costs for the victims as well as announcing his partnership with BetterHelp.
"Travis remains in active conversations with the city of Houston, law enforcement and local first responders to respectfully and appropriately connect with the individuals and families of those involved," the statement read.
"These are the first of many steps Travis plans on taking as a part of his personal vow to assist those affected throughout their grieving and recovery process."
BetterHelp is an online therapy platform.
Organizers of Astroworld have also confirmed that they will provide a full refund to all ticketholders. Some 50,000 people were reportedly present at the NRG Park stadium in Houston, Texas.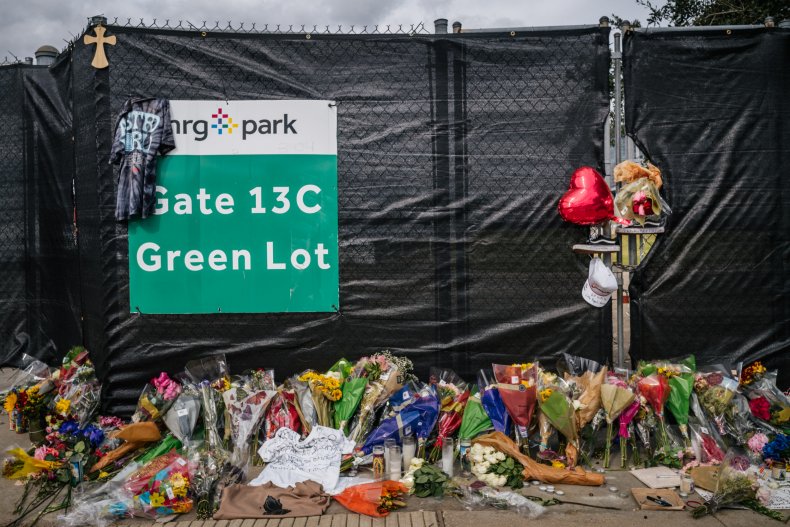 However, the BetterHelp initiative is being heavily criticized online."
"This is so s*****," tweeted activist Wagatwe Wanjuki. "Betterhelp is not adequate trauma treatment, it pays therapists like shit, and they collect data. And one month is nothing."
While YouTuber Anthony Fantano posted: "Did we just go from a tragedy to a BetterHelp brand partnership?"
Twitter user Quizás: Phillip mock quoted Scott in a cutting criticism of the BetterHelp offer, writing: "Hi, I'm Travis Scott and I'm largely responsible for the death of 8 people and trauma of the thousands. That's why this month I'm partnering with BetterHelp so they can sell your information to a 3rd parties to target you with ads hoping you spend money when you're depressed."
Meanwhile, podcaster Bridget Todd said she feels that getting young people to sign up to BetterHelp is "exploitative."
"I can't really explain how much this bums me out," she tweeted. "Therapy apps like BetterHelp have been call out for their sketchy, not-really regulated policies around privacy and data. This 'partnership' is just offering up these young people to be further mined and exploited for money."
Newsweek has contacted BetterHelp and a representative for Scott for comment on the partnership.
A criminal investigation into the AstroWorld incident is ongoing.
There have also been numerous lawsuits filed that allege Scott, concert promoter Live Nation, organizer ScoreMore and others who worked on the festival were responsible for the stampede.
Scott said in a statement on Twitter over the weekend that he was "absolutely devastated" following the tragedy.
"My prayers go out to the families and all those impacted by what happened at Astroworld Festival," he said. "Houston PD has my total support as they continue to look into the tragic loss of life.
"I am committed to working together with the Houston community to heal and support the families in need. Thank you to Houston PD, Fire Department and NRG Park for their immediate response and support. Love you all."