How Did Travis Scott Disaster Happen? How a Fatal Surge Can Break Out at a Concert
Music fans and Texans are still reeling from the incidents that took place at Astroworld event over the weekend as a dangerous surge at the Travis Scott festival left at least eight people dead and hundreds more injured.
A human crush situation occurred on Friday night when the crowd of around 50,000 people rushed toward the stage during a performance by the rapper at the NRG Park stadium in Houston.
Scott, 30, has been accused of inciting dangerous behavior at his shows in the past and footage from the show on Friday appears to show the "Goosebumps" hitmaker ignoring pleas to stop the show from the crowd.
According to a crowd safety expert, several factors can cause a fatal surge to occur at large-scale concerts and events.
"I believe that all major events should have competent persons whose sole function is to be within a highly trained team of showstop personnel," Steve Allen of Crowd Safety, a U.K.-based consultancy engaged in major events around the world, told Newsweek.
"This team will be positioned in elevated positions to monitor the crowds and identify the embryonic phases of incidents [that lead to surges]," Allen explained.
Allen explained that the factors that can lead to crushes and stampedes include "increased crowd density, bottlenecks, people tripping in the same place, violent crowd collapse and if the crowd gets back up, anyone in distress and structural collapse."
Allen explained that for such events "prevention" isn't always achievable but risk can be reduced.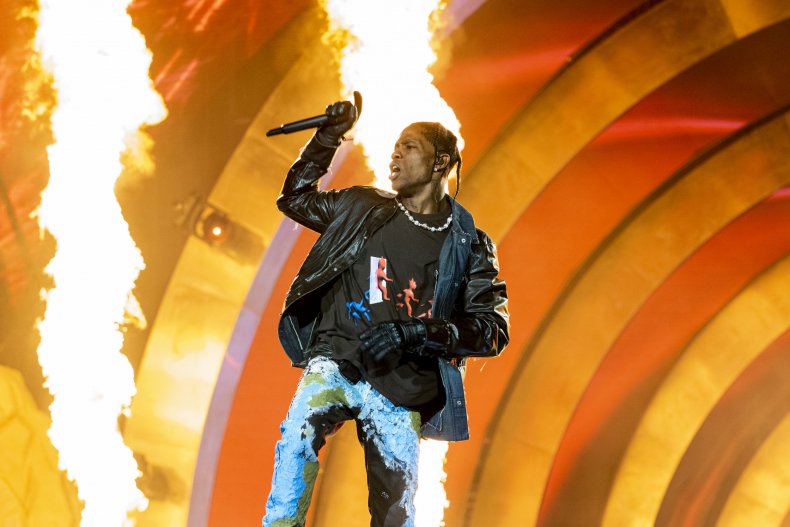 "Prevention isn't achievable in my opinion, the risk will always be there, however, the risk can be reduced and this tragedy will certainly pave the way for future events to be safer, similar to others tragedies such as how the Station Nightclub fire improved fire safety within venues across the United States, the Roskilde Festival incident sent shockwaves through Europe and the Hillsborough tragedy focused safety at football stadia in the U.K.," he said.
The Station nightclub fire took place on February 20, 2003, in West Warwick, Rhode Island. The blaze killed 100 people and injured 230.
The disaster at at Hillsborough Stadium involved a fatal human crush during a soccer match in Sheffield, England on April 15, 1989, which led to 97 deaths and 766 injuries
The Roskilde Festival tragedy happened in June 2000 in Denmark when nine people were crushed to death in a mosh pit during Pearl Jam's performance. Allen was present the next morning and he advised police on canceling upcoming performances.
"I was at Roskilde Festival the morning after the Pearl Jam tragedy, telling the chief of police and the promoters why Oasis wouldn't be performing their headline slot," Allen explained.
"The police and organizers did not know what had caused the tragedy, at that stage, but what I can tell you is that there was an overwhelming sense of grief, somber silence and the feeling that something horrific had happened.
"This was throughout the entire site, backstage everywhere. Priests walked up on stage that morning and addressed the shocked crowd who were understandably in tears/shock. I will never forget that moment and as such, take the safety of crowds at events that I and my company are engaged with so seriously."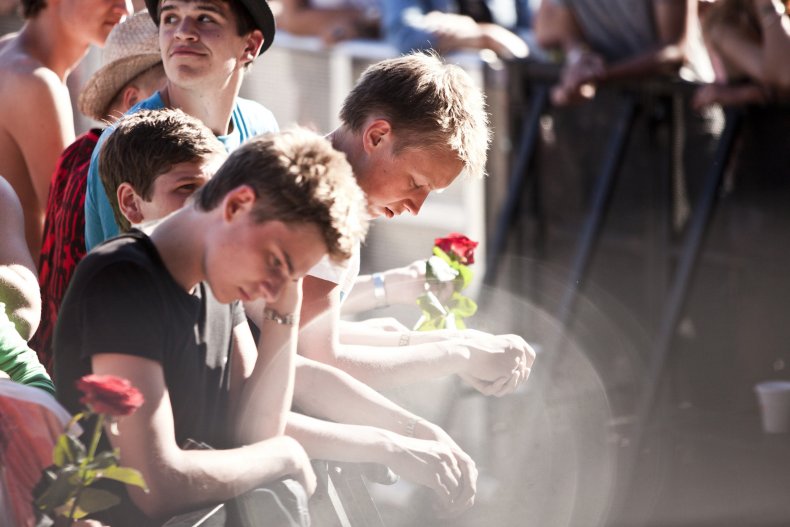 As for the Astroworld tragedy, Allen noted that Scott paused sometimes while people were receiving assistance in the crowd but added that it is not his sole responsibility.
"Did Travis Scott refuse to stop the show? From the limited footage I have seen, as soon as Travis Scott sees someone in distress he instructs security to assist them," he explained.
"You must bear in mind that the artist is there to perform but they genuinely do not want any of their fans to be injured.
"They rely on others to make sure the crowds are safe and that processes are in place to respond to any crowd-related incidents and ultimately notify them in the event of something life-threatening so that they can stop the show if needed and address the crowd."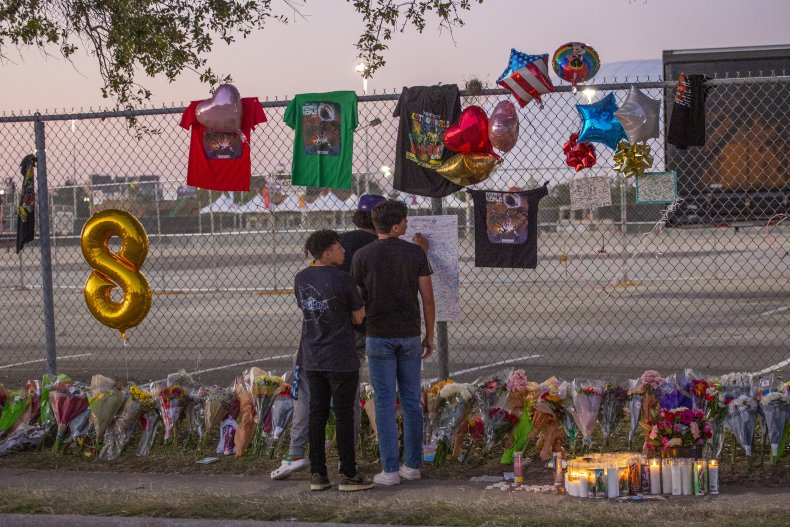 Allen added that "performers are nowadays instructed to cooperate with the safety instructions given."
He added: "A showstop could be because of several reasons normally a major crowd collapse, structural collapse or major outbreak of violence. This could also be because of an active shooter, a bomb threat that is coded and police have taken it seriously etc. These are all addressed at the day of show final safety briefing and would be addressed in advance correspondence with roles and responsibilities clearly understood by all parties."
Following news of the deaths at Astroworld, Scott released a statement on Saturday saying he was "absolutely devastated."
"My prayers go out to the families and all those impacted by what happened at Astroworld Festival. Houston PD has my total support as it continues to look into the tragic loss of life," Scott tweeted.
"I am committed to working together with the Houston community to heal and support the families in need. Thank you to Houston PD, Fire Department and NRG Park for their immediate response and support. Love you all," he added.
The incident is currently under investigation.