What Happened at Astroworld and What Is NRG Stadium's Maximum Capacity?
Astroworld, Travis Scott's annual music festival held in Houston, Texas, turned deadly on Friday following a sudden crowd crush that killed at least eight people, while hundreds were treated at a field hospital set up near the event.
The festival—launched by Scott in 2018, the year his studio album of the same name was released—was a sold out, two-day event scheduled to be held through November 6 at the NRG Park stadium complex. But the rest of the festival was canceled following the fatal incident.
A statement posted Saturday on the festival's Twitter account read: "We are focused on supporting local officials however we can. With that in mind the festival will no longer be held on Saturday."
The Houston Police Department tweeted Sunday: "The investigation into the #AstroworldFest remains very active and is in its very early stages. The department has no additional information to release at this time. Any additional information will be posted here.
Scott, entertainment company Live Nation and concert promoter Scoremore are being sued by an injured concert goer, who described the incident as "predictable and preventable." The lawsuit claimed the defendants "actively encouraged and fomented dangerous behaviors."
In a statement Saturday on Twitter, Scott said he was "absolutely devastated" by the latest incident and that the Houston Police Department has his "full support" as they continue the investigation.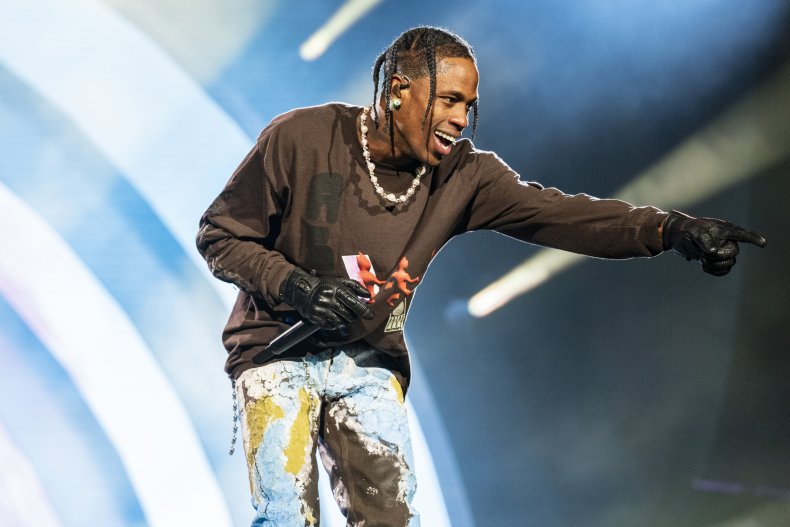 What Happened at Astroworld?
A crowd of fans was reported to have suddenly surged toward the stage during a performance by Scott.
The incident, which took place around 9 p.m. local time, saw some fans squeezed so tightly together that they couldn't breathe or move their arms, with at least eight people killed in the chaos.
Authorities were reported to be looking into "a series of cardiac arrests" that took place during the incident, the festival tweeted Saturday.
Those who died ranged in age from 14 to 27, including two teenagers, two 21-year-olds, two 23-year-olds and one 27-year-old. The age of one of the dead victims is unknown, while there were no people reported missing, Houston Mayor Sylvester Turner said at a press conference Saturday.
The mayor said at least 25 people were taken to a hospital, 13 of whom remained hospitalized on Saturday afternoon. Five are under 18 years old.
Houston Fire Chief Sam Peña told CNN that the crowd "for whatever reason began to push and surge towards the front of the stage, which caused the people in the front to be compressed."
Field Hospital Set Up
The fire chief said: "People began to fall out, become unconscious," at a news conference. Over 300 were treated at a field hospital set up near the festival on Friday, according to Peña.
Houston Police Chief Troy Finner said police noticed concert goers "going down" at 9:30 p.m. local time and immediately notified the festival organizers. The event was called off 40 minutes later following discussions with the fire department and NRG Park officials, the Associated Press reported.
A festival goer, Niaara Goods, told AP: "As soon as he [Scott] jumped out on the stage, it was like an energy took over and everything went haywire.
"All of a sudden, your ribs are being crushed. You have someone's arm in your neck. You're trying to breathe, but you can't," the concert attendee described.
Pushing and shoving reportedly took place in the lead up to Scott's performance.
Nick Johnson, a high school senior from Houston who was at the concert, told AP it felt like it was "100 degrees [Fahrenheit] in the crowd" and "everyone was passing out around you."
Johnson recalled fans started to get crushed and people started screaming. "You couldn't do anything," he said, noting people couldn't even pick their arms up. "It just got worse and worse."
Houston police chief Finner said authorities were also investigating reports of suspicious activity in the crowd, including one from a security officer who said he felt a prick in his neck during the incident. The officer lost consciousness while being examined by first responders and was revived with Narcan, AP reported.
What Is NRG Stadium's Maximum Capacity?
There were reported to be around 50,000 people in attendance during the incident on Friday, according to AP.
According to Houston fire chief Peña, based on fire codes, the venue could have held 200,000 people. But the attendance was limited to 50,000 by city officials, AP reported.
Peña said: "It was the crowd control at the point of the stage that was the issue, especially as the crowd began to surge toward the stage."
Defending the amount of time it took for the festival to be shut down on Friday, police chief Finner explained: "You cannot just close when you've got 50,000—over 50,000— individuals, OK?
"We have to worry about rioting—riots —when you have a group that's that young," Finner said.
Newsweek has contacted the Houston mayor's office, the Houston Police Department, the Houston Fire Department, Scott, Live Nation and Scoremore for comment.