Travis Scott Loses Cacti Beverage Brand as Astroworld Taints 'Marketing Genius' Reputation
A beverage sponsored by rapper Travis Scott is being discontinued as the fallout from the Astroworld tragedy taints his reputation in the marketing sphere.
Alcoholic beverage titan Anheuser-Busch InBev (AB InBev) announced on Friday that had discontinued production of Cacti, a brand of hard seltzer produced in partnership with Scott. The company first confirmed the news to TMZ, and it was later reported by AdAge as well.
"After careful evaluation, we have decided to stop all production and brand development of CACTI Agave Spiked Seltzer," a spokesperson for AB InBev told Newsweek in a statement. "We believe brand fans will understand and respect this decision."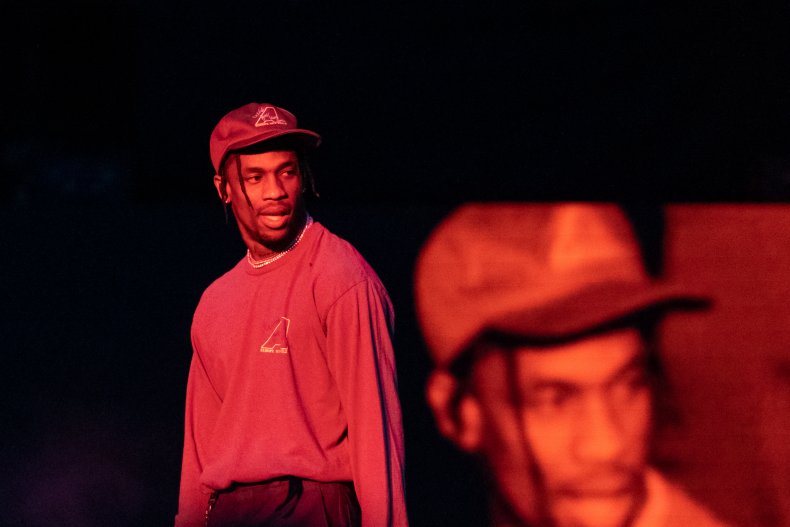 While AB InBev did not specify the Astroworld incident as the impetus for the decision, the move came only a month after 10 audience members died at Scott's music festival in Houston. The agave-flavored alcoholic seltzer brand first hit store shelves less than a year ago. Scott's representatives claimed to TMZ that the decision to pull the Cacti brand was a mutual one as the rapper pulls his focus away from business ventures for the time being.
"Travis was clear in his interview that he is not focused on business right now and his priority is helping his community and fans heal," the representative said. "CACTI asked AB InBev to inform their wholesalers there will not be product at this time."
AB InBev is the latest branding partner to distance itself from Scott in the wake of the Astroworld tragedy on November 5. Nike, which had a successful collaboration with the rapper starting in 2017, announced on November 15 that it was "postponing the launch of the Air Max 1 x Cactus Jack" in light of the circumstances.
Scott's likeness and associated dance moves were pulled from Epic Games' immensely popular video game, Fortnite, following the incident. General Mills publically stated that it had no future plans with Scott, who once graced boxes of the company's Reese's Puffs cereal. A project between Scott and film production company Mega64 was also canceled the day after Astroworld 2021.
This loss of sponsorships and business partners comes after Scott had a hugely successful run of deals in 2020, including lucrative partnerships with McDonald's, Sony and WarnerMedia. In total, his corporate sponsorships last year totaled around $100 million.
Owing to his expansive and successful portfolio of business partners, some, like marketer Anthony Scott and XXL Magazine, once hailed the rapper as a "marketing genius."
Some brands have continued working with Scott. Online therapy app, Better Help, partnered with him to provide free counseling to Astroworld attendees. Christian Dior also confirmed that its "Cactus Jack Dior" produced by Scott would still make its way to stores in January.
Update 12/12/2021, 4:45 p.m. ET: This article was updated to include a statement from AB InBev.