Travis Scott McDonald's Meal Details, Price and Is There a Toy?
From today, Americans can get their hands on a new meal designed in collaboration with rap star Travis Scott.
The artist, who has released hits such as "TKN", has created a setlist of his three McDonald's favorites for $6 which will be on offer until October 4, 2020. The meal will be available at restaurants across the U.S. excluding Hawaii, Alaska and U.S. territories.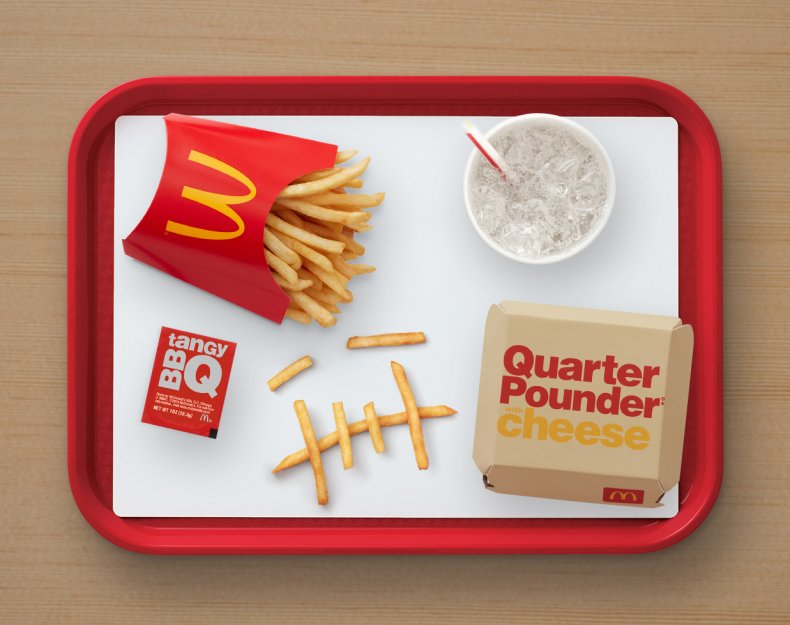 According to McDonald's, the Travis Scott meal includes a fresh beef Quarter Pounder with Cheese, sizzling bacon, and crisp lettuce; medium fries with BBQ sauce to dip, and a Sprite. Unfortunately, there is no toy.
Customers can eat like the American rapper by ordering in-restaurant, for carry-out, at the Drive-Thru or through the McDonald's mobile app.
"Everyone has a favorite McDonald's meal, no matter who you are," says McDonald's U.S. chief marketing officer, Morgan Flatley in a press release. "Travis is a true McDonald's fan having grown up visiting our restaurants in Houston, not to mention one of the biggest musical acts and cultural icons in the world.
"This is the first time in nearly 30 years we've introduced a superstar's name to our menu—we're excited to bring the Travis Scott Meal to a McDonald's near you starting next week."
Scott is the second only celebrity to have their name on a McDonald's menu. Michael Jordan was the last one to collaborate in this way with the brand in 1992. The "McJordan Special" was similar to Scott's meal—it included a Quarter Pounder with bacon and barbecue sauce, fries and a drink, according to McDonald's Wiki.
This isn't the first big collaboration Scott has done recently. In April 2020, the rapper collaborated with Epic Games to create a virtual concert during the coronavirus outbreak. The "Astronomical concert" attracted around 12.3 million people, creating a new record for the game.
"I couldn't be more excited to bring the Cactus Jack x McDonald's collaboration to life," says Scott. "We are bringing together two iconic worlds. Including a charitable component was key for me, and I can't wait for people to see what we have in store."
As if that wasn't enough, Cactus Jack, Scott's apparel brand, has also designed custom apparel for McDonald's staff members, so keep an eye out at your local restaurant. The press release also teases that more partnerships and surprises will be announced in the coming weeks, so watch this space...
The Travis Scott Meal can be purchased at participating McDonald's locations for $6. Prices might vary by location.