Why is Travis Tritt Blocking Everyone? Country Singer Backs James Woods' 'Resist' Campaign
Country musician Travis Tritt is trending on Twitter today for blocking numerous accounts as part of a campaign to drown out leftist opinions.
The multi-platinum country singer, songwriter and actor is known for songs like "The Whiskey Ain't Workin" and "Same Old Train."
Tritt's name began circulating on social media after he backed James Woods' call to block anyone with the hashtag #resist in their Twitter bios.
"Reminder: block any twenty accounts a day that have the hashtag 'resist' in their profile," Woods, a conservative actor, tweeted Sunday. "It slows them down and offsets Twitter's shadow-banning of conservative accounts."
He even followed up with a detailed description of how to go about finding the right accounts to block.
Tritt then took to Twitter to back up Woods in a tweet that did not go down well with many Twitter users. The 57-year-old wrote: "Per my friend @RealJamesWoods, type #resist in your Twitter search bar. Block at least twenty of these accounts per day. We will soon make them as irrelevant as they have tried to make the rest of us."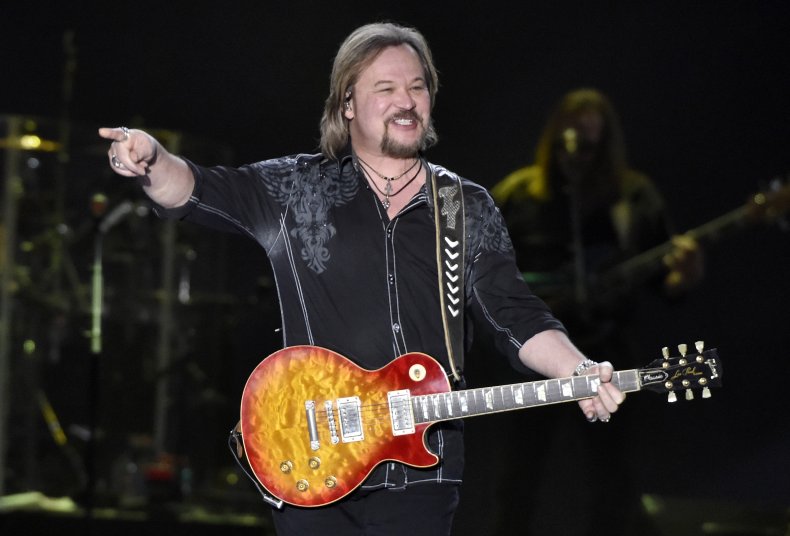 He also revealed he has been blocking left-leaning accounts for months prior to Woods' tweets on the topic.
Tritt later added: "One thing that #resisters hate the most is to be ignored."
The mass blocking by Tritt has gotten Twitter talking, with many accounts joking about the fact that they weren't aware of his fame.
Actor Michael McKean of Better Call Saul fame tweeted: "Travis Tritt has blocked me and this is only the second time I've thought about him."
Journalist Tony Posnanski joked: "I just found out Travis Tritt blocked me and I got so mad that I Googled who he was, went to the local flea market, bought his latest cassette, and threw it in the trash."
While Moms Demand founder Shannon Watts added: "I saw he was trending so figured I'd check... I don't believe I've tweeted at or even thought about Travis Tritt since 1990 when I loved the album Country Club."
A number of others pointed out that Woods' and Tritt's blocking technique is a form of cancel culture—something Woods has railed against in the past.
Journalist Imani Gandy wrote: "So James Wood, Travis Tritt, and a bunch of other wilted asparagus stalks are blocking radical leftists. I guess cancel culture is cool when washed up white dudes do it."
While author Grant Stern tweeted: "Travis Tritt and James Woods are looking to cancel you if you #resist, because they hate cancel culture."
Responding to the Twitter storm Tritt spoke out against "sheeple," writing: "If you're like me, I get sick and tired of arguing with sheeple who automatically subscribe to any fake news story from anonymous sources without researching anything on their own. It is an exercise in futility."
Meanwhile, in other social media related spats, Cardi B has clashed with right-wing commentator Candace Owens in a bitter Twitter feud in which she called the rapper "dumb and illiterate."