Travis Tritt Concert Cancellations Over COVID Policies Leave Fans Divided
Travis Tritt's controversial decision to cancel concerts on his upcoming tour due to certain venues' COVID-19 policies has been met with mixed responses from his fans.
The country singer is axing concerts that are scheduled to take place at venues requiring attendees to either wear masks, show proof of COVID-19 vaccination or provide a negative test result for the virus.
"I'm putting my money where my mouth is and announcing that any venue or promoter mandating masks, requiring vaccinations, or pushing COVID testing protocols on my fans will not be tolerated," Tritt said in a statement posted on his website Monday.
The "Help Me Hold On" hitmaker said he is "taking a stand" against coronavirus mandates.
"I have been extremely vocal against mandates since the beginning," Tritt said.
Following his announcement, Tritt appeared on Tucker Carlson Tonight where he elaborated on his stance and explained that it is often the venues themselves that require masks or proof of vaccination and not state-imposed laws and that he was upset that some of his fans had been prohibited from attending.
"These people have been shut out from getting a chance to go see concerts for over a year, and they are finally getting a chance to do that again, and now they are being turned away for some unexplained reason, so this is not about following the science or trying to look out for the safety of the people there," he said on Tuesday.
"This is about something else. This is trying to divide people."
His upcoming shows that do not require COVID-19 mandates will take place as scheduled.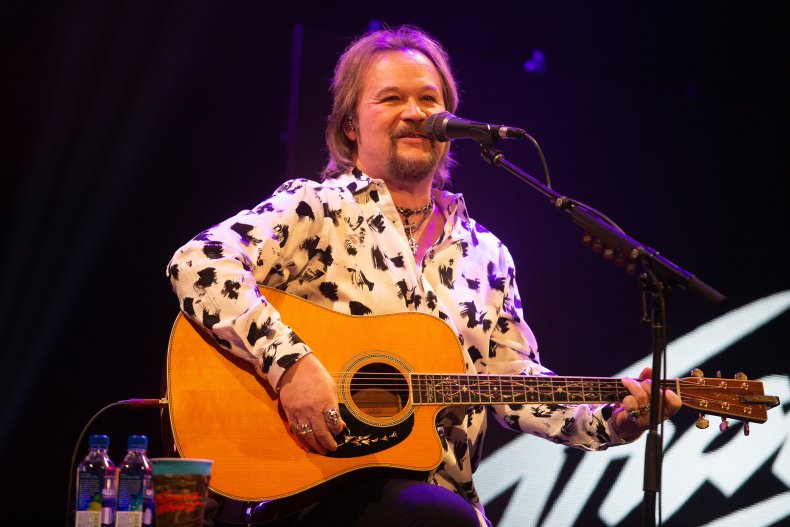 Shows at Muncie, Indiana; Philadelphia, Mississippi; Peoria, Illinois; and Louisville, Kentucky have all been affected thus far.
The 58-year-old Grammy winner condemned certain venues for trying to "shame" unvaccinated people.
"This is trying to shame people," he said. "This is trying to basically discriminate against people that they don't feel are clean enough to be part of enjoying a concert like that."
News of Tritt's canceled shows has been met with a mix of reactions from fans on social media.
While some support the musician and his stance, others are disappointed that their tickets have been canceled.
"@Travistritt You have disgraced yourself and totally disappointed so many people who followed you!!! I will never attend another one of your concerts nor even listen to a single song of yours again!! You sold your soul!! You are Pathetic!!" one former fan responded on Twitter.
While another added: "@Travistritt Love ya Travis, but am sad you refuse to be part of the solution to end this plague. I grew up in a household with parents and grandparents who were asked to do a lot more than this for the sake of their neighbors and the United States."
Meanwhile, one supporter cheered Tritt on, posting: "Been a fan of yours for a long time. After you canceled some of your concerts because of showing if you got the poke or not makes me like you even more."
While over on Instagram, one fan commented: "You're one of the best country singers of all times! So glad that you are standing against those who want to take away our freedom!"