Treasure Hunter Stumbles Across '2,000-Year-Old' Roman Jewelry at the Beach
A man could barely contain his excitement after finding 2,000-year-old jewelry at the beach, which he theorized other people had presumed was trash.
Lukus Merriman shared a clip to his TikTok account, @thegrimbleeper, where he showed off the Roman treasure.
The clip, posted on Sunday, said in the on-screen captions: "2,000 years-old jewelry."
The 40-year-old theorized the bronze object was a fibula, a type of brooch, or a type of ancient safety pin.
The fibula was originally used for fastening garments in Greek and Roman dress, according to Encyclopedia Britannica. The Roman conquests spread its use and it became the basis for more complicated brooches.
Merriman claimed he's only found three fibulas before, but none compared to his recent find.
He told Newsweek: "It's rare to find one in that condition, usually there's no spring attached, or the pin's missing, or they're broken in half.
"I've been metal detecting about nine years, and I've found three, they've all been broken. I've never had anything like that condition. I just couldn't believe it. It's a hobby of mine, it's my passion.
"Seeing people walk literally past it, didn't know what it was, probably thought it was a bit of junk metal on the beach, they just carried on walking.
"To me it's priceless. But it's probably worth £100 [$134] or £150 [$201]. It's made of bronze, they do come in gold and silver, which fetch thousands of pounds."
Merriman scours swathes of the U.K. for treasure using his metal detector, his hobby for nearly a decade, as he revealed the find was made in Kent, on the south coast.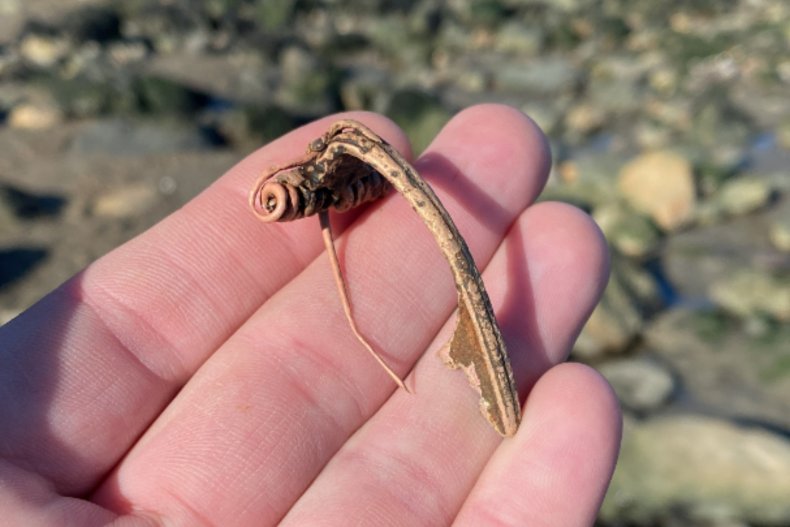 Merriman, who also shares his finds on his YouTube account, TheGrimBleeper, revealed he discovered the relic near the site of an ancient villa, known as the Folkestone Roman Villa.
"The style of brooch is early 1st century and the Roman villa is from 75AD," he said.
He added: "Without a shadow of a doubt it came from the villa, there have been Roman coins washed up on the beach before.
"There have been reports of gold coins there as well as bronze coins and silver coins. I've found a few bronze one before, but they're in really bad condition."
The official Kent County Council website explains the site is on a pre-Roman cemetery and includes remnants of a bathhouse.
The villa and buildings date back to the second half of the first century AD and appear to have been occupied until around AD 386.
And while it notes "the villa was first exposed by cliff erosion in 1923," part of the site has been "totally destroyed by cliff falls."
Since being posted the video, captioned "2000 year old relic on the beach," has been seen by more than 200,000 people, who were in awe at the antique treasure.
Angrylilcinnamonroll commented: "I literally would have thought it was trash just a broken broach."
WillDanceForCash raved: "Incredible! I've never seen one that good before."
Donewiththelies commented: "Love it. Treasure hunters are the best !!!! Love it."
Snowflake Melter admitted: "I would have walked over it thinking it was garbage lol."
Caroline thought: "Wow!! I wouldn't have known what it was! So cool. Congratulations!
Bella Conte advised: "I wouldn't sell it. It's not enough money to change your life and it's a cool relic to share with friends."
While MavenBlue wrote: "To find something like that not handled since it's owner lost it 2000 years ago is just pure magic. Buying one off eBay is nowhere near the same thing."
Merriman revealed there's a process to follow after uncovering relics, as the item will now be appraised by a museum, which will decide whether to return it to him or whether it will go on display.
"I think I'd like to keep this one," he added.