Treasury Says It Will Miss Deadline to Hand Over Donald Trump's Tax Returns. Here's What Key Democrats Say is Next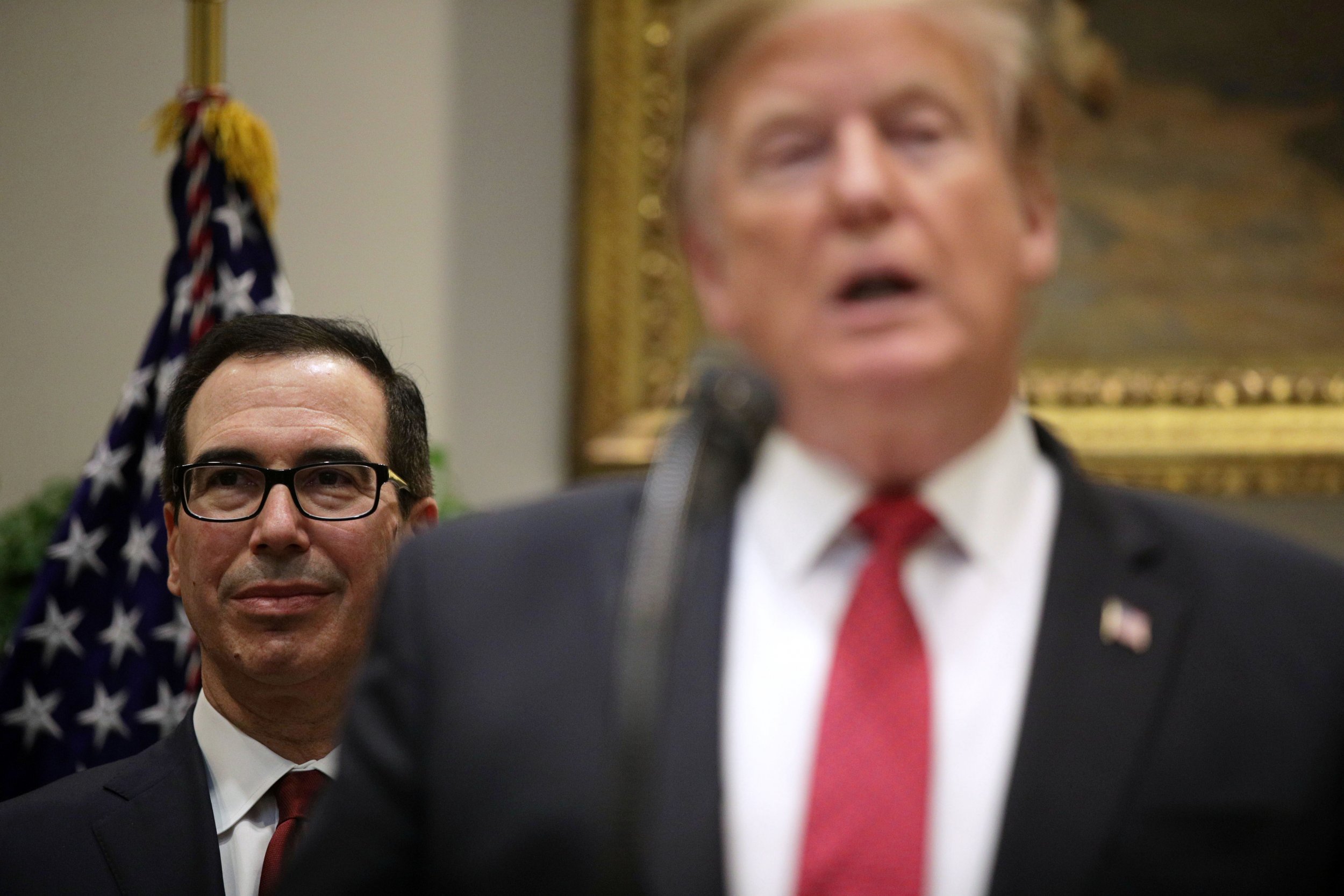 Treasury Secretary Steven Mnuchin says the federal agency is consulting with the Justice Department regarding House Democrats' demands for President Donald Trump's tax returns and will miss the Wednesday deadline to provide them to a committee.
In a letter to House Ways and Means Committee Chairman Richard Neal, Mnuchin said that such a demand for years' worth of the president's personal and business tax records "raises serious issues concerning the constitutional scope of Congressional investigative authority, the legitimacy of the asserted legislative purpose and the constitutional rights of American citizens."
Mnuchin did not offer a timetable as to when he would next contact the committee.
Citing a previously little-known IRS statue from 1924, Neal sent a letter to IRS Commissioner Charles Rettig last week demanding Trump's personal and business tax returns from the past six years — 2013 to 2018. The IRS provision states that the Treasury Department "shall" turn over "any return or return information" requested by certain committees.
Trump has broken presidential precedent by refusing to release his taxes because he says he's being audited. Obtaining said taxes has been something House Democrats have been longing for, and they're well aware that such a demand will likely end up being taken to court.
Democrats on the Ways and Means Committee plan to follow-up the missed deadline with a letter, again demanding the president's taxes, and could take other steps before taking the matter to court, according to several committee members who spoke to Newsweek on Wednesday prior to Mnuchin's response. Should Treasury offer continued refusal, they "will use every legal recourse available."
"We'll more than likely reiterate the request. The timing is yet to be determined, we're looking at what the precise steps would be," said Democrat Dan Kildee, a committee member and chief deputy whip of the Democratic Caucus."The one thing that's absolutely sure — we aren't going to walk away from this, and we will use every legal recourse available."
Committee member Jimmy Gomez (D-Cali.) said there will be "at least one more step before going to court" and that Chairman Neal "has a strategy in mind."
Gomez would not elaborate about what the committee's exact strategy was, and a spokesman for the Ways and Means Committee did not answer Newsweek's specific questions on the matter.
Both Kildee and Gomez said a letter from Trump lawyer William Consovoy sent to Treasury last week lambasting the Democrats' request as a "transparent effort by one political party to harass an official from the other party because they dislike his politics and speech" was meaningless.
"With all due respect to the president, we did not ask him for the tax returns, we asked the commissioner of the IRS for the returns," said Kildee. "There's nothing that prohibits a taxpayer from sharing their tax returns while they're under audit. That's a red herring."
The top Republican on Ways and Means, Kevin Brady of Texas, said in a statement following Mnuchin's response that "the tax code must not to be used for political fishing expeditions. The Treasury Department is right to carefully review the privacy impact this request would have on every taxpayer."
Trump reiterated earlier in the day to reporters that he will not hand over his taxes, saying he remains under audit.
"I won't do it," Trump said. "There is no law, as you know, I got elected last time with the same issue and while I'm under audit, I won't do it. If I'm not under audit, I would do it, I have no problem with it, but while I'm under audit, I would not give my taxes."
During his testimony to a Senate Finance subcommittee on Tuesday, IRS Commissioner Rettig told lawmakers he was neither directly nor indirectly told by the White House to not turn over the requested tax returns. Mnuchin also told lawmakers Tuesday during a separate committee hearing that the department planned to "follow the law."
"I have said we will comply with the law," Mnuchin said. "I have not made a comment one way or the other on whether we will provide the tax returns."
Though he reports to Mnuchin, a Trump appointee, Rettig said the decision whether to provide the president's tax returns "is mine with the supervision of Treasury." Rettig is also a Trump appointee.
This story has been updated to include a statement from Representative Kevin Brady, the top Republican on the House Ways and Means Committee.