Nancy Pelosi Says Americans 'Want the Truth' About Donald Trump's Tax Returns, but Urges Caution on How to Obtain Them
Democrats have been longing for the moment they can start the process of obtaining the president's tax returns, and that time has come. But Speaker of the House Nancy Pelosi is pushing back at critics who have said the party is not moving fast enough, urging caution to Democratic colleagues with powerful committee positions who want to pursue such information.
"I think overwhelmingly, the public wants to see the president's tax returns. They want to know the truth, they want to know the facts and [that] he has nothing to hide," Pelosi said Thursday. But she added: "You have to be very, very careful as you go forward."
The warning comes as an oversight panel under the House Ways and Means Committee has begun hearings about obtaining Trump's tax returns, something he has refused to make public since becoming a candidate and taking office. His decision to withhold such information breaks with the norms of every modern presidential candidate. Trump has justifed the refusal by saying he's under an Internal Revenue Service audit, despite the fact that an audit does not legally prevent someone from releasing their tax returns.
"I'm not releasing the tax returns because, as you know, they're under audit," Trump told reporters in January 2017. "You know, the only one that cares about my tax returns are the reporters, okay? They're the only ones. I won; I mean, I became president. No, I don't think [the American people] care at all."
On the heels of Pelosi's warning at their Thursday afternoon hearing, Democrats reiterated their pursuit for the president's tax information. Due to the president's conflicts of interest through his various businesses and properties, which he still owns, Democrats have said his tax returns could shine light on possible ethical and legal wrongdoing.
"We will examine a topic of great interest to the American people. We will review whether a president, vice president or any candidate for these offices should be required by law to make their tax returns available to the public," said Democrat John Lewis, chairman of the Oversight Subcommittee under Ways and Means. "In other words, we will ask the question: Does the public have a need to know that a person seeking to hold the highest office in our country obeys the tax laws?"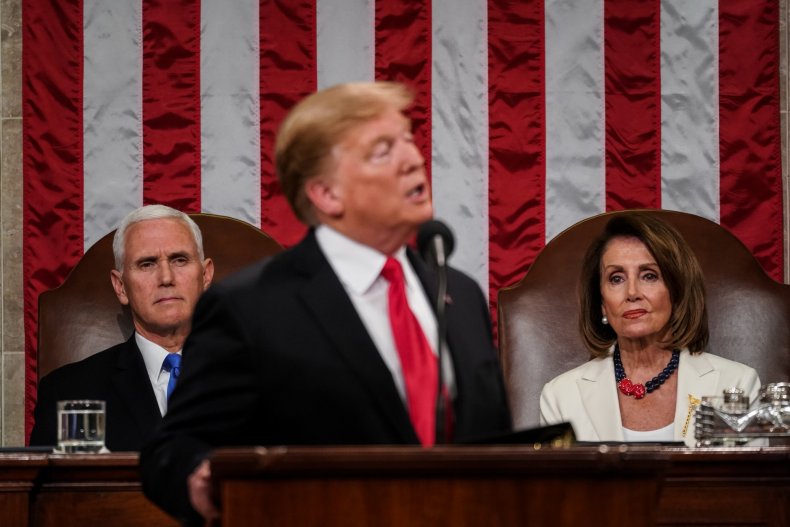 Democrats' new signature bill, pushed since their regaining the House majority, known as H.R. 1, focuses on establishing new ethics and nepotism laws for members of Congress. The sweeping reform bill would also require presidents and vice presidents, as well as candidates for those offices, to release 10 years of their income taxes.
As written, the total reform package would almost certainly be dead on arrival in the GOP-controlled Senate and vetoed by the president. But it's not Democrats' only route to Trump's taxes.
Long before they even won back control of the House, Democrats indicated they would seek to obtain Trump's tax filings without his permission through an obscure, 100-year-old statute. The little-known provision was created in 1924 under the Internal Revenue Code. It states the U.S. Treasury Department "shall" turn over "any return or return information" requested by the chairman of the Senate Finance Committee and the House Ways and Means Committee, among others, for lawmakers to review.
"As I've said, we are in our first months," Pelosi said. "The committees...are prioritizing their work."
It wasn't as simple as "just sending a letter," she continued. After all, the tax information provided to members of Congress by the Treasury Department would not immediately be made public. It would be up to those lawmakers to determine what portions, if any, are publicly released.
"You have to do it in a very careful way and the chairman of the committee will be doing that," Pelosi said. "I know that there's impatience because people want to know, but we have to do it in a very careful way."
Still, Republicans oppose such an action, arguing it would invite excessive scrutiny.
"Some of my colleagues on the other side of the aisle have suggested using this committee as an avenue to obtain and release the president's tax returns in the name of transparency," GOP Congressman Mike Kelly, the ranking member of the Oversight Subcommittee, said at Thursday's hearing.
"I don't believe we have to choose between protecting privacy and promoting transparency among public officials," he said. "Such an abuse of power would open a Pandora's box that would be tough to get a lid back on. It would set a very dangerous precedent."