While some Democrats are already suggesting impeachment of President Donald Trump, such as freshman Congresswoman Rashida Tlaib, leadership and veteran members of the party continue to try and keep the focus on House Resolution 1, the party's signature bill that seeks to obtain the president's tax returns and establish new ethics rules.
The resolution, officially known as "The For the People Act," has been touted by House Democrats for months. Pledging it will "restore our Democracy," the sweeping reform bill would amend campaign finance, voting and ethics laws. In addition, it would require presidents and vice presidents, including candidates for the offices, to release 10 years of their income taxes, something Trump has long refused to do.
As promised, it was one of the party's first major bills introduced Friday after retaking control of the chamber for the first time in nine years.
"We are introducing H.R. 1 to hold legislation, to clean up corruption and restore integrity to government," Speaker of the House Nancy Pelosi said Friday at the bill's official unveiling, flanked by senior and high-ranking Democrats. "We put power back into the hands of the people."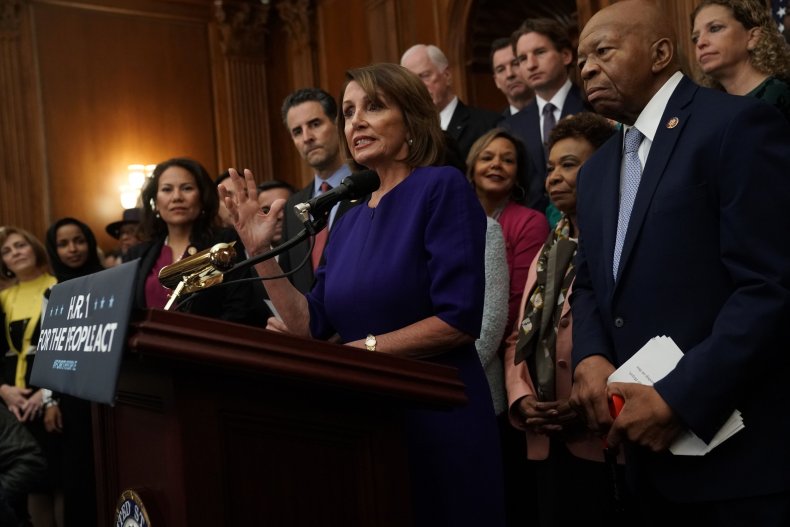 On a call with reporters last month, Democratic leadership unveiled how they planned to garner GOP and public support for the measure that's very much aimed at Trump: introduce sections piece-by-piece, convince the American people, then pressure Republicans to pass the whole package. It would be a massive feat for the GOP-controlled Senate to even consider H.R. 1 as written, much less pass it and have the president sign it into law.
Profanity-laced remarks made by Tlaib on the new Congress' first day, where she said Democrats were going to "impeach the motherf***er," quickly threw House Democrats into a position they did not want to be in. Many House Democrats, including Pelosi, have shied away from condemning their new colleague. The move for new members to begin their time in office with talks of impeachment, as well as Democrat Brad Sherman reintroducing articles of impeachment Thursday, has forced the party to continue to try and stifle impeachment talks while shifting the focus back to H.R. 1.
"I don't think it changes the larger picture," Democrat David Cicilline told Newsweek Friday. "It's a statement from a member."
He, like many of his colleagues at the bill's unveiling, "hope we can get to [H.R. 1] fast."
Key House Democrats, such as those on the Judiciary Committee and in leadership roles, have remained steadfast on their plans to wait for special counsel Robert Mueller's final report and to conduct their own congressional investigations before even considering talk of impeachment.
One of the Democrats heading H.R. 1, Representative John Sarbanes of Maryland, said Friday it will "set the table" for the type of legislative action that's to come from Democrats.
Additional details of the bill will continue to be hashed out in the coming months. Democrats have suggested the campaign finance reform portion would offer transparency when it comes to corporate donations and super PAC money. New ethics provisions would take aim at the president by focusing on conflicts of interests, such as Trump's businesses, and require his tax returns to be released.
Democrats have also said they plan to prohibit members of Congress from settling sexual harassment lawsuits by using public money, as has been done in the past. Another component of the bill would create a nationwide automatic voter registration system, increase early voting and online voter registration, restore provisions of the Voting Rights Act previously ruled unconstitutional, and end partisan gerrymandering.
"Once the public sees it, then they'll want to pass the whole thing, not just pieces," Sarbanes told reporters last month, adding there would be a "political consequence for those who stand in its way."