Trevor Lawrence Meme: Clemson QB Debunks False White House Fast Food Quote
Clemson University quarterback Trevor Lawrence has laughed off claims he described the fast food that his team was served during a dinner at the White House as the "best meal we ever had."
On Monday night, along with his teammates, Lawrence took part in the traditional White House visit that is reserved for teams that have won a national championship.
Read more: Is Clemson the greatest college football team ever after going 15-0?
As President Donald Trump had promised, the Tigers were fed pizza, McDonald's, Wendy's and Burger King, and it did not take long for Lawrence to allegedly share his appreciation for the menu.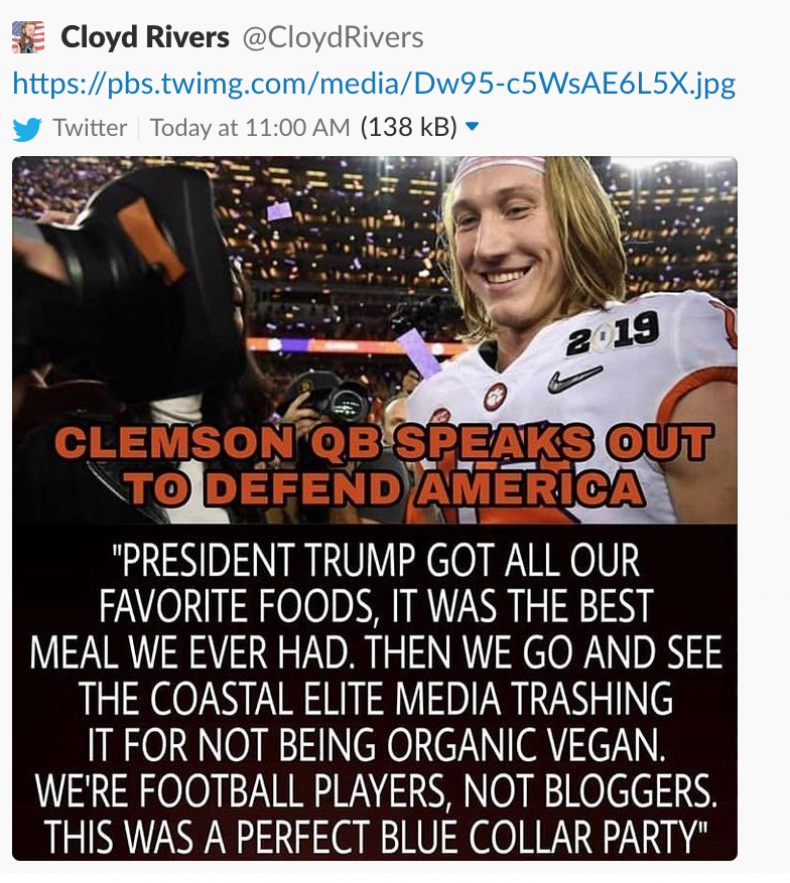 "President Trump got all our favorite foods, it was the best meal we ever had," a meme circulating on Twitter quoted him as saying. "Then we go and see the coastal elite media trashing it for not being organic vegan. We're football players, not bloggers. This was a perfect blue collar party."
The graphic included a picture of Lawrence celebrating after winning the national championship earlier this month, along with the caption "Clemson QB speaks out to defend America."
While the meme immediately went viral, Lawrence swiftly moved to debunk its content.
"I never said this by the way… I don't know where it came from," the 19-year-old tweeted on Tuesday. "However the trip to the White House was awesome!"
The meme, which has since been deleted, was tweeted by a user whose Twitter handle is @CloydRivers. The account, which USA Today described as right wing, has over 1.8 million followers.
While Lawrence clearly enjoyed his visit to 1600 Pennsylvania Avenue, President Trump seemed to be just as impressed with the Tigers and their appetite.
So impressed in fact, that he momentarily forgot how to spell hamburgers, typing "hamberders." The blunder saw him ridiculed on Twitter, where even Burger King took a shot at the President.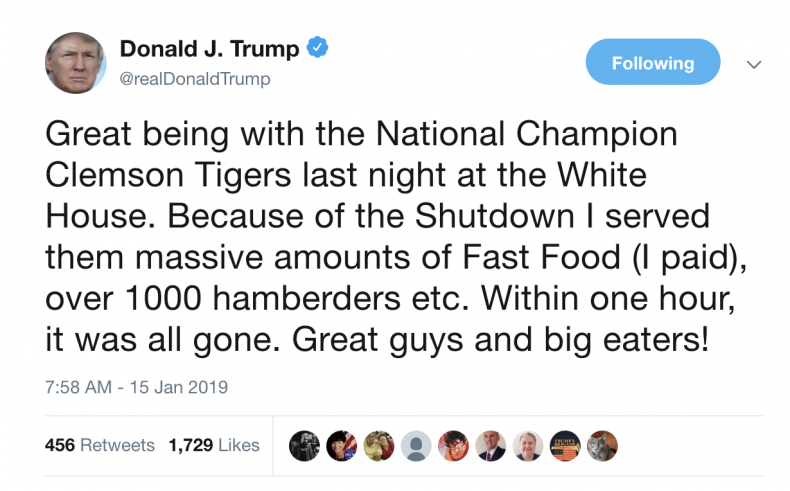 Trump eventually corrected the typo and deleted the original tweet.
"Great being with the National Champion Clemson Tigers last night at the White House," he tweeted. "Because of the Shutdown I served them massive amounts of Fast Food (I paid), over 1000 hamburgers etc. Within one hour, it was all gone. Great guys and big eaters!"
Last week, Clemson became the first FBS/Division I team in 121 years to win 15 games in a season when they thrashed Alabama in the College Football Playoff championship.
Despite going into the game as a 5.5-point underdog, the number two-ranked Tigers beat number one-ranked Alabama 44-16, the heaviest defeat suffered by the Crimson Tide since November 15, 2003.
Lawrence was instrumental in the win, completing 20 of his 32 passes and throwing for 347 yards and three touchdowns.