Trevor Noah Apologizes For Joking That India-Pakistan War Would Be Most Entertaining Of All Time
Trevor Noah has apologized after a joke about the rising tensions between India and Pakistan was dubbed "insensitive" by citizens of the two countries.
Thousands of social media users slammed a gag made by the host of The Daily Show, where he said the Kashmir issue could spark a war between the countries that would be "most entertaining."
Tensions in the region are at boiling point after Pakistan shot down an Indian fighter jet, capturing and later releasing a pilot. Since the partitioning of India in 1947, the countries have fought conflicts over the Kashmir region, which they both claim.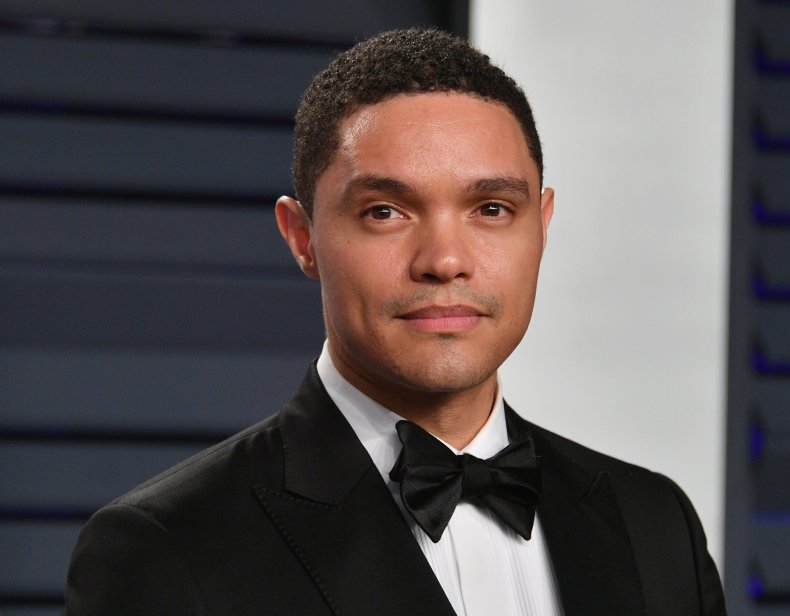 Referencing Bollywood musicals, Noah faked an Indian accent and said that any conflict between the nuclear powers "would also be the longest war of all time—another dance number!"
Indian celebrity Swara Bhasker condemned Noah, tweeting:"@Trevornoah 1. War isn't funny or entertaining. 2. Hindi is not gibberish. Your stereotype of Indo-Pak is ignorant."
Comedian and actor Mallika Dua described Noah's joke as "shockingly unintelligent and tone deaf."
"If you're going to be a racist comic than at least get the comic bit right," she tweeted.
Noah responded directly to the Twitter user Zanaib Sikander, who said: "It's sad when someone who's had a violent past mocks war through a Bollywood stereotype. @Trevornoah's mother was shot in the head by her husband (Trevor's stepfather).
"Imagine someone making fun of it with a Xhosa stereotype- the tribe his mum belongs to."
Noah responded by saying: "Actually if you watch my stand up you'll see that I did make jokes after my mother was shot in the head.
"As a comedian I use comedy to process pain and discomfort in my world but I am sorry that this hurt you and others, that's not what I was trying to do."
He also described it as "amazing" that his joke about India and Pakistan trended more than the story of the actual conflict itself.
"Sometimes it seems like people are more offended by the jokes comedians make about an issue than the issue itself," he said.
Last week, Noah used race as the focus of a joke he made when presenting the best picture nominee Black Panther at the Academy Awards.
Including a Xhosa line in his introduction, he told the audience "Abelungu abazi ubu ndiyaxoka,' which means, 'In times like these, we are stronger when we fight together than when we try to fight apart."
However, the real translation, as revealed by South African media outlet Channel 24, was: "White people don't know I'm lying."