Trevor Noah's 'Powerful Close' on Media, Ukraine Earns Praise Online
Comedian Trevor Noah earned praise online with commenters calling his closing remarks about the media and Ukraine at the White House Correspondents' Dinner "powerful."
The South African comedian used his speech at the Washington Hilton hotel ballroom on Saturday to challenge journalists in the U.S. to make use of their unique position to hold those in power to account.
Speaking to the room packed with politicians, journalists and celebrities, Noah had earlier taken aim at the GOP, CNN, Democrats and Chris Cuomo among many others.
But it was The Daily Show host's closing remarks that earned him plaudits online with many praising his call to arms for journalists across the U.S.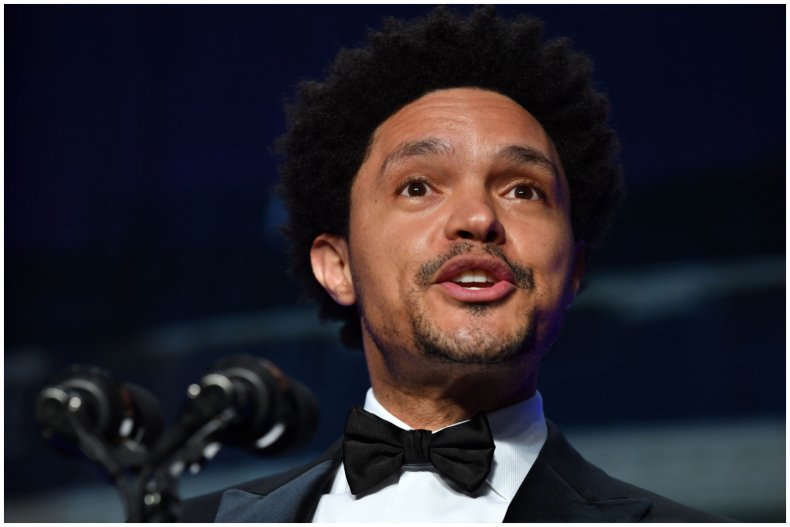 He said: "If you ever begin to doubt your responsibilities if you ever begin to doubt how meaningful it is, look no further than what's happening in Ukraine. Look at what's happening there.
"Journalists are risking and even losing their lives to show the world what is happening. You realize how amazing it is. In America, you have the right to seek the truth and speak the truth, even if it makes people in power uncomfortable. Even if it makes viewers or readers uncomfortable. You understand how amazing that is?
Noah then injected some humor back into the speech with a cheeky question directed at President Joe Biden.
He said: "I stood here tonight and I made fun of the president of the United States and I'm going to be fine."
The comedian then turned to Biden and asked: "I'm going to be fine, right?"
But Noah returned to the more serious tone of the speech and told journalists in the room: "Ask yourself this question. If Russian journalists who are losing their livelihoods…and their freedom for daring to report on what their own government is doing.
"If they had the freedom to write any words, to show any stories or to ask any questions, if they had, basically, what you have, would they be using it in the same way that you do?"
Noah's comments were praised with many on Twitter keen to share his message to America's reporters.
PoliticusUSA editor-in-chief Sarah Reese Jones said in a tweet, which included the comedian's remarks: "Trevor Noah with an amazingly powerful close reminding journalists in the United States, some of whom seem to take for granted what they have, of how lucky they are to have the freedom to speak truth to power."
Comedian Mike Birbiglia said: "I've always respected @TrevorNoah so much but this closing speech from the White House Correspondents' Dinner is particularly spectacular."
Political blogger Charles P. Pierce posted: "Great close by @TrevorNoah. Every local reporter and newscaster are now fans. And with that, we close our evening's entertainment and go watch this week's episode of Picard. #WHCD."
Newsweek has contacted Comedy Central, which broadcasts The Daily Show with Trevor Noah for comment.
The annual White House Correspondents Association dinner on Saturday was the first in several years to have the sitting president had been in attendance.
Barack Obama had been the last president to attend the event, with Donald Trump choosing to forgo it.
It had also been the first time the event was held since 2019, with the 2020 and 2021 dinners being canceled due to the COVID-19 pandemic.