Trevor Reed, the American veteran who was detained for nearly three years in a Russian prison, hit back at GOP Representative Jim Jordan after the congressman suggested that basketball player Brittney Griner would be released from Russian custody if former President Donald Trump was still in the White House.
Jordan on Tuesday tweeted, "Everyone knows President Trump would have negotiated Brittney Griner's release by now." In response, Reed tweeted back: "Yeah big thanks to President Trump for getting myself and Paul Whelan out of Russia. Not."
While Reed returned home in April during a prisoner swap between the U.S. and Russia, Griner and Whelan, a U.S. citizen and former Marine, remain imprisoned in Russia.
Griner was arrested on February 17 at a Moscow airport after Russian authorities said they found cannabis oil in her bag, while Whelan was arrested on espionage charges in December of 2018. Russian authorities on Tuesday extended Griner's detainment until the next hearing on July 2.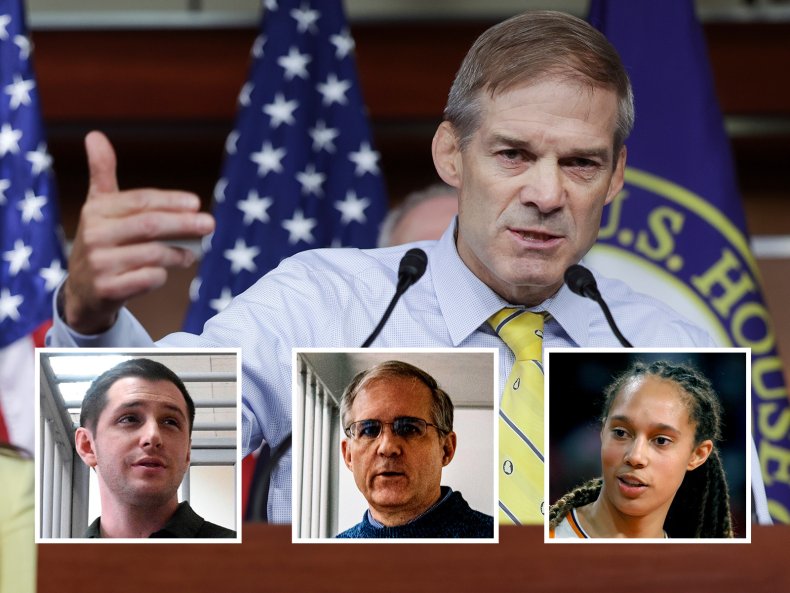 Reed, who was released after his family raised concerns about his health, has advocated for the freedom of all U.S. citizens since returning to America. This week, he announced that he had filed a petition with the United Nations to hold Russia accountable for allegedly violating international law with his detention.
He told CNN's New Day that an investigation would "force Russia to end this practice for all Americans that they're holding there, including Paul Whelan and Brittney Griner."
"We need to get [Whelan] out of there, as well as Brittney," Reed said on Tuesday. "If it takes exchanging someone, we need to do that."
In exchange for Reed's release, the U.S. commuted the sentence of Konstantin Yaroshenko, a Russian smuggler convicted of conspiring to import more than $100 million of cocaine into the U.S. Yaroshenko was arrested in Liberia in May 2010 and brought to the U.S.
Reed's release was met with mixed reviews from the families of Whelan and Griner.
While Griner's wife said her "heart was overflowing with joy" for Reed's family, Whelan's family told Newsweek that they "felt a deep sense of betrayal and hurt" from the U.S. government.
In a statement shared through his family, Whelan said, "Why was I left behind? While I am pleased Trevor is home with his family, I have been held on a fictitious charge of espionage for 40 months."
When announcing Reed's return from Russia, President Joe Biden had promised to continue working toward bringing Whelan back to U.S. soil.
"We won't stop until Paul Whelan and others join Trevor in the loving arms of family and friends," Biden said on April 27.
During the 2020 Republican National Convention, Trump—who has previously claimed to be "the greatest hostage negotiator" in U.S. history—claimed that his administration freed more Americans than any president ever, with the release of more than 50 U.S. citizens from 22 countries.
While Trump was active in returning Americans home, James O'Brien, a special presidential envoy for hostage affairs between 2015 and 2016, told The Washington Post that President Barack Obama freed roughly a hundred Americans abroad during his administration.
The U.S. government has aided nearly 200 hostages since 2015, according to the State Department, but it does not publicly disclose how many citizens remain in hostage.
Newsweek reached out to Representative Jim Jordan.