Trevor Reed Recalls Putin's Blood-Soaked Prison, His Paul Whelan Reflection
Trevor Reed, a former U.S. Marine imprisoned in Russia for 985 days, described the horrors of his captivity in his first television interview on Sunday, saying he was held in a facility with blood-soaked walls and recalling the heartbreaking moment he realized another U.S. prisoner was left behind.
Reed, who arrived back in the U.S. during late April after being exchanged in a prisoner swap for convicted Russian cocaine smuggler Konstantin Yaroshenko, shared his story in an exclusive appearance on CNN with Jake Tapper.
Reed was sentenced in July 2020 to nine years in a Russian prison after being accused of drunkenly fighting with police officers in 2019.
His time served included a horrifying experience in a psychiatric treatment facility, where he was housed in a cell with seven other prisoners he said were "just really disturbed individuals."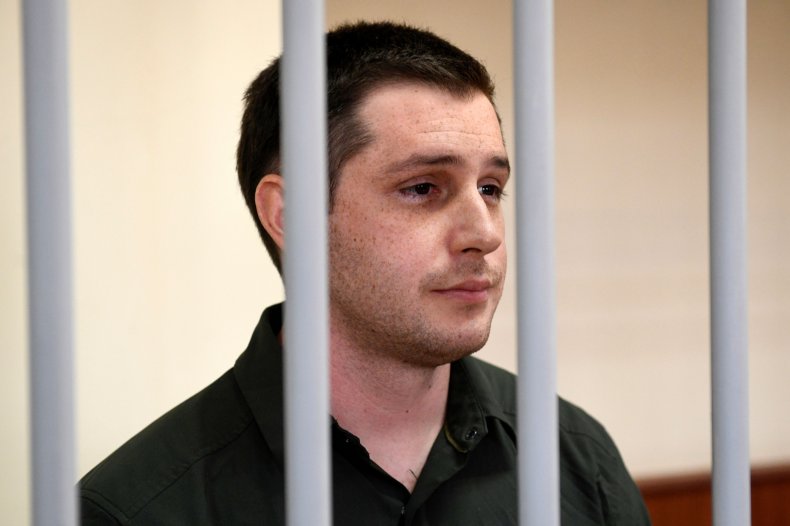 "Inside of that cell, you know, that was not a good place," he told Tapper. "There's blood all over the walls there, where prisoners have killed themselves, or killed other prisoners or attempted to do that. The toilet is just a hole in the floor and there's...crap everywhere, all over the floor, on the walls."
Reed said at times he feared for his life and described some of the other prisoners as "zombies."
"I did not sleep there for a couple of days," he said. "I was ... too worried about who was in the cell with me to actually sleep."
If prisoners were suspected of being violent, they would be sedated, Reed said others told him. This was one of his biggest fears, even more so than the living conditions.
"The scarier part is you being under this threat of them just chemically disabling you," he said. "My whole goal there was to fight and resist that whole time, but if someone uses chemicals to disable you, how can you fight? That was the scariest part, being helpless."
Reed also recalled the moment he realized Paul Whelan, another former U.S. Marine detained in Russia, would not be part of the prisoner swap that freed him.
Whelan was detained there in 2018 after traveling to a wedding. He was arrested on charges of espionage, which he denies, and is serving 16 years in prison.
When considering his own trip to Russia, Reed said he almost changed his mind because he was aware of Whelan's situation.
"Because of Paul Whelan's case, I almost did not travel to Russia," he said. "So this is going to sound stupid because of what happened, but I had already bought a ticket, and I was like, 'I don't want to pay that $200 to change my ticket,'" he said.
But he also thought "there's absolutely no way they're going to do that a second time."
So Reed went to Russia to visit his then-girlfriend for the summer, where he was picked up by police after becoming ill on the side of the road after drinking vodka with her family. That incident that escalated into his wrongful imprisonment.
Reed's experience has inspired him to advocate for Whelan and the 55 other American citizens who are being held overseas.
"When they told me that I was leaving, I thought that Paul was leaving with me, and when I found out that they left him, that was tough," he said.
He decried the decision to not include Whelan in the swap.
"The fact is that the United States should have gotten him out, and we have to get him out at any cost," Reed said.
He said he would ask other prisoners if they knew Whelan.
"They said, 'He's just like you. He's fighting. He's resisting. He's causing as many problems as he can. He's not giving up,'" Reed said. "I was proud to hear that, and I'm still proud of him."
Reed's experience included two hunger strikes and an illness that caused him to cough up blood for his last three and half months in prison.
He lost 45 pounds and said "not even the feral cats" would eat the fish provided to prisoners as food. He weighed 131 pounds upon his release. At a forced labor camp, he refused to participate and spent seven of nine months there in solitary confinement.
But he was determined to survive.
"The longer that I was in there, the more dedicated I was to not allowing them to break me," he said.
He warned Americans against traveling to Russia, saying everyone in the government has "absolutely no value of human life."
"There is absolutely no reason why any American should travel to Russia for anything, ever," he said.