'The Trials of Gabriel Fernandez': Where Is the Gabriel Fernandez Mural?
Since the release of The Trials of Gabriel Fernandez, which is currently sitting at the top of Netflix charts across the world, social media has been full of tributes to Gabriel Fernandez, the eight-year-old boy tortured and murdered in Palmdale, California on May 24, 2013. However, residents of that community have also taken to the streets to paint a mural of the young boy, whose 15th birthday would have been in late February.
Per a Twitter post, the mural can be found on the intersection of 3rd St East and E Avenue Q3 in Palmdale, California, close to Fernandez's former home and close to Gabriel's House, a performing arts center opened in tribute to Gabriel Fernandez in 2013.
This mural presents Gabriel Fernandez as a Christ-like figure, with a halo and stigmata on his outstretched hands. Above his face is a scroll reading "Dedicated 2 Gabriel," while to his right is text reading "en los manos de Nuestro Senor" ("in the hands of Our Lord").
In photos posted by visitors to the Gabriel Fernandez mural, it can be seen that many people have left candles, balloons, flowers and soft toys in front of the mural.
This new Palmdale tribute to the eight-year-old boy is not the first to be created in the community. In The Trials of Gabriel Fernandez on Netflix, we see well-wishers tying balloons to a tree close to his place of death.
On Google Maps, this site is designated as The Gabriel Fernandez Memorial Site, and can be found at 249 E Ave Q10 in Palmdale.
On Gabriel Fernandez's birthday every year since he died, people have left birthday cards, balloons and gifts on this tree.
In the documentary, we see Jon Hatami, the prosecutor of Gabriel's killers Isauro Aguirre and Pearl Fernandez, visit this tree around Christmas time, when it has been decorated with reindeer and snowmen soft toys, poinsettia and other festive decorations.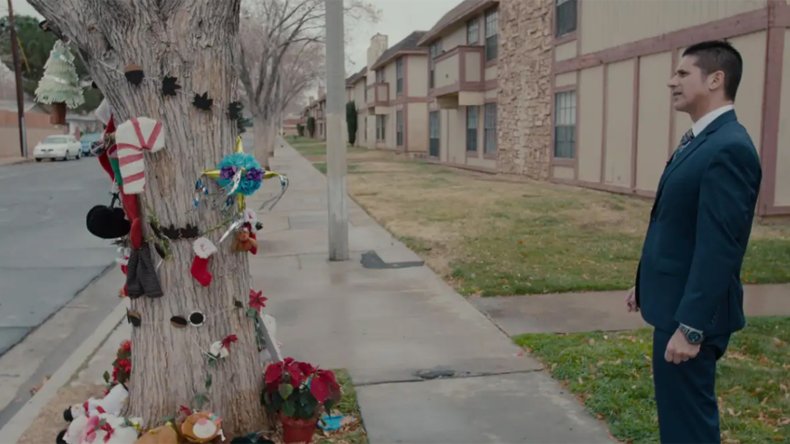 The Gabriel's House project was also opened in tribute to the boy. Per The AV Times, this center provides free musical instruments, equipment and teaching to local young people aged from 8 to 18 years of age.
This center has a number of murals of its own. At the end of the Netflix doc we see two of these: One with a group of adults and children looking at a sunset with text reading "We Are Family No Matter Who You Are" and another that reads "Gabriel's House" and features pictures of balloons and handprints of children who have used the service.
The Trials of Gabriel Fernandez is streaming now on Netflix.