A new true-crime documentary series on Netflix, The Trials of Gabriel Fernandez, documents the months of abuse leading up to eight-year-old Gabriel Fernandez's death on May 24, 2013. The documentary explores the systematic failures of social care and the abuse inflicted upon Gabriel by his mother, Pearl Fernandez, and her boyfriend, Isauro Aguirre.
Gabriel Fernandez had been living with his maternal grandparents, but in October 2012, he moved in with his mother, Pearl Fernandez, for the first time in his life, because she wanted to claim his welfare benefits.
Gabriel Fernandez's grandmother protested the move and reported that Pearl Fernandez had a history of child abuse and neglect, but the police didn't believe her. By this point, according to The Atlantic, at least four child-abuse hotline calls had been made about Pearl. She had abandoned her youngest child, Destiny, and had lost custody of a son, Arnold Jr., who was a year older than Gabriel Fernandez.
When Gabriel Fernandez moved in, Pearl Fernandez was living with her boyfriend, Isauro Aguirre, and her other two children, 11-year-old Ezequiel and 9-year-old Virginia.
In the article for The Atlantic, journalist Garrett Therolf, who appears in The Trials of Gabriel Fernandez, chronicles the incidents that led to the child's death.
On Gabriel Fernandez's first day at Summerwind Elementary, his teacher, Jennifer Garcia, noticed that Fernandez and Aguirre weren't helping Gabriel like the other parents were helping their children. Garcia knew something was wrong when Gabriel Fernandez asked her if it was normal for parents to hit their children with belts.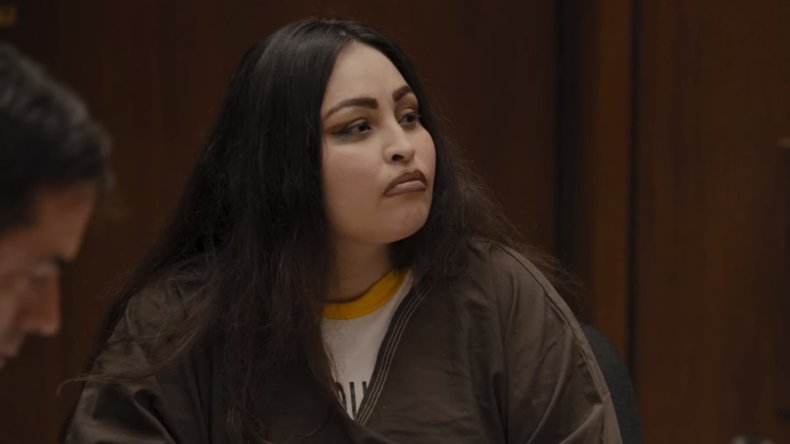 Garcia reported the incident to the child abuse hotline. Stefanie Rodriguez was assigned to the case. Despite Garcia reporting multiple incidents over the next few months, including Gabriel Fernandez telling her that he'd been shot in the face with a BB gun, Rodriguez didn't remove Gabriel from the home.
Gabriel Fernandez continually tried to win his mother's affection, and once stole his teacher's iPod to give to her. But Pearl Fernandez punished him by making him attend school the next day while wearing girl's clothes.
And despite turning up to school with a red eye, peeling skin, and marks over his face and neck, Gabriel Fernandez had wanted to make Pearl Fernandez a Mother's Day card, which he did with great effort, according to his teacher.
By this point—Gabriel Fernandez's siblings later testified—he was being kept locked in a cupboard most of the time.
On May 22, 2013, Gabriel Fernandez became unresponsive after being beaten with a BB gun, pepper spray, coat hangers, and a wooden baseball bat, according to The Atlantic.
Pearl Fernandez called 911, but Gabriel was pronounced brain-dead and died on May 24, 2013.
The trials against Pearl Fernandez and Isauro Aguirre
In 2017, Ezequiel and Virginia, then aged 16 and 14, testified in a trial against Aguirre. Aguirre was found guilty of torture and murder and the jurors recommended the death penalty.
The next day, Pearl Fernandez's attorneys asked the prosecution to drop its push for the death penalty if Fernandez accepted life in prison without the possibility of parole or appeal. Ezequiel and Virginia asked the court to accept the plea as they did not want to testify against her.
In February 2018, Fernandez pleaded guilty to first-degree murder and murder involving torture and in June 2018 was sentenced to life in prison. Superior Court Judge George G. Lomeli said that the abuse was "horrendous, inhumane and nothing short of evil."
Pearl Fernandez's attorney argued that the death penalty was not appropriate as she had a low IQ. According to The Los Angeles Times, Deborah S. Miora, a clinical and forensic neuropsychologist who evaluated Fernandez, said that she was "virtually unable to use thought to guide her behavior and temper her emotional reactions" due to an intellectual disability.
The court heard that as a child, her mother would beat her and that her father was in and out of jail. Pearl Fernandez told a caseworker, Pat Clement, that she had been the victim of a mother who never showed "any love or positive feelings about her."
At 9-years-old, she began drinking and using methamphetamine and at 11-years-old, she ran away from home. Miora's report stated that as a teenager, Pearl's uncle tried to rape her and once a group of men held her hostage for several days and raped her.
Fernandez also reported being a victim of domestic abuse, according to The Times, and was hit by Aguirre. Ahead of Gabriel's death, she was taking opioid painkillers, including OxyContin and Norco.
Wendy Smith, a scholar at the University of Southern California's School of Social Work says in The Trials of Gabriel Fernandez that Pearl Fernandez had been diagnosed with depressive disorder, developmental disability, possible personality disorder, and possible post-traumatic stress disorder.
But in The Trials of Gabriel Fernandez, viewers will also see family members and friends describe her as abusive and controlling.
Pearl Fernandez is at Chowchilla State Women's Prison in California where she is serving a life sentence.
The Trials of Gabriel Fernandez is streaming now on Netflix.