Bollywood legend Dilip Kumar, one of India's earliest and most famous movie stars, has died at the age of 98.
According to the BBC, the celebrated screen star had battled ill health in the months leading up to his death, and was admitted into a hospital in Mumbai, India, on June 30, after complaining of breathlessness.
Born Mohammed Yusuf Khan on December 11 in 1922 in Peshawar, a city in Pakistan which was then a part of British-ruled India, Kumar starred in almost 60 films over the course of a career spanning more than 50 years.
And in the hours that followed Kumar's death on Wednesday, a host of high-profile figures—including politicians, sportsmen and actors—paid tribute to the star on social media.
Narendra Modi, the prime minister of India, wrote on Twitter: "Dilip Kumar Ji will be remembered as a cinematic legend. He was blessed with unparalleled brilliance, due to which audiences across generations were enthralled. His passing away is a loss to our cultural world. Condolences to his family, friends and innumerable admirers. RIP."
Imran Khan, prime minister of Pakistan, tweeted: "Saddened to learn of Dilip Kumar's passing. I can never forget his generosity in giving his time to help raise funds for SKMTH [hospital] when project launched. This is the most difficult time—to raise first 10 percent of the funds & his appearance in Pak & London helped raise huge amounts."
The cricketer-turned-politician added: "Apart from this, for my generation Dilip Kumar was the greatest and most versatile actor."
"An institution has gone .. whenever the history of Indian Cinema will be written , it shall always be 'before Dilip Kumar, and after Dilip Kumar,'" tweeted Amitabh Bachchan, himself a celebrated screen icon. "My duas for peace of his soul and the strength to the family to bear this loss ..[palms up emoji] Deeply saddened .. [pray emoji]."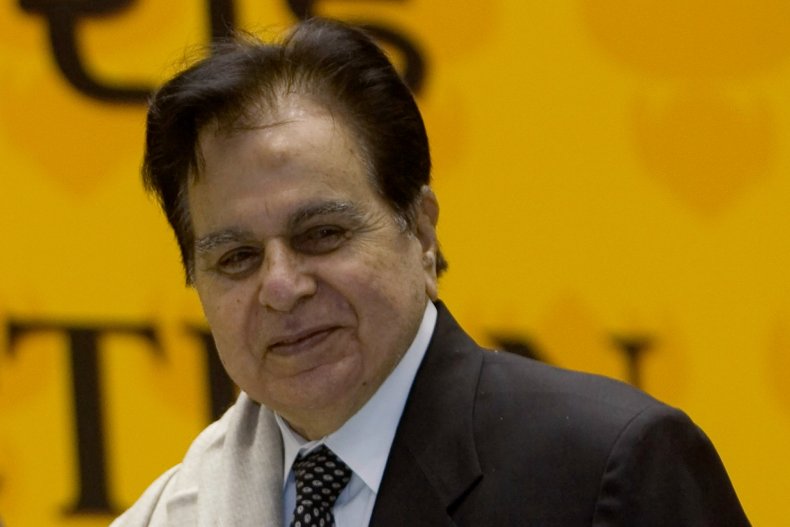 Indian actor Mahesh Babu shared a black-and-white picture of the late star, as he tweeted: "A timeless legend.. His towering brilliance will continue to be an inspiration to actors all around the world. A huge loss for Indian cinema...Rest in peace #DilipKumar Sir. You will be terribly missed."
"Farewell to the legendary thespian," said fellow film star Mammootty. "I've been graced by your love and affection every time I've met you. Your kindness and words made one feel like your own. Farewell to my all time favourite actor. There's nobody like you. Before you or after you."
Actor Allu Arjun joined the tributes, as he wrote: "Legendary Dilip Kumar garu no more . May his soul rest in peace . His contribution to Indian Cinema is unparalleled . An inspiration to actors across generations and generations to come . Dilip Saab will always be cherished , celebrated & missed."
"Today, an icon who was loved by generations passes away. Rest in peace Dilip ji. My condolences to the family," said Indian cricket star Virat Kohli.
Yusuf Pathan, also a cricket player, wrote in his tribute: "End of an era in the Indian film industry. A legendary figure left this world today. My father and I are a big fan and always admired Dilip saab's work. Sending condolences to his family and friends."
"A purist par excellence," said Pakistani-born singer and actor Ali Zafar. "A man who will continue to inspire generations to come. A human being so sophisticated and refined that chapters could be written on the cadence of each line he spoke. End of an era that will nonetheless remain timeless. #DilipKumar #RestInPeace."
Indian politician Priya Dutt shared a snapshot of herself with the beloved late star, as she wrote: "#Dilipkumar was family , a pillar of strength, a legend in his field and an amazing human being. I have lost another father today. May his soul rest In peace."
Meanwhile, film producer Boney Kapoor said: "#Legend #Institution but most importantly role model for actors across seven decades, #DilipKumar Saab passing away is a big loss. Condolences to Sairaji & family . #RIP."
Mughal-e-Azam star Kumar, who was dubbed "The Tragedy King" by fans, has left behind wife Saira Banu, a fellow Bollywood star. The couple had no children.
In a 2012 interview with the Hindustan Times, Kumar said: "It would have been great if we had our own kids. But we have no regrets."
It is enough for us that we have our families to share our happiness and our small dismays with," he added.