'Trinkets' Canceled: Why The Netflix Show is Ending After Two Seasons
Trinkets Season 2's 10 episodes are streaming now on Netflix. However, when those episodes were announced last summer, the streamer confirmed that the show was canceled, and would end after its second season.
This makes Trinkets the latest Netflix series to end after just two seasons. Other big streaming shows to only make it to their second set of episodes include Master of None, Insatiable and Marvel shows like Iron Fist, Luke Cage, and The Punisher.
The reason why Trinkets is ending, however, is thought to be slightly different than for most of those shows. Trinkets is based on the 2013 novel by Kirsten Smith, and Season 2 brings to an end the story told in that book.
As such, Season 2 sees the show come to its natural ending, and according to a Hollywood Reporter article, Netflix wanted to counter criticism that it cancels too many shows early by letting fans know upfront that Trinkets would be ending.
This reported decision comes after many publications (including Newsweek) noted that Netflix cancels many of its shows on or before their third seasons.
Newsweek has reached out for comment to Netflix about why Trinkets is ending and will update this article when we get a response.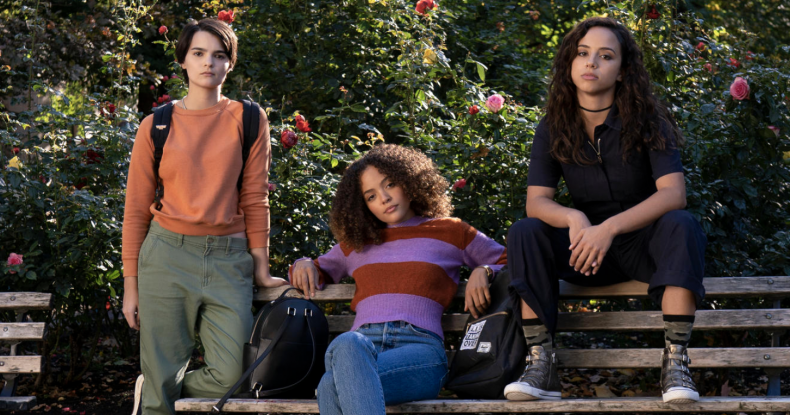 In fact, Trinkets fans should perhaps count themselves lucky that they got a Season 2 at all. 2020 has seen at least a dozen Netflix shows end after one season. Most recently, The Society and I Am Not Okay With This were both axed after only one installment each, with the former having its Season 2 renewal reversed as a result of COVID-19.
Trinkets author and show creator Smith has said she has been allowed to end the show when she wanted to. She told HollywoodLife: "I felt like we wrapped everything up. We kind of loved and embraced the idea of it being the final season. For me, in my heart, I just want to know that they're going to be friends forever."
She added: "I kind of love that we can leave this season in a way that they're going to just live as best friends forever and ever in our minds. We don't have to see them go to college and separate from each other."
Trinkets is not the only teen drama to end this year on Netflix before its high school students leave for college. 13 Reasons Why, for example, ending this year after Season 4, which ended with a graduation. Chilling Adventures of Sabrina will also end before its eponymous lead goes to wherever witches go for further education.
Trinkets is very much going out on a high. In July, the Netflix show won two Emmys for its first season: One for Outstanding Young Adult Program, and one for Outstanding Writing for a Children's or Young Adult Program.
Trinkets Seasons 1 and 2 are streaming now on Netflix.