On Wednesday's episode of NXT, Drake Maverick lost in the finals of the Cruiserweight Championship tournament, but received a new contract after being one of the many wrestlers who were released in April.
Maverick and many others were released or furloughed from the company amid the ongoing COVID-19 pandemic, as a cost-cutting measure.
Paul "Triple H" Levesque, WWE's Executive Vice President of Global Talent Strategy & Development, and founder of NXT, met with the media on a conference call Thursday to talk about the upcoming NXT Takeover: In Your House show this Sunday.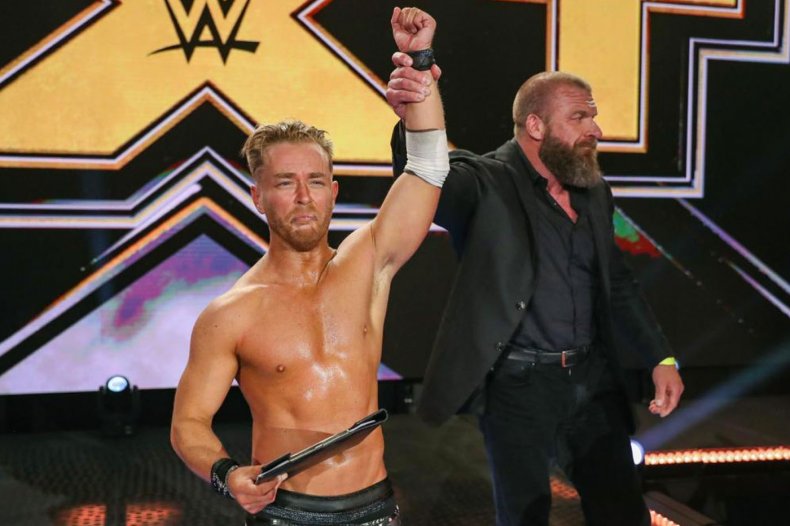 Fightful's Sean Ross Sapp asked Levesque about the Drake Maverick situation, to which Triple H said, "We already had the tournament booked out and I believe it was a little bit of a jumble, but we already had it promoted. Then, the releases happened, which is horrible. No one wants to see anyone lose their job, especially in the world right now. A lot of companies, around the world, are having to make tough business decisions to ensure they're still there. Difficult decisions were made. He was given the option of continuing the tournament and wanted to prove that he could still be here."
"If you've met him or know him, he's one of the most passionate guys and loves WWE. Couldn't be a better guy. As we said when the release happened, it wasn't like he was involved in anything, it just happened," Levesque continued. "But through the process of this tournament, he captured people's hearts and imaginations. He earned that spot ... I'm personally thrilled for him that he can continue to do what he loves and dreams about doing. I'm thrilled we were able to get where we did."
While WWE superstars have taken to social media to congratulate Maverick on the new contract, one former champion wasn't so happy with how the situation played out.
Former NXT Cruiserweight Champion Lio Rush, who was one of the wrestlers released on April 15 along with Maverick, took to Twitter to voice his displeasure with how the WWE used this real-life event in the storyline.
"Man. Are they going to hire everyone back then? Kind of a slap in the face to use this as a shoot work," Rush wrote. "But i guess I'm not surprised. Super happy for anyone getting their job back. But damn, real trauma and a lot of others were a part of this."
In a press release sent by the WWE following the layoffs, the promotion cited COVID-19 and government impacts on the business as a reason for the move.
"Due to COVID-19 and current government mandated impacts on WWE and the media business generally, the Company went through an extensive evaluation of its operations over the past several weeks. This analysis resulted in the implementation of various short-term cost reductions and cash flow improvement actions," the press release read.
WWE stated that the layoffs would save the company $4 million a month. On April 23, the WWE reported in its 2020 first-quarter earnings that revenue improved 60 percent to a record $291 million, up from $182.4 million a year ago.
About the writer
Phillip Martinez is a game and culture reporter for Newsweek. Prior to joining Newsweek in 2018, he was a reporter and editor for iDigitalTimes and Player.One. A Bronx native, he graduated with his Bachelor's degree in Journalism from St. John's University in 2010. An avid Nintendo fan and wrestling mark, he's always looking to become a Pokémon Master while fantasy booking this year's WrestleMania. You can contact him at p.martinez@newsweek.com