Triple H Talks NXT Takeover 25 and AEW's Jab at Double or Nothing
NXT Takeover 25 will usher in a new chapter for WWE's third brand. The pay-per-view happening in Bridgeport, Conn. will be the first show in the promotion's history that's not attached to a main roster event like WrestleMania or Summerslam.
That fact isn't lost on NXT's senior producer, and WWE's Executive Vice President of Talent, Live Events & Creative , Paul "Triple H" Levesque.
"Feels a little bit different. It's slightly less busy. We're not ramping up for back to back events," Levesque told press over a conference call. "For the talent it's not anything less. They are extremely excited. The one thing about the Takeovers, and the brand in general, are that all the talent are young and hungry and are ready to prove something. They are all here to prove a point and this is no different."
Ahead of NXT Takeover 25, Triple H spoke to press about the upcoming event and the rumor and innuendo surrounding his promotion including what he thought about a now infamous incident involving Cody Rhodes at All Elite Wrestling's Double or Nothing show, where Rhodes destroyed a prop designed to resemble Triple H's iconic throne.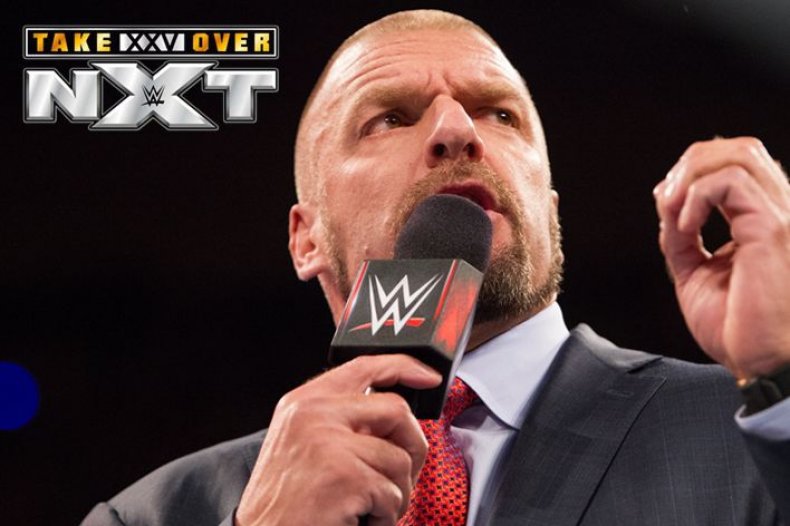 On the subject of Tyler Breeze being a full-time member of NXT or not
"For me, Tyler Breeze is in NXT right now. I'm thrilled to have him here. I think he's one of the greatest talents out there and I'm thrilled to have him back."
Biggest learning curve in putting this show together compared to the promotion's first big event, NXT Arrival in 2014?
"The biggest learning curve is after you start something, how do you make it have its own identity. Have it be standalone and even during the process, have the talent adapt to different presentation without coming out as more of the same.
The reason why Viking Raiders vacated the NXT Tag Titles instead of building a story around it.
"Knowing that they'll be used on RAW and that it already took place. Do you want to put them into something and build a big storyline and negate the fact that in some way they are gone? Or do you vacate and let teams try and fight among themselves? There's always a mix as to how you want to get to those things. Hopefully you make the right call and make it as entertaining as possible.
I don't think anyone is going to complain about a ladder match with this level of talent. I'm excited to see it and you can look at everyone in there and make an argument as to who should take those titles."
Still have a six-month plan for NXT calls up after moving to main roster?
"That is the goal, to have a long-term plan and I can tell you there are ones now. Will those things morph? Absolutely. There is also the need, given injuries, shifts and something that doesn't work that you expected to on RAW or SmackDown. Their need or desire to say "we need this" and when that happens I'm excited for the talent to have that opportunity to go and grow and do something more.
With us, if the situation creatively demands it or there's a need for someone to get called up that's where we'll go."
After the Hall of Fame, AEW took a jab at Triple H. Will NXT respond?
"The Hall of Fame, with Billie [Gunn] there's a moment where you can say there's an elephant in the room. And if you don't mention it people are going to ask why they didn't. So it was nothing more than that and to be honest with DX if you don't do that it's not us. And to be honest, some of that wasn't planned and things kind of just went along.
I don't think about [the Double or Nothing incident]. For me, when it comes to this Takeover, I just want to put out the best product possible. I'm not focusing or thinking about someone else's creative or what they say or didn't say or anything else. I'm focused on this Saturday."
With Tyler Breeze coming in, who comes to NXT next? Chad Gable and Luke Harper are two people who could possibly be brought in to NXT to help them and the product. Or do you not want to overload the show with guys from the main roster?
"It's a feel. There's someone that's talented and where they are at creatively at a holding pattern. Not everyone is going to be on the ascent of a major push. If they have the talent and are open to being here then yeah, but it's a feel. What's enough, what's too much? You have to feel it out so you're not overexposing that and then it becomes something the NXT brand is not. You want to have the right blend and that's a constant feel out process."
Is there a plan to have guys stay in NXT for their whole career?
"I think there are all options, especially as we move forward in time. NXT, NXT UK as we continue to grow and develop other entities like that the opportunity for talent to not go to RAW and SmackDown and have a meaningful career within that system. It's a real thought and possibility and as we move forward, the ability for talent to morph in and out of that adds longevity to everybody."
24/7 or Women's Tag Team Champions in NXT?
"It's definitely a possibility on both."
Triple H says he would love to have them on the show but it comes down to talent scheduling.
Thoughts on talent doing video promos on their own like Nikki Cross and put them on social.
"I think it's great. Any time talent can step out there and help build their brand, their characters. The one thing about social media, you have to be careful what you do on there. It's something we are all encouraging and working with them at the PC on how to become their own brand ambassador."
Triple H says it's hard for him to keep track of what everyone is doing but he gives an example of Drake Maverick making Wanted posters for R-Truth. He did that on his own and they took notice and thought it was funny, so now they put it on the show.
How would you handle Matt Riddle fielding offers from UFC?
"We'll talk to Matt about it and if it's something we and he would like to do we would have that conversation. I think he's having the time of his life doing what he's doing. I don't know if he would want to go out and train differently and do something different."
Bringing Takeover to San Jose?
Triple H says they are looking at the right place and time for it because the city means a lot to NXT.
NXT Takeover 25 streams live this Saturday, June 1 on the WWE Network starting at 8 p.m. EDT.