A photographer who captures incredible drone images of seemingly ordinary locations across America has seen his work compared to a hit movie.
Aydin Büyüktaş, a professional photographer based in Dallas, spends months perfecting shots to create each breathtaking image, which seemingly defy gravity.
Büyüktaş, has captured everything from baseball fields to cemeteries, with his editing skills giving a unique perspective to the landmarks.
Buildings and roads appear to curve upwards, with the distance resembling a sheer cliff face.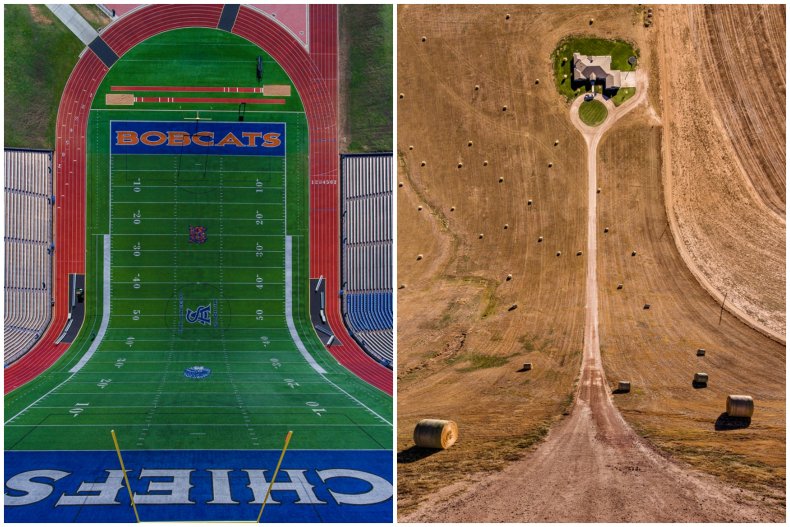 One image in particular, of a farm with hay bales, has captured the internet's imagination, after it was shared across Reddit.
User PoorOldJack posted the snap to the site's Woah Dude forum on Monday, captioned: "A field with a warped perspective."
It amassed more than 30,000 views, as numerous people compared it to the Cooper Station scenes in the 2014 blockbuster Interstellar, starring Matthew McConaughey.
Commenting online, LeaphyDragon wrote: "Came here just to say Interstellar vibes. Love that movie."
Shaurma99 admitted: "I legit thought this was a screenshot from Interstellar. Anyway, how do you get this shot, with post production I believe?"
MidasTouch007 asked: "Trippy af how was this made?"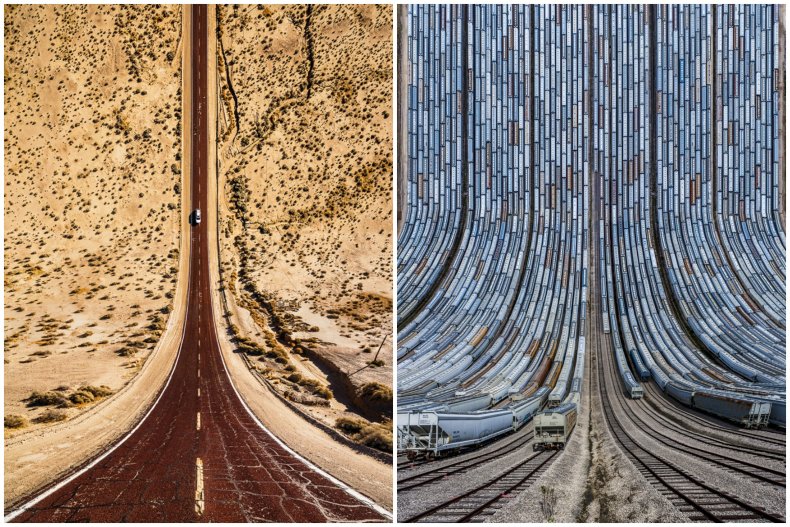 Coffee-_-67 questioned: "Is this the actual picture scene from Interstellar or is this just something that looks like it?"
Endofdaysofdays joked: "Flat earthers hate this one picture."
DarkenRal noted: "That looks like it would be a great sledding hill."
ErynEbnzr raved: "There's a lot more work that goes into this than I thought. Pretty neat!"
Redit0 commented: "Is that an insanely steep hill or somehow the picture makes it look like that? Cool never saw that before."
StealthMasterZ pointed out: "If you look at the house, it's clear that it cannot be standing vertically, so yeah it's the picture that makes it look like that."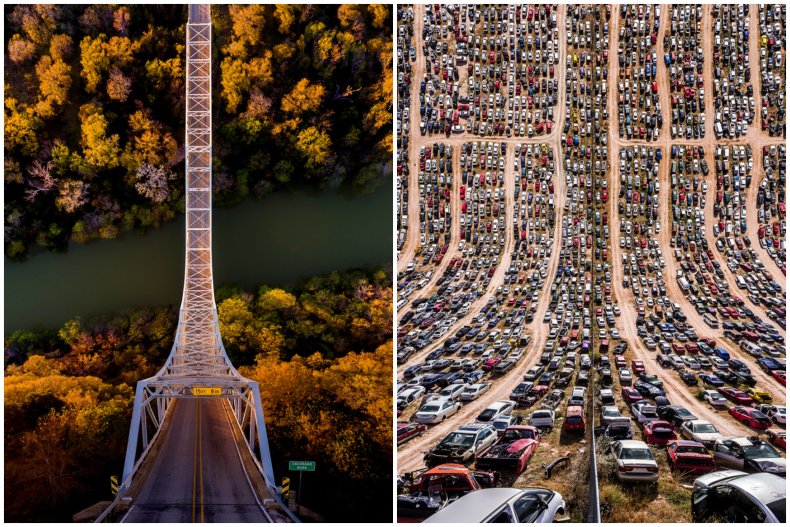 While BGJohnson329 said: "Oh biscuits, I do not like this photo. It makes me feel uneasy."
And commenting on the composition, Word_up_sharon added: "This nauseated me."
Chatting to Newsweek, Büyüktaş explained the photo of the farm with hay bales was taken near Amarillo, Texas.
He said: "It needs at least 17 drone photos to create a smooth band and collage them easily."
Büyüktaş revealed it usually takes four months to create a project, and he used analog for one collage, but "didn't like" the feeling it gave him, so he switched over to digital.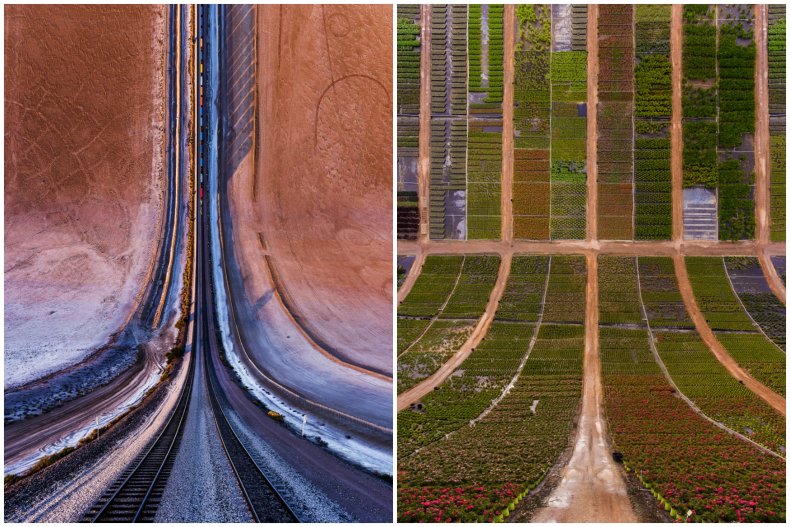 Explaining how he got into this style of photography, he said: "It was the year 2006. While I was reading Hyperspace the book of Michio Kaku, he was using examples from Flatland: A Romance of Many Dimensions of Edwin Abbot.
"I discovered the book like this. I was very impressed by the book written in 1884 [Flatland: A Romance of Many Dimensions] exemplifying the difficulties in comprehending the way of interconnecting the dimensions and the inter-dimensional transition.
"The fact that the book tried to tell the inter-dimensional transition and the third dimension in second dimension corresponded to my inquiry about the third dimension.
"The name of the book corresponding to my project as such was ironically very proper [...]"