Rare Photo of Stealth Bomber Mid-flight Spotted on Google Maps Goes Viral
Google Maps has served up a wealth of bizarre sights, from people captured mid-fall to Scientology's base in New Mexico. Now another image is set to join the ranks of the weird and wonderful, after a Redditor shared a rare photo of a B-2 stealth bomber mid-flight.
Hippowned posted the snap to the forum's Damn That's Interesting thread, showing the unmistakable shape of the aircraft.
The Redditor uploaded it on Monday, with the caption: "A stealth bomber in flight caught on Google maps."
Hippowned also added the coordinates, for anyone who wants to check the image for themselves. They are 39 01 18.5N, 93 35 40.5W.
The craft was seen in the air above Davis Township, Missouri. Some 21 are said to be based at Whiteman Air Force Base in the state, according to the news site Airforce Technology.
The one-of-a-kind image has racked up more than 100,000 votes on Reddit, plus thousands of comments marveling at the photo. B-2s are capable of traveling at subsonic speed and at a height of more than 50,000 feet.
Acid_Taco joked: "I guess you can say it's not very stealthy."
RandyGareth quipped: "More like a photo bomber."
J_la mused: "I wonder who spotted this first. Real needle in a haystack moment."
"This picture will disappear real quick," Ornery-Cheetah posted.
Quarterpie3141 pointed out: "Woah that's so cool you can see how satellites take colour photos, one for each red, blue, green wavelength."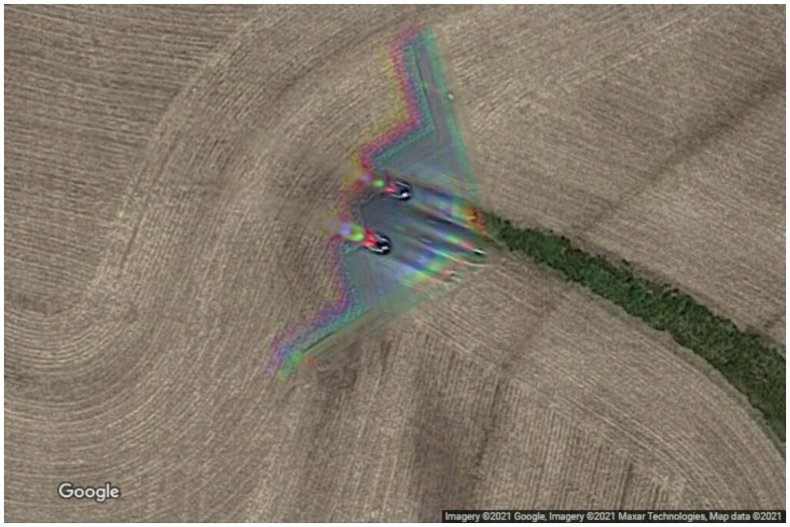 Google Maps credits this shot to Maxar Technologies, which specializes in satellite imagery. The blurred effect on the bomber isn't just down to its speed, but the colors in which satellites capture images.
"To make a satellite image, we choose three bands and represent each in tones of red, green or blue. Because most visible colors can be created by combining red, green and blue light, we then combine the red, green and blue-scale images to get a full-color representation of the world," NASA explains on its website.
The slight separation between the colors is indicative of how fast the bomber was flying—and how fast the satellite was capturing the image.
It's not the first time an aircraft has been captured on Google Maps, with a commercial liner also spotted by a Redditor.
In 2017 @Leequinn shared a snap to the site, simply saying: "Airliner caught mid flight on Google Maps." It was seen above France and displays the same trio of colors.
Another B-2 was captured on Google Maps in September.
This one was on the ground at the at the Whiteman Air Force Base, after appearing to have overshot the runway. There were no injuries after the crash, according to Air Force Magazine.
Its article quoted an Air Force Global Strike Command spokeswoman, who said there had been an "emergency landing" following "an inflight malfunction during a routine training mission."
Northrop Grumman, the B-2's prime contractor, shared some statistics about the iconic aircraft on its website.
The craft is 69 feet long and 17 feet tall with a wingspan of 172 feet—half the length of a football field. It has appeared in movies such as Independence Day, Armageddon, Iron Man 2, Cloverfield and Captain Marvel.
The bomber can carry up to 20 tons, with the website explaining: "The B-2 can travel 6,000 nautical miles without refueling and 10,000 nautical miles with only one refueling. It can reach any point in the world within hours."
A spokesperson for Northrop Grumman told Newsweek: "I can confirm that the image you provided is a B-2 flying near Whiteman Air Force Base where the fleet is stationed to keep our country and allies safe.
"Northrop Grumman is committed to the B-2, its mission and our Air Force customer, including efforts underway to ensure the B-2 remain viable and effective for many years to come."
Hippowned later told Newsweek they found the image on Facebook group Google Earth, structures and anomalies, posted by Scott Wagner on Sunday.
They said: "Although Reddit wasn't the first site for it to appear on, the fact that not a single Redditor out of the 100k that upvoted it, not to mention the countless others that saw it, leads me to think it's a pretty new discovery. Redditors love to call out reposts you see!"
Newsweek has reached out to Google for comment.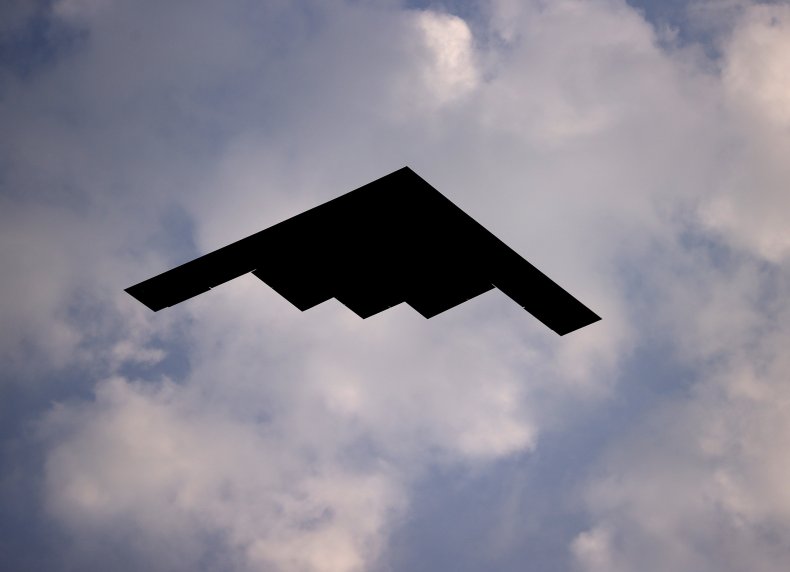 Update 12/22/21, 5:20 a.m. ET: This article was updated with comment from Northrop Grumman and Hippowned.
Correction 12/22/21, 5:20 a.m. ET: This article was clarified to reflect the image first appeared on Facebook.