Trish Stratus Says She Needs 'Time to Process Everything' After Final WWE Match
Trish Stratus' final match in the WWE came at this Sunday's SummerSlam pay-per-view and following her loss, the Hall of Famer says she needs "time to process everything."
Stratus took to social media on Monday to show her followers her appreciation for their support while letting the WWE Universe know how she's feeling. "I'm going to need some time to process everything," Stratus said on Twitter. "So for now I'm just going to say, thank you."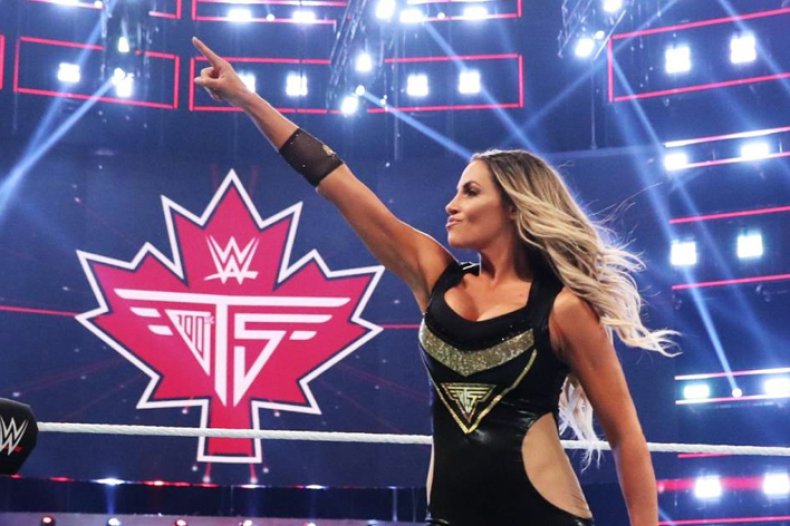 Stratus returned to the WWE on the July 30 episode of SmackDown Live in a segment with Jerry "The King" Lawler. She was interrupted by Charlotte Flair who was annoyed that she didn't have a scheduled match at SummerSlam. Flair would constantly say that she's the best WWE female superstar of any era and that includes Stratus. After some insults, Flair would goad Stratus into a match.
In the days leading up to SummerSlam, Stratus would make comments alluding to her retirement from in-ring competition, going as far as to call it her final match.
"It's my final match. This is it and this is a perfect moment to have my final farewell," Stratus said in an interview with WWE. "It's going to be special and very memorable. And I'm sure everyone will be satisfied."
The match between Trish Stratus and Charlotte Flair became one of the highlights of the entire SummerSlam pay-per-view. While Stratus' hometown of Toronot was firmly behind her, Charlotte would eventually cause Trish to tap after locking in the Figure Eight submission.
Following the match, Stratus would stay in the ring along as the crowd showered her with praise. In the WWE - and professional wrestling in general - this usually signifies a wrestler's retirement or them leaving a particular promotion for another.
In a WWE.com exclusive, Trish spoke about how her match with Charlotte was originally going to be a comeback, but she began to feel during her training that this would be her final one. She then thanked Charlotte and the rest of the WWE women's locker room. You can watch the interview below.
In 2019, the WWE already saw two more recognizable superstars call it quits. At WrestleMania 35 in April, both Kurt Angle and Batista retired from in-ring competition after losing to Baron Corbin and Triple H, respectively.
While the WWE worked the Angle retirement into an angle, Batista didn't formally announce his retirement from in-ring competition until his match was completed, telling his social media followers that he was hanging up his boots.
If this is indeed Trish Stratus' final match in WWE, she would be remembered as one of the trailblazers of women's wrestling in the company. She was a seven-time women's champion over her 19-year career and was inducted into the WWE Hall of Fame in 2013.