WWE SmackDown Live Results: Trish Stratus Returns Ahead of SummerSlam
This week's SmackDown Live will bring two WWE Hall of Famers to the blue brand as the promotion prepares for SummerSlam.
Trish Stratus will be a guest on Jerry "The King" Lawler's "The King's Court." It's unclear what Lawler and Stratus are there to talk about - most likely how SummerSlam takes place in Trish's hometown of Toronto - but if the reports are to be believed, the Hall of Famer will be getting more than just a sit down with The King.
Dolph Ziggler's attack on Shawn Michaels on last week's episode has rubbed many the wrong way. He's been criticized by Alexa Bliss and Seth Rollins, who had a match with The Showoff on Monday Night RAW. Tonight, Ziggler will cross paths with Finn Balor who also has a problem with Dolph's actions.
Although Balor has been dealing with a stomach flu that took him out of the Smackville show this past Saturday, Finn is scheduled to take on Dolph. Balor is scheduled to fight Bray Wyatt's The Fiend at SummerSlam, so he will need to watch his back while taking on Ziggler.
Ziggler has been at odds with The Miz of late, so The A-Lister can also get involved.
With just two more SmackDown Lives before SummerSlam to go, a lot is expected to happen tonight. Here's everything that went down on the July 30 episode of SmackDown Live.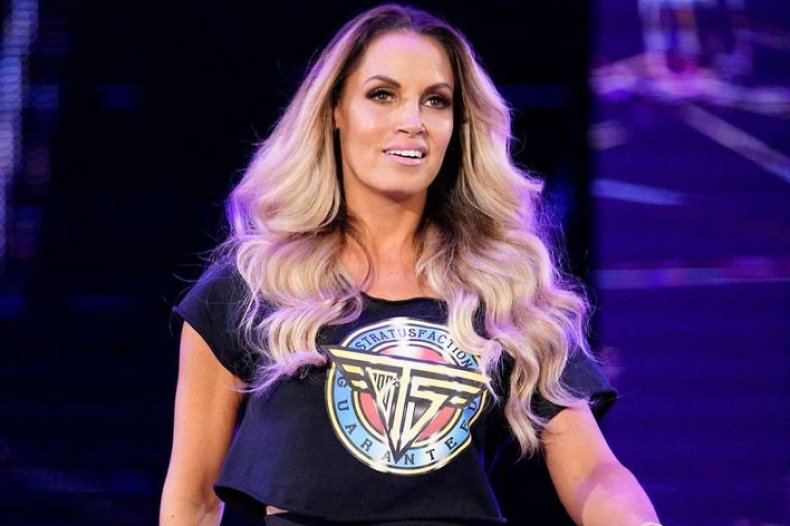 SMACKDOWN LIVE RESULTS
Opening Segment
A video showing Shane McMahon giving a message to the WWE Universe. He says that he won't be on SmackDown Live and apologizes for disappointing the fans. He blames Kevin Owens for his absence.
Kevin Owens comes out to the ring and tells the fans that they will make it through tonight without Shane. KO says that now that Shane is gone, then SmackDown could be about the competitors and not him.
KO says that at SummerSlam he will beat Shane.
Drew McIntyre comes out and tells KO he talks too much. Drew informs Kevin Owens that they have a match tonight. Drew delivers a suckerpunch before telling Owens that the match is happening now.
Drew McIntyre vs Kevin Owens
Kevin Owens wins via pinfall after two Stunners
Dolph Ziggler Interview
Ziggler is shown what he did to Shawn Michaels last week. Ziggler starts to run down all the veterans who returned. He namedrops Mick Foley getting attacked by The Fiend, Goldberg's last match and Shawn Michaels last match.
He says that Miz wants to challenge him at SummerSlam, but he's not even the best wrestler in his home. He's more afraid of Maryse.
He also brings up his opponent for tonight, Finn Balor, and says he'll beat him and shut up the Balor Club.
Backstage Segment
Bayley walks up to Ember Moon in the locker room.
Bayley says that although they are teaming up tonight, she hasn't forgotten what happened last week. And she reminds Ember that she wouldn't be having an opportunity at the SmackDown Women's Championship if she didn't choose her. Bayley warns Ember that they'll get through tonight, but if she pulls something she'll regret it.
Aleister Black Segment
Aleister Black salutes Cesaro for his two matches with him. He wonders what is the next chapter for him. He finds himself in this self-imposed prison waiting for another challenger, but he is growing less patient.
Ember Moon/Bayley vs Alexa Bliss/Nikki Cross
Bliss pins Ember Moon after a Twisted Bliss
Finish was set up by Nikki Cross pushing Alexa out of the way of an Eclipse, causing Bliss to throw Moon into the post.
After the match, Bayley helps Ember up and then hits her with the Bayley to Belly
Sami Zayn Interview
Sami says he's come to SmackDown to scope out the competition. But he says that he sees a lot of people who need help, especially Aleister Black. He says that he has all this hype and is afraid that's why he hides. Sami says that he's decided to defeat Aleister Black and end the hype at SummerSlam.
Daniel Bryan Interview
Bryan is given the opportunity to make his announcement. He scowls and walks away with Rowan.
King's Court
Trish Stratus is The King's guest
Trish says she's sad to have missed the RAW Reunion (she was on vacation) but she's happy to see her girl Kelly Kelly become the first female 24/7 Champion.
King tells Trish that a lot of the returning superstars last week that they wish they could have one final match. Stratus is asked if she wants one final match.
Stratus says that the WWE is in her blood and soul and there will never be a time where she won't have that itch, but she's a mom and she has other duties.
Charlotte comes out and says that it's a disgrace to hold the King's Court without a queen. She asks how the greatest female superstar in any era isn't on SummerSlam.
Charlotte goads Trish but Stratus doesn't say anything. Charlotte says that she understands because back when Trish was wrestling the women were shaking their assets, but Charlotte is leading the evolution. Charlotte says that Trish is scared and tells the hall of famer to leave and go back home.
Trish says that she respects Charlotte, but right now she's just being a bitch. She says that there wouldn't be a trail to blaze without her, Lita, Jacqueline, Ivory and Beth Phoenix. She tells Charlotte that if she wants to be the woman, she needs to be the woman. She accepts Charlotte's challenge at SummerSlam.
Backstage
The OC and AJ Styles says that they are all champions and that Kofi Kingston will find out how SmackDown is the house that AJ Styles built.
Firefly Fun House
Ramblin' Rabbit appears and says he's excited for SummerSlam because he's Finn Balor's biggest fan. But he made a very big mistake because The Fiend is unleashed. Rabbit says that Finn doesn't know what the Fun House really is. Before he can say any more, he runs away as Bray Wyatt comes into frame looking for him. Wyatt laughs before his face gets serious and says, "let me in."
Finn Balor vs Dolph Ziggler
Ziggler wins via pinfall after Sweet Chin Music
The finish was set up when the lights began to flicker and go dark. When the lights come back, The Fiend appears in the arena before disappearing into the dark. When the lights come back up, Ziggler hits Finn with the finishing move.
Shinsuke Nakamura vs Ali
Ali wins via pinfall after reversing a Kinchasa into a roll up.
AJ Styles (with The OC) vs Kofi Kingston (with The New Day)
Kingston wins via pinfall after hiting AJ Styles with a Trouble in Paradise while Styles was going for the Phenomenal Forearm.
Roman Reigns Interview
Reigns is seen walking backstage towards Kayla Braxton when some scaffold falls on him. Security helps him out and Roman walks away unscathed but distraught.