WWE Monday Night RAW Live Results: Roman Reigns and Samoa Joe to Meet in the Ring Again
We're less than two weeks away from this year's SummerSlam and WWE is ramping things up with a ton of matches already confirmed for tonight's Monday Night RAW.
According to the official WWE site, Seth Rollins will take on Dolph Ziggler. The WWE Universe were surprised when Ziggler took out Shawn Michaels with a Superkick on last week's SmackDown Live and now Rollins looks to take it to "The Show Off" on Monday. Rollins, who is set to take on Brock Lesnar for the Universal Championship, will use this as a test and warmup for the big match.
Roman Reigns is scheduled to appear on Monday Night RAW for a "Samoan Summit" with Samoa Joe. The two have traded verbal barbs and fists in recent weeks, and tonight will look to continue the formation of this story and feud. This could be a possible matchup for SummerSlam.
In the women's division, RAW Women's Champion Becky Lynch is set to take on Alexa Bliss. Becky and her SummerSlam opponent, Natalya brought last week's A Moment of Bliss to a screeching halt after the two began brawling on the stage. Lynch looks to use Alexa as a warm up, but with Nikki Cross in Bliss' corner will she be able to overcome the odds?
Here's everything that happened on the July 29 episode of Monday Night RAW.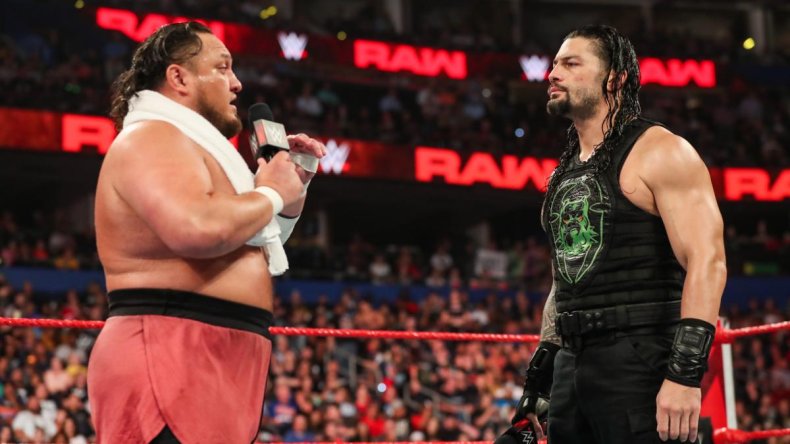 MONDAY NIGHT RAW RESULTS
R-Truth and Carmella vs Drake Maverick and Renee Michelle
A video package hyping up the 24/7 Championship is played before the match.
Truth wins via pinfall after a Flatliner
The finish was set up when Renee Michelle broke up the pin and Drake told her to get back into the corner, which allowed for Carmella to slap him and Truth to hit his finisher.
After the match, the lumberjacks all hop onto Truth. The referee counts the pin and Mike Kannellis escapes the pile with the 24/7 Championship.
Backstage, Mike runs away from the others and locks himself in a room. Maria clears out the other competitors and she demands he opens up. Mike eventually lets her in after she threatens to "kick him in the vagina."
Gauntlet Match (Rey Mysterio/Cesaro/Andrade/Ricochet/Sami Zayn)
Winner will become number one contender for the US Championship
Rey Mysterio and Cesaro start. Rey pins Cesaro after a 619 into a Frog Splash.
Sami Zayn is the next competitor in. Before the match is restarted, he starts to beat on Mysterio. When the two are separated, Zayn goes for a Helluva Kick but misses, leading to Rey rolling up Sami for the pin. An irate Sami goes after Rey, but the ref is able to get him out.
Andrade is the next competitor. Andrade pins Mysterio after a Hammerlock DDT. After the pin, Andrade rips Rey's mask off.
Ricochet is the final competitor. He comes in and save Mysterio before the bell. Ricochet pins Andrade after a 630.
After the win, Ricochet reflects on defeating Samoa Joe for the US Championship and how he made a believer out of the WWE Universe. And he'll do it again when he defeat AJ Styles at SummerSlam.
Backstage
Mike tells Maria that she can finally be proud of him. He says he won the title for both of them. Maria tells Mike to get on his back and calls a referee over so their unborn child will have one champion parent. Mike gets on the ground and Maria pins him to become the new 24/7 Champion. Maria leaves the room and rubs it in the other superstars face. She asks Titus (the first 24/7 Champion) what he would do to get it back. She struts backstage knowing no one will wrestle/pin her.
Moment of Bliss
Alexa Bliss praises Maria for becoming 24/7 Champion. Bliss restates what Steve Austin said at the end of RAW Reunion that they are all family. She does denounce Dolph Ziggler's actions against Shawn Michaels last week.
Bliss shows footage of Becky Lynch from earlier in the day attacking Fit Finley and Natalya. Finley was trying to teach Nattie how to counter the Dis-Arm-Her. Becky calls Fit a traitor and walks away. Alexa says that when she takes on Becky tonight, she'll take her down a few pegs.
Becky shows up on the titantron and tells Alexa that no one will help her when she fights her tonight. She also tells Nikki that she should have some celtic pride and stop being Alexa's coffee table.
The Usos vs The OC vs The Revival (c) - RAW Tag Team Championship Match
The OC win via pinfall after a Magic Killer
Gallows pinned Jimmy Uso.
Backstage
AJ Styles is at catering when The OC show up and the three begin celebrating.
Viking Raiders vs Local Enhancement Talent
Viking Raiders win via pinfall after the Viking Experience
Street Profits Backstage Segment
Ford and Dawkins do their recap. Ford says he can't believe that Maria is the new 24/7 Champion. Dawkins asks why and Ford explains that because she's pregnant no one is going to pin her. Dawkins starts to seemingly fawn over the pregnant Maria when Ford asks him if he's the baby's daddy. Dawkins tells him not to play like that when Seth Rollins shows up to chat it up with the Street Profits before his match with Dolph Ziggler.
Becky Lynch vs Alexa Bliss (with Nikki Cross)
During the match, Nikki hit Lynch while the referee was distracted. Commentary plays it up as learning from Alexa
Becky hits Alexa with a Bexploder and Bliss sells her ankle. The referee stops the match, giving the victory to Lynch.
After the bell, Nikki gets in Becky's face and challenges Becky to a match.
Becky Lynch vs Nikki Cross
Lynch wins via pinfall after a Manhandle Slam
After the bell, Alexa Bliss and Nikki Cross beat down Becky.
Natalya comes in causing Alexa and Nikki to leave the ring. Natalya puts the Sharpshooter on Becky until the referee pulls her off.
Nattie is approached backstage, and she says that it's not about making friends. It's about being professional. Natalya says that she wants to face Becky in a Submission match at SummerSlam but she won't issue the challenge, if Becky is "The Man" she'll accept it.
Backstage
Maria Kannellis is taking photos with the 24/7 Championship backstage when she runs into Braun Strowman. She starts to berate him about enjoying the process of making a baby but wouldn't be able to handle a pregnancy and just runs him down.
Strowman doesn't say anything but starts to scowl, which causes Maria to walk away.
Seth Rollins vs Dolph Ziggler
Dolph Ziggler comes out to Shawn Michaels' theme
Rollins is about to hit Ziggler with the Stomp when Brock Lesnar and Paul Heyman come out to ringside. The distraction allowed for Ziggler to grab Seth's ankles and Lesnar to clothesline Rollins.
Lesnar hits Seth with a German Suplex and tosses Rollins into the barricades.
Rollins wins via disqualification
Lesnar hits a German Suplex on the outside, then hits Seth with the F-5 into the post. He tosses Seth into the ring and then hits him with a chair. Lesnar then hits Seth with three F-5s on a propped up chair.
Backstage
Returning from commercial break, Seth is stretchered off with Becky Lynch and Roman Reigns looking on. Roman sees The OC and The Usos fighting when Samoa Joe attacks Reigns.
The ambulance Seth is in is stopped when Lesnar steps in front of it. Brock pulls Rollins out of the ambulance and tosses him from the stretcher. He F-5s him on the stretcher.
Samoa Joe Promo
Joe comes out to say that the Samoan Summit is cancelled because peace talks broke down. He calls out Roman so he can finish the fight started in the back.
The two start to fight. When Joe gets the upperhand on the outside, Roman throws the steel steps at Joe. Drew McIntyre comes out to attack Roman, and the two men fight into the crowd. When Roman and Drew get back to ringside, Joe and McIntyre beat down Reigns. Cedric Alexander comes out for the save, and after doing some damage on Drew, Joe plants him.
Drew and Cedric fight on the ramp, and McIntyre throws him into the LED screen. McIntyre and Joe are about to slam Roman through the announce table when The Usos come out to help Roman. The OC then come out too. Cedric climbs on top of the LED board and falls on everyone below.
Everyone eventually gets back to the ring and the faces start hitting their moves, ending with Roman hitting Joe with a Spear.