WWE Monday Night RAW Results: RAW Reunion Builds To SummerSlam
The July 22 episode of Monday Night RAW is a special one as former WWE superstars return for the RAW Reunion.
In the same vein as the SmackDown 1000 and RAW 25th Anniversary shows, former WWE superstars will appear in various segments throughout the evening. However, the promotion is also ramping up towards SummerSlam in August so there are still plenty of storylines that will begin, or continue, tonight as we head towards the "biggest party of the summer."
One confirmed segment for tonight is a Moment of Bliss. Alexa Bliss will have the RAW Women's Champion, Becky Lynch as a special guest ahead of the champ's SummerSlam match against Natalya.
Bliss has said that she plans to "expose Becky Lynch's past" on tonight's Moment of Bliss, but does The Man have something else planned for Alexa?
Seth Rollins lost his Universal Championship at Extreme Rules after Brock Lesnar cashed-in. Now Rollins is on the hunt for the title once again after winning last week's 10-man battle royal. As Seth gets ready for his rematch against Lesnar at SummerSlam, how will "The Architect" prepare for his match? Will he have a tune up match or two before his bout against Lesnar? There's plenty of superstars on RAW who would want a piece of Rollins.
In the U.S. Championship scene, champion AJ Styles and The Club are looking to continue dominating the midcard on Monday Night RAW by taking out former champion Ricochet. While Ricochet retaliated last week, the numbers game is against him. How will Ricochet attempt to get event with Styles and The Club tonight?
Here's everything that happened on the July 22 episode of Monday Night RAW.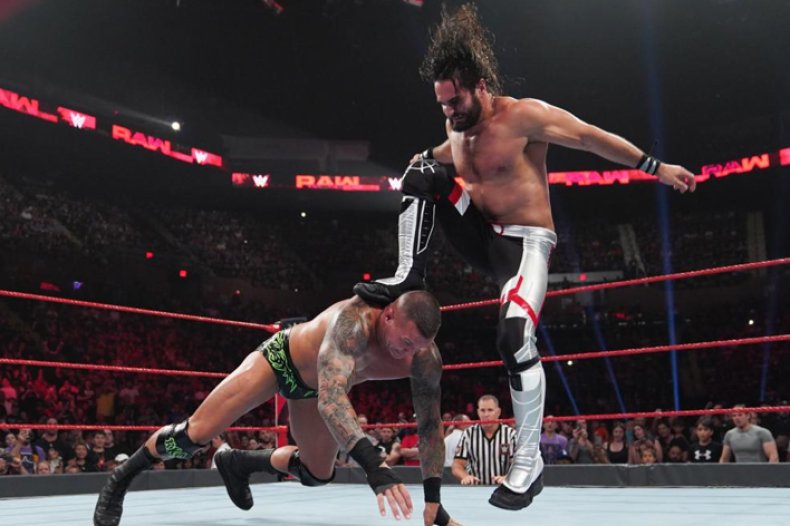 MONDAY NIGHT RAW RESULTS
Opening Segment
Night opens with John Cena coming out to the ring. He hypes up tonight with some of the returning superstars like Hogan, Flair, Austin and D-X. He says that he wouldn't have missed this show because this is his home. He acknowledges that he's not around as much as he used to be, but he's just as excited to be there like if it was his first day.
The Usos come out and say that they want Cena to drop some rhymes right now. Cena says no and is about to walk out of the ring. The Usos say the people came to see the doctor, and the man in the ring is John Cena the "man who left us for the movie biz."
Cena gets back in the ring and drops a line about the Usos and how they got arrested. But just as he's about to leave, The Usos stop him so he can see Rikishi. Cena is about to leave when Rikishi tells John to turn around and get back in the ring so they can dance.
Cena, The Usos and Rikishi were about to do their dance when The Revival interrupts them and they come out with D-Von Dudley.
Backstage
Jimmy Hart and Hulk Hogan are backstage. Hogan says he feels like he can take on anybody and for Hart to take his pick. RAW goes to commercial.
The Usos (with Rikishi) vs The Revival (with D-Von)
Booker T joins the commentary team
During the match, D-Von walks up to one of the Usos on the outside. Rikishi walks up to D-Von to stop what would be an attack. This leads to the finish, where Scott Dawson doesn't see a superkick coming.
The Usos win via pinfall after a Frog Splash
Backstage
Alicia Fox tells Dana Brooke how high her hat should be for SummerSlam. Kaitlyn is also there and says that she wants a hat. Fox gives Kaitlyn her hat and then Torrie Wilson and Santino Marella show up. Santino brings up the cobra and messes with the ladies when Drew McIntyre walks up to him. McIntyre shakes his head and scoffs "legends."
R-Truth and Carmella Interview
They play the video of Truth appearing on IGN Live and defending the 24/7 Championship at SDCC.
Renee Michelle says that Truth ruined her wedding, her marriage and Drake's life. Carmella and Renee get into an argument when Drake rolls up Truth. Drake and Renee run away with Truth and Carmella running after them.
Drew McIntyre vs Cedric Alexander
Drew and Cedric fight on the ramp before the bell. The segment ends with an official match when Drew hits Cedric with an Alabama Slam on the apron.
Backstage
Drake goes to the locker room to pack his things but sees that his bag is filled with worms. The Boogeyman appears and scares Drake. Maverick falls over the bag and hurts his back. Pat Patterson appears with a referee and pins Drake to win the 24/7 Championship.
The Viking Raiders vs Curt Hawkins and Zack Ryder
Christian joins the commentary team and Lillian Garcia is the special guest announcer.
Viking Raiders win via pinfall after the Viking Experience.
The most competitive match for the Viking Raiders on the main roster so far, but still relatively easy.
Backstage
In the back, Maria Kannellis finds Mike talking to Eve Torres and Eric Bischoff. Eve tells Maria that she can give her mom tips and Eric suggests that Maria and Mike go to SmackDown.
Maria ignores them and tells Mike that he was supposed to rub lotion on her stomach so she doesn't get stretchmarks. She says her modeling career will be the only way her family can be provided for because Mike won't be able to.
After Maria storms off, Ron Simmons appears and says "damn" in Jimmy Hart's megaphone.
The Club Backstage Segment
AJ Styles and The Club say that they don't care about the RAW Reunion and that they are the OC. They are the original and only Club.
AJ says that they should show Seth Rollins that they are the most dominant group in WWE.
Backstage
Pat Patterson is shown on the floor as Gerald Brisco pinned him to become new 24/7 Champion. He turns the corner to see Kelly Kelly who hugs him before giving him a knee and pinning Brisco to become the first female 24/7 Champion.
Kelly Kelly celebrates and runs off.
Samoe Joe Promo
Joe says that shows like the RAW Reunion are a plague to the WWE. He says that this is when you get addicted to nostalgia. He says that the fans could have seen Samoa Joe in the ring taking someone out, but instead they showed The Usos with Rikishi spitting rhymes with John Cena.
Roman Reigns interrupts Samoa Joe. Roman tells Joe if he has something to say about his family, then to say it.
Joe says he doesn't have anything to say, he already said it.
Roman says they are from the same island, so he knows what that means. Joe says he does, but before they do it Samoa Joe then goes for a cheap shot but Roman fights back. However, Joe rakes the eyes of Roman and tosses him around the outside of the ring.
Roman gets a Superman Punch off and gains the upperhand. Reigns gets in the ring and tells him to get in the ring for a match tonight. Joe says he isn't doing anything for the WWE Universe. Roman says that not all Samoan are cowards and apologizes for the crowd. Joe thinks it over and says that if Roman wants to fight then they'll do it tonight.
Roman Reigns vs Samoa Joe
Reigns wins via pinfall after a Spear
Miz TV with Seth Rollins
Miz shows a recap package of Brock Lesnar cashing-in on Seth.
Seth asks who wants to be Brock Lesnar? Seth says he doesn't.
Paul Heyman interrupts Seth from backstage. Heyman says that Seth cashed-in on Brock four years ago so he can't complain about what happened. Seth says yea it took Lesnar four years to repay him because he's a Rollins wannabe. Heyman comes out and Seth says that if Paul doesn't leave he'll Stomp his head through the ramp. He chases Heyman off and continues.
Seth says that Brock isn't a beast, a monster. He's a man and a man can lose and at SummerSlam Rollins will win. He says that he's going one-on-one with AJ Styles tonight to get ready for Brock Lesnar.
Backstage
Charlie Caruso is going to ask the legends who will win the match between Rollins and Lesnar.
Sami Zayn interrupts and says that legends aren't legends, they are just a product of their time and are wasting their time being there.
Rey Mysterio approaches Sami and says he needs to respect those who paved the way. Sami says he can pave the road through Rey if he wants.
Kurt Angle breaks them up and says that they should settle it in the ring.
Backstage
Kelly Kelly runs up to Candace Michelle backstage to show her the 24/7 Championship. They show Milena who is talking with Naomi. Milena says that she has been getting her licensce, showing a referee shirt underneath her jacket.
Milena hits and pins Kelly Kelly to become the next 24/7 Champion. Alundra Blayze shows up and taps Milena with a rear-naked choke. Milena calls the match and makes Blayze the new 24/7 Champion. Alundra says that if anyone has a problem with her, they need to tell it to her face.
Rey Mysterio vs Sami Zayn
Jonathan Coachman is on commentary
Sami Zayn rolls out of the ring to avoid a 619 and is about to walk up the ramp to quit the match but he's stopped by RVD, Sgt Slaughter, The Hurricane and Kurt Angle.
Rey Mysterio wins via pinfall after a Five Star Frog Splash
Backstage
A limo drives into the arena and Ric Flair comes out before RAW goes to commercial.
Street Profits Segment
Montez Ford finds Dawkins who is coughing and using eyedrops. Dawkins says he and RVD were chilling. Dawkins name drops a bunch of legends who he was hanging out with when The Godfather calls him and he walks away from Ford.
Alundra Blayze Promo
Alundra comes to the commentary table and says she said she wasn't going to be 24/7 Champion long and is about to throw it in the trash when Ted Dibiase shows up and buys it from her. Ted Dibiase is the new 24/7 Champion.
AJ Styles (with The Club) vs Seth Rollins
Jerry Lawler is on commentary
Seth is thrown to the outside when all three men are about to attack but are stopped when Triple H and Shawn Michaels come out to stop them.
Just as AJ is about to get the Stomp, The Club pull Seth's legs and beat him down.
Seth Rollins wins via DQ.
Triple H and Michaels get in the ring. The Club and AJ put up the two sweet and says they are the same. D-X gives the "suck it" and all six men get in a brawl with Seth, Trips and Michaels clearing the ring.
AJ and The Club get chairs and surround the ring. Road Dogg, X-Pac, Scott Hall and Kevin Nash come out. They chase The Club off.
Backstage
DiBiase walks backstage with the 24/7 Championship and gets into a limo. From the outside, all you hear are guys struggling and a three count. Drake Maverick comes out with the referee raising his hand and the 24/7 Championship in his hand. Renee comes out and
Mick Foley Promo
In the middle of his promo, the 24/7 wrestlers run past him. He says he'll get Drake before the night is up.
Mick says that RAW has been the home of so many moments for him but the night he won the WWE Championship is his favorite. He starts to show the clip when it's cut and the lights go in and out. Bray Wyatt appears as The Fiend and then performs the Mandible Claw on Foley. Wyatt stands over a passed out Foley as he laughs maniacally.
Moment of Bliss with Becky Lynch
Alexa says that with what they just saw the fans need a moment of bliss. She is joined by Nikki Cross
Bliss starts to ask about Becky's match with Natalya when Nattie shows up. Nattie says that if Becky has something to say, she can say it to her face.
Nattie brings up her and Becky's time in Japan. Becky says that she hasn't forgotten how Nattie trained Ronda Rousey to try and beat her, but at the end of the day, Becky won the title from Ronda and she will beat Natalya in her home country.
Nattie and Becky start to fight before they are broken up.
Backstage
Nattie is asked if she's surprised that things got personal with Becky. Natalya says that Becky made it personal and says that the women's evolution was built on the backs of women like Nattie and she'll remind her of that at SummerSlam.
Drake Maverick finds his wife in the limo and is about to get in when R-Truth tries to roll up Drake. Renee is holding Drake's hands to hold him up, when Carmella kicks their hands allowing Truth to get the pin and win the 24/7 Championship.
Truth jumps in the limo with Renee still in it and drives off. Drake is left with Carmella. He has lost not just his title, but his wife.
Braun Strowman vs Local Enhancement Talent
Before the match, Strowman says not to blink because this match isn't going to last long.
Strowman wins via pinfall.
Toast to RAW Segment
Ric Flair comes out first along with the other legends we saw throughout the night. Hulk Hogan comes out next and does his "hulkamaniac" spiel.
Stone Cold Steve Austin comes out next and walks to the ring. He opens up some beers and drinks them and starts talking about the legends.