Is Trisha Paytas Canceled? Controversial YouTuber Continues to Lose Subscribers
YouTuber Trisha Paytas has been steadily losing subscribers on her channel after a series of controversial incidents. Starting off her YouTube channel 12 years ago solely as a troll character, her content has evolved into something a bit more personal. She connects with her more than five million subscribers by filming vlogs and commentary in her apartment, sitting on the tiled floor of her kitchen. Paytas has no problem speaking about what's on her mind, which is one of the reasons she deals with controversy more than most YouTubers.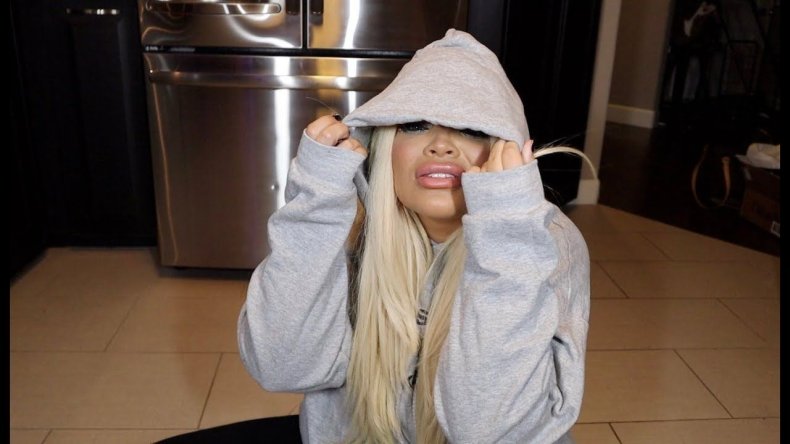 In February, Paytas broke up with her on-again off-again boyfriend Jason Nash, who is the oldest member of the Vlog Squad, a group of content creators led by the popular David Dobrik. Paytas was a common sight in Dobrik's vlogs, often as the butt of a joke about sex or promiscuity. After an incident in a vlog where Nash said he wanted to have a "threesome" with another female content creator, she broke off her relationship and posted a 20-minute video about the situation.
Paytas remained fairly quiet in the drama-sphere until May 8, when she got into a feud with Ethan and Hila Klien of h3h3 Productions. In the pairs' newest video "Instagram vs. Reality," Ethan takes jabs at Paytas' Instagram pictures and the amount of photoshop she uses on them. In response, Paytas sent dozens of tweets at the Kleins, writing that Hila should "divorce" her husband for the harm he's doing to "young girls."
As this controversy started to subside, a YouTuber named Nikocado Avocado posted a video on May 10 on his channel showing personal DMs between the two. In 2017, Nikocado Avocado did a violin cover of Paytas' song "Warriors," which she loved. The pair spoke over Twitter private message, with Nikocado agreeing to fly out from Colombia to Los Angeles to do a video collaboration where the pair would eat food on camera together, known as a Mukbang. When Nikocado got there, Paytas did not return any of his messages, forcing him to fly back without achieving his goal.
"This hurt a lot more, what I went through with Trisha. It hurt so much. And I've never talked about it," Nikocado said in his video.
In her first response video, Paytas denied ever agreeing to meet Nikocado. Speaking for more than 43-minutes, Paytas danced around the issue and claimed she barely knew who Nikocado was outside of his "Warriors" cover. "I was never going to collab. I don't know where that came from," Paytas said in the video. Daniel "Keemstar" Keem of YouTube new channel DramaAlert combed through Paytas' past live streams and found that she mentioned Nikocado and a potential collaboration multiple times.
In another response video, this one totaling 53-minutes, Paytas again goes on the defensive and says that she "did nothing wrong." "There's something a little off, he's becoming obsessive," Paytas said in her newest video. "I'm not in the wrong… if someone's not sorry then there's no reason to force an apology." Paytas claims in the video that she will not speak about this incident or Nikocado again. Comments and the like/dislike ratio have been disabled for the video, meaning that she expects some sort of backlash.
Since this recent controversy, Paytas' channel has lost between 5 and 10 thousand subscribers a day according to Social Blade. Compared to James Charles, a YouTuber who has lost more than three million subscribers over a recent controversy, Paytas seems like she is doing alright. Still, unlike Charles, Paytas has fueled her growth through drama and in a few weeks from now her fans could forget all about this.