Trixie Mattel Says Instagram Deleted Her Voting Post for 'Promoting Violence'
Drag queen Trixie Mattel has said that Instagram removed a post showing her voting at a ballot drop box because it was "promoting violence." Sharing the photos on Twitter, Mattel explained why the photos of her voting disappeared from Instagram.
Trixie Mattel fans were quick to come to her defense and offer up light-hearted reasons why the post could have been deemed to be promoting violence, with one fan saying: "I mean, [I don't know] girl, that much pink is pretty violent. And these pictures did beat me up and snatch my wig sooo." Another said: "that color promotes violence ma'am."
The original post was flagged with a message from Instagram that said: "For official resources and updates about the 2020 U.S. Election, visit the Voting Information Center."
However, the "promoting violence" flag may have nothing to do with the images themselves. In her original caption on Instagram, Mattel said: "VOTE because f*** those rich old straight white pigs."
The Instagram community guidelines may explain why Mattel's post was removed, as they say: "It's never OK to encourage violence or attack anyone based on their race, ethnicity, national origin, sex, gender, gender identity, sexual orientation, religious affiliation, disabilities, or diseases.
"When hate speech is being shared to challenge it or to raise awareness, we may allow it. In those instances, we ask that you express your intent clearly."
While it is seems unlikely that Mattel's post was genuinely "promoting violence," it appears that Instagram users may have reported the post for appearing to do so.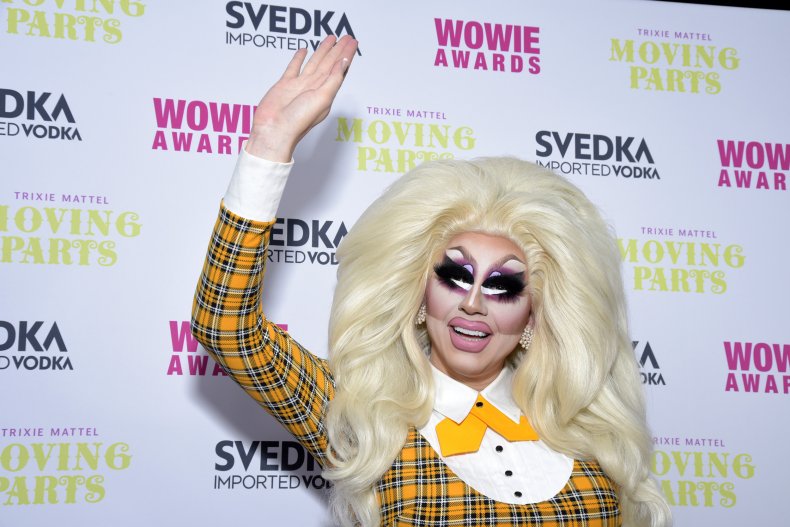 On Twitter, Mattel shared the same images with a much less colorful caption, simply saying: "VOTING she said hiiiii"
Mattel has been politically active during the 2020 election, by encouraging her social media followers to vote and expressing her support for Democratic presidential candidate Joe Biden and vice presidential candidate Kamala Harris.
Instagram has its own resource center dedicated to voting that tells its users that voting in person and voting by mail both have a long history of trustworthiness in the U.S. and that voter fraud is extremely rare across voting methods. The social media app also tells users that they have options to vote safely in the COVID-19 pandemic and that they should check their voter registration even if they had voted before.
Last month, celebrities briefly boycotted Instagram and Facebook in protest of the spread of hate speech and misinformation on the apps. Celebrities including Kim Kardashian West, Sacha Baron Cohen, Jennifer Lawrence, Katy Perry, and Leonardo DiCaprio joined in the day-long protest and froze their accounts.
When Kardashian West announced the boycott, Facebook's market value plunged, but later rebounded. Facebook declined to comment on the celebrity protest.
Newsweek has contacted Instagram and Trixie Mattel for comment.