Tropical Storm Lane Track May Threaten Hawaii, Projected to Strengthen Into Hurricane Lane By Friday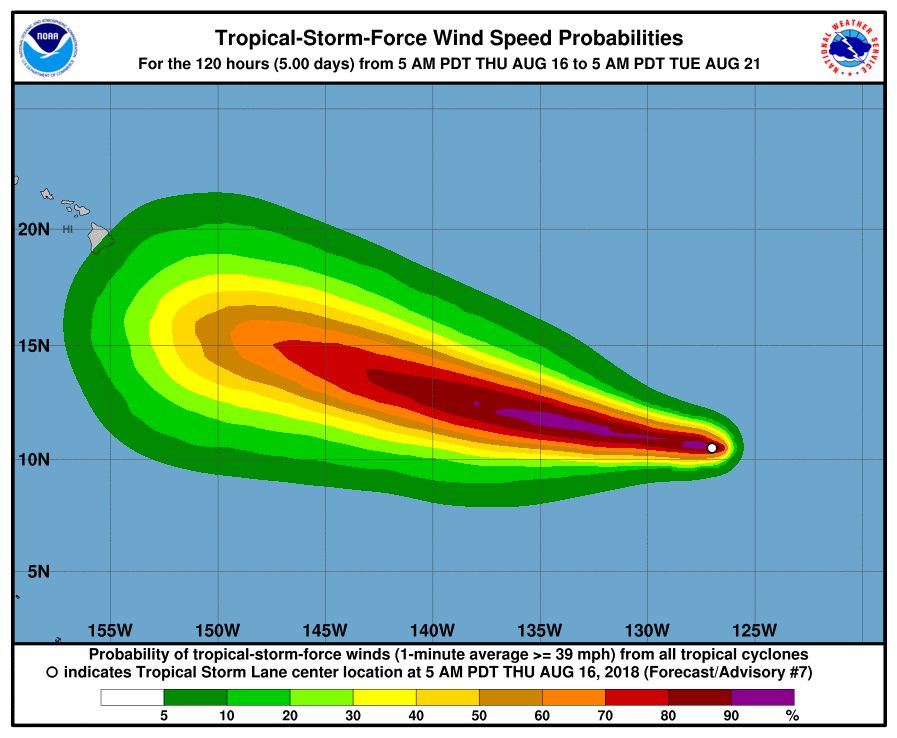 Another tropical storm is traveling toward Hawaii and could affect the islands next week.
Tropical storm Lane is expected to strengthen rapidly over the next few days and turn into a hurricane by Friday, but it is still unclear whether the storm will hit the islands. Currently, the weather system is about 1,900 miles east-southeast of Hilo, Hawaii, moving generally westward. By the weekend, the Weather Channel reported that the storm could intensify to a category 3 hurricane.
The storm formed far out in the East Pacific early Wednesday and is forecast to turn into a storm with 120 mile per hour winds when it enters the Central Pacific. Parts of the Hawaiian Islands could experience heavy rain, high surf and flooding next week. This new weather system comes just after Hurricane Hector threatened to strike Hawaii, but instead passed south last week with minimal impact.
Lane is expected to strengthen over the next three days as it travels west, Derek Wroe, lead forecaster with the National Weather Service in Honolulu, told the Honolulu Star-Advertiser.
"Warm ocean water is the fuel for hurricanes," Wroe said. "Expect intensification at least into the weekend. By midday Saturday, it should be approximately 1,000 miles southeast of the Big Island."
Last week, hurricane Hector sustained winds of 115 miles per hour as it passed hundreds of miles south of the Hawaiian islands.
While there was not a direct hit, the storm system was close enough to generate high surf to some shores. Surf heights near 20 feet were reported on the southeast side of the big island, according to the Honolulu Star-Advertiser.
Forecasters think that tropical storm Lane could also miss the islands, in the same way that Hector did last week, but it is still too early to tell.