Truck Drives Into Pedestrians in Central Stockholm, Several Dead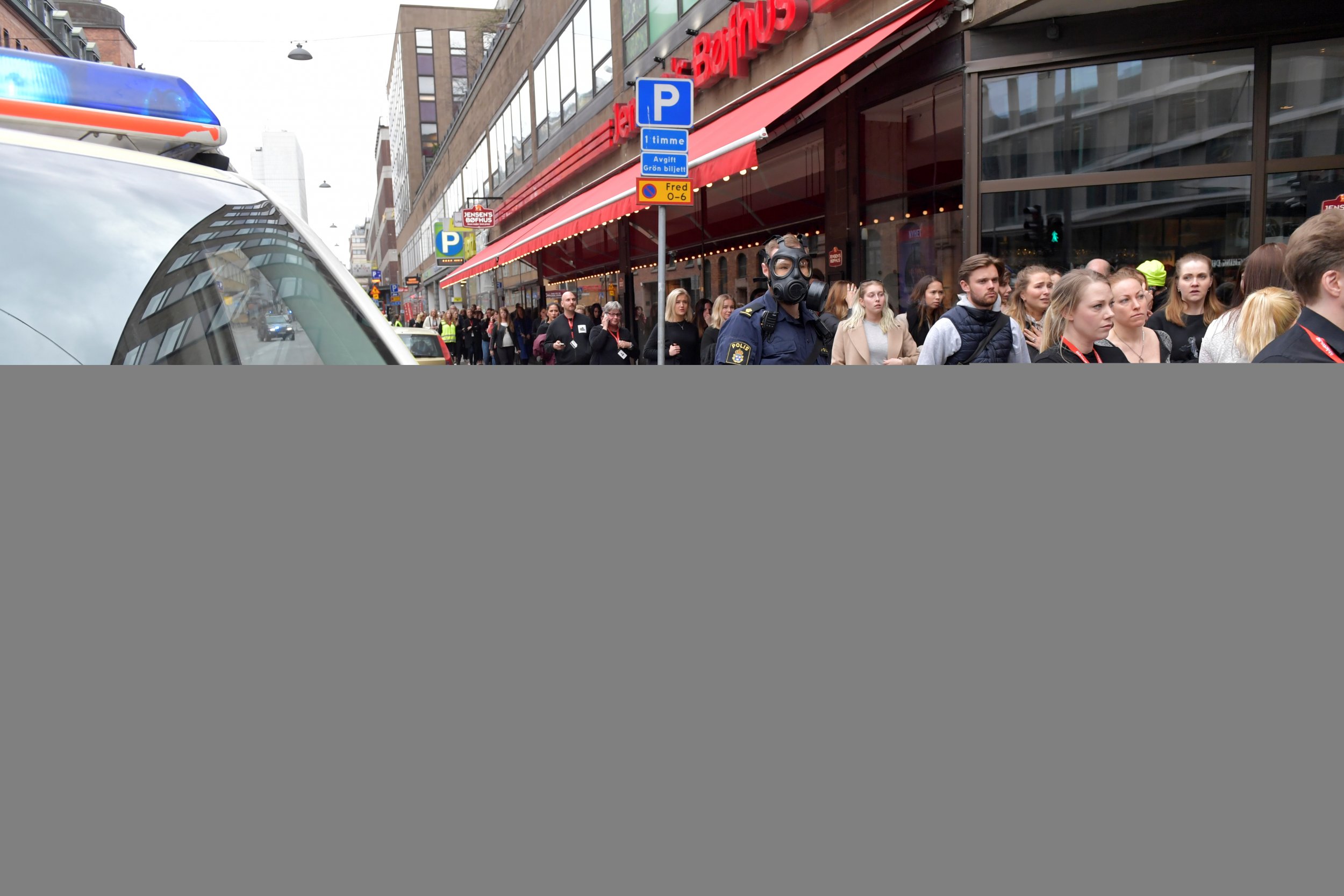 Updated | A truck has plowed into a storefront in a busy pedestrian area of Stockholm, Sweden, killing and injuring several people. The suspect is still at large.
Nina Odermalm Schei, spokesperson for the Swedish security service, known as the Sakherhetspolisen, confirmed to Newsweek that authorities are treating the incident as an attack. "We are calling it an attack, we are not thinking it was an accident," she says. "We are working very hard to find out who is behind this attack."
"Sweden has been attacked," Swedish prime minister Stefan Löfven said during a press conference. "This indicates that it is an act of terror." The Associated Press had earlier reported that Löfven said police had arrested a person, however, Swedish police said that the suspect who drove the truck ran into a crowd before they could catch him.
The AP also reported that three people were killed, based on local radio reports. However, at a press conference Sweden's National Police Commissioner, Dan Eliasson, said that the police could not confirm the number of dead or injured and noted that police around the country were on high alert. The police have released a picture of a man they want to question in connection with the attack.
"A truck ran over people on Drottninggatan near Klarabergsgatan," said a statement on the Stockholm police website referencing the streets where the vehicle drove into people. "There are reports of shots being fired but they have currently not been confirmed," it continued. "There are injured people but we have no further details on the extent of their injuries and the number of people injured."
People have been rushed from the area in ambulances, according to the the Swedish news agency TT. Another local broadcaster SVT said shots had been fired at the scene.
Photos of the scene show the truck broken through the front of the upscale Ahlens department store and smoke billowing from inside.
The Swedish news outlet Aftonbladet reported that the truck, which has a picture of a beer on its side, was stolen during a restaurant delivery earlier on Friday. As the driver was about to unload it, someone jumped inside and drove away, the company that owns the truck said.
Friday's incident is close to the site of an attack in December 2010 in which Taimour Abdulwahab, a Swedish citizen, detonated a suicide bomb that injured two people.
The attack comes just two weeks after a similar vehicle attack in London on March 22 that killed five people. On Friday, Scotland Yard confirmed that the fifth victim, a 31-year-old woman who was thrown from Westminster bridge, died in hospital Thursday.
Additional reporting by Jack Moore