Trucker Praised For Costing Company Over $1,500 Following 'Terrible' Rule
An employee's manager learned the hard way that the company's navigation system did not work well for truck drivers, as outlined in a Reddit post shared on the forum "Malicious Compliance."
Reddit user u/codeegan explained in their post that received more than 11,000 votes that a new manager insisted employees use a routing and tracking system that frequently sent them to take the "worst route of all routes possible," otherwise drivers would be written up.
After u/codeegan's coworker got written up, the Redditor used the system to make a dropoff. But, a familiar drive turned into a 125-minute trip and a new policy at work. Commenters voiced their opinions on the situation and the manager.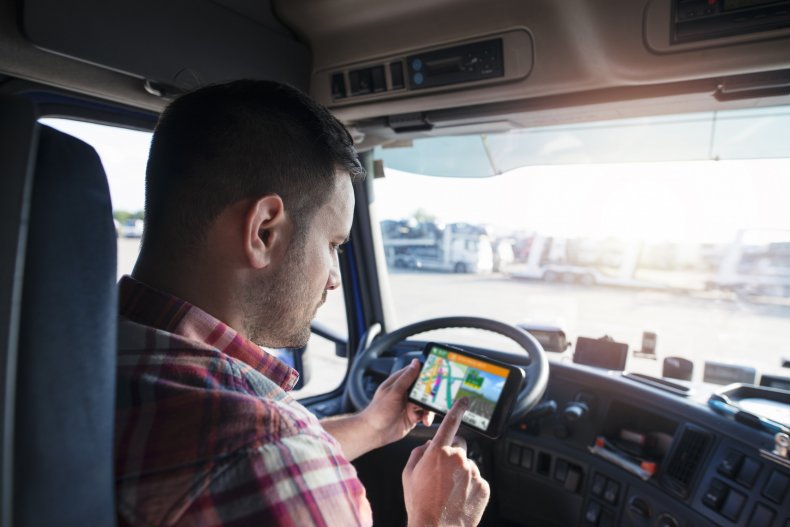 Julie Gurner, an executive performance coach, told the Society for Human Resource Management that leaders should admit their faults, otherwise it can have a negative impact on their employees.
One of the points illustrated in the article was for leaders to be aware of differing points of view.
"Instead of insisting on being right or blaming others for an error, leaders should consider alternative viewpoints and be willing to accept new information, even if it contradicts their current beliefs," the piece stated.
u/codeegan wrote in their post that truck drivers only used the system, which they dubbed "Terrible system," for the final leg of their drive.
"Problem is every time one doesn't follow a route an alert is sent to management," they wrote. "Early in using Terrible system managers found a way to turn off these alerts."
When a new manager began, u/codeegan wrote that he did not listen to truck drivers who told him the system provided the longest routes.
"After six months he states drivers will be written up if we continue not to follow Terrible system routing," the post read. "Drivers don't listen. A few days after this pronouncement a fellow driver is written up."
When u/codeegan embarked on their next delivery, they told their fellow truck drivers to use the system for a trip that typically took 45 minutes. However, by using the company's system, the truck driver took 125 minutes to get to their destination.
"I arrive and I'm timed out," they wrote. "Rejected and that costs [the] company $1,000 for the concrete not to mention 20 gallons of fuel I burned. Second and third truck are the same. Fourth truck was stopped at [a weigh station] and company had a $500 fine."
u/codeegan wrote that the customer was angry and called their manager who asked to speak with them.
"I tell him we followed the Terrible system routing as directed and he can check that easily," u/codeegan said. "Next day in break room is sign posted stating drivers are to use professional discretion in choosing best/most expeditious route to jobs."
u/codeegan wrote to Newsweek that the system has remained the same, but the drivers travel locally.
"Most of the time drivers use discretion on routes and only use navigation for the 'last mile' if they do not know the exact location," they wrote. "Many times we have information on where we are going on printed tickets as to that site's location."
The majority of the time, u/codeegan said, they do not use any type of navigational aid to get to where they need to go.
They noted that the incident took place in 2019, but no one heard anything negative about their actions that day. After they got on the phone with their manager, they thought he would be angry, which was why they told him they followed the system.
"I suspect he looked it up as we spoke," they wrote. "No manager's ever come to a job site."
Readers took to the comments section to back u/codeegan.
"Nothing like a huge hit to the pocketbook to get their attention," a Redditor wrote.
Another sarcastically wondered what employees would do without managers, to which a commenter wrote, "We'd manage without them somehow."
"Common sense means nothing until it bites someone in the coin-purse," a comment read. "Well done."
"Gotta love how manager couldn't even face your team to rectify their mistake," wrote a Redditor. "Poor leadership."
In the comments section, u/codeegan wrote that the manager did not take a direct hit from this particular incident, but he was fired along with four others due to a review of the company.
After reading the responses, u/codeegan said they felt the comments were constructive.
Other employees have shared their stories on the "Malicious Compliance" forum.
One wrote that when they learned they did not get paid overtime, they stopped working outside of their hours.
Another employee wrote that a customer frequently complained that his milkshake was not "milky" enough, and as a way to remedy the problem, they filled the blender with milk and just a tablespoon of ice cream.
One man wrote that a disgruntled customer tried to pay her bill using pennies, but she could not leave until all the coins were counted. The customer eventually relented and paid her bill with cash.