Truckers Push to Stop Vaccine Mandate, Fearing Worker Shortage Could Devastate Supply Chain
The American Trucking Associations (ATA) hit the Biden administration with a lawsuit on Tuesday in an attempt to block the president's effort to enforce a COVID-19 vaccine on companies employing more than 100 workers.
As the country faces an overwhelmed supply chain, the ATA has warned that forcing its truckers to get the shot could make things worse. The trade group recently predicted that the industry could lose as much as 37 percent of its workers should a mandate go into effect.
This suit was filed in conjunction with National Retail Federation and the National Federation of Independent Business to the U.S. Court of Appeals for the Fifth Circuit in New Orleans. Together, the three agencies contend that the Biden rule could inflict "irreparable harm" toward U.S. businesses.
While ATA President and CEO Chris Spear said his group encourages Americans to get vaccinated, he believes that the mandate on private businesses oversteps the president's authority and does not take into account the realities of the trucking industry.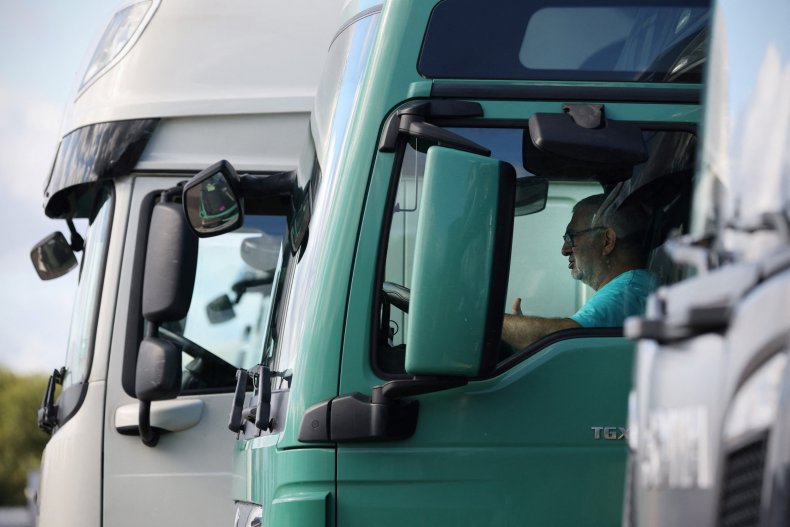 "We told the administration that this mandate, given the nature of our industry and makeup of our workforce, could have devastating impacts on the supply chain and the economy and they have, unfortunately, chosen to move forward despite those warnings," Spear said in a statement. "So we are now, regrettably, forced to seek to have this mandate overturned in court."
Last month, David Dollar of the Brookings Institution told Newsweek that America's worker shortage was largely to blame for the images of massive cargo ships crowding the nation's ports waiting to have their wares unloaded. He pointed to the shortage of truckers as being a primary reason for this phenomenon.
"Some people are taking responding to this whole pandemic experience by retiring early or rethinking their lives," he said. "We are an aging population where it's an effort to keep people in the labor force."
With an average age of almost 50, the trucking industry stands as one of America's older sectors. For those strongly against the vaccine, taking an early retirement may stand as the favorable option. However, the situation may not reach this point given the makeup of the Fifth Circuit Court.
The New Orleans court stands as one of the most conservative in the country. It had already moved to halt vaccine and testing requirements for larger businesses, pending a review on Saturday, saying challenges to the measure "give cause to believe there are grave statutory and constitutional issues with the mandate."