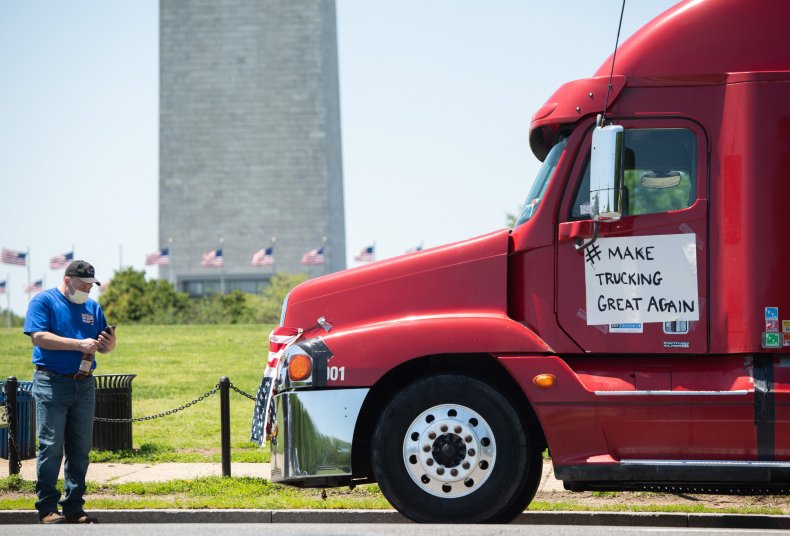 Truckers planning an American take on the Canadian "Freedom Convoy" say their upcoming demonstration will demand "justice" for deceased Capitol rioter Ashli Babbitt.
Although the Canadian demonstration was initially focused on protesting against a COVID-19 vaccine mandate for truckers, Pennsylvania trucking business owner and protest organizer Bob Bolus told PennLive.com that the U.S. convoy would focus on complaints against COVID-19 restrictions as well as grievances against undocumented immigrants, foreign oil imports, critical race theory and the Black Lives Matter movement.
Bolus also said that those participating in the convoy would be seeking "justice for Ashli." Babbitt was fatally shot inside the Capitol on January 6, 2021, as she attempted to climb through a window to gain access to the House of Representatives Speaker's Lobby, where some members of Congress remained gathered amid the riot.
Although Capitol Police Lieutenant Michael Byrd, who fired the fatal shots, was officially cleared of any wrongdoing after multiple investigations, Babbitt's death has become a rallying cry for many supporters of former President Donald Trump. The ex-president has insisted that the shooting was not justified while demanding "justice for Ashli and her family."
Bolus told Washington, D.C., Fox station WTTG on Sunday that the convoy would aim to "shut down" the Capitol Beltway, likening the exercise to "a giant boa constrictor" that would "choke" the Capitol. He told PennLive that the convoy would also be an opportunity to promote a return to the Trump era, while blasting the policies of President Joe Biden, who is set to deliver his first State of the Union address next week.
"Donald Trump had the country solid," said Bolus. "Industry was thriving and so was everything else. Americans for the first time were enjoying a convenient, exuberant economy. Now it's gone the other way. We can't pay our heating bills. We can't buy groceries. We can't do this and we can't do that. All our rights have been taken away. They patronize illegals. They patronize BLMs."
In addition to the Pennsylvania contingent, the so-called "People's Convoy" will include truckers from California, Arizona, New Mexico, Texas, Oklahoma, Missouri, Illinois, Indiana, Ohio and Maryland.
Bolus expects to depart Scranton with an unannounced number of truckers on Wednesday. Closer to home, Bolus indicated that he took offense to street names recently being changed to honor Biden, who was born in Scranton, demanding that local officials take back their tributes to the president.
"They are influencing or turning people against us…to support him when we know we have an incompetent," he said to PennLive. "Just because Biden was born here isn't reason we have to change the way we live and support an incompetent."
The Canadian demonstration was cleared by police last week after protesters blocked Ottawa for several weeks. U.S. authorities are preparing to block similar attempts at a D.C. shut down. The Capitol Police and the D.C. Homeland Security and Emergency Management Agency have both requested assistance from the National Guard, citing concerns about security and traffic control.
Newsweek reached out to the Capitol Police for comment.