Trump 'Accelerated Extremism Around the World': Former CIA Counterterrorism Official
Philip Mudd, a former CIA counterterrorism official, warned that President Donald Trump has "accelerated extremism around the world" during his tenure in the White House.
A mob of pro-Trump rioters, many of whom were white supremacists carrying Confederate flags or other racist symbols, stormed the U.S. Capitol on January 6. Five people died in the violence, which was aimed at overturning President-elect Joe Biden's victory in the Electoral College. The images were reminiscent of other demonstrations that have taken place since Trump took office, such as the 2017 Charlottesville, Virginia "United the Right Rally" attended by many Trump enthusiasts. That rally included a march of white supremacists chanting "Jews will not replace us."
"There is one characteristic here you need to focus on. You need a spark and that spark has to be charismatic. This country is United States of America, whether you go to Pakistan, whether you go to Iraq, whether you go to Syria, whether you go to Yemen, all places that shouldn't look at all like America, you had when I followed extremism there, a human being who was so charismatic they could spark a revolutionary movement in those countries" Mudd explained in a Monday morning interview with CNN.
Mudd argued that Trump is a similar charismatic leader in the U.S. and on the world stage.
"You have to think of the President, not just as the commander-in-chief obviously for another two days, but as a charismatic spark that is the kind—that has accelerated extremism around the world," the former CIA official said. After serving more than 15 years in CIA counterrorism roles throughout South Asian and the Middle East, Mudd was the deputy director of the National Counterterrorism Center from 2003 to 2005.
Newsweek reached out to the White House for comment.
The FBI has warned that domestic terrorism, and specifically right-wing extremism, has become one of the biggest threats to the U.S. in recent years.
"Within the domestic terrorism bucket, the category as a whole, racially motivated violent extremism is, I think, the biggest bucket within that larger group. And within the racially motivated violent extremist bucket, people subscribing to some kind of white supremacist-type ideology is certainly the biggest chunk of that," FBI Director Christopher Wray, who was appointed by Trump in 2017, told lawmakers last September at a hearing of the House Homeland Security Committee
Wray said that the U.S. had seen an uptick in domestic terrorism during 2020.
"Lately we've been having about 1,000 domestic terrorism cases each year. It is higher this year," the FBI director said. "I know we've had about 120 arrests for domestic terrorism this year."
The recent insurrection against the Capitol has resulted in Trump becoming the first president in U.S. history to be impeached twice. Ten Republicans voted alongside Democratic colleagues to impeach the president last Wednesday, with a number of other Republicans condemning his actions and calling for censure or another form of accountability.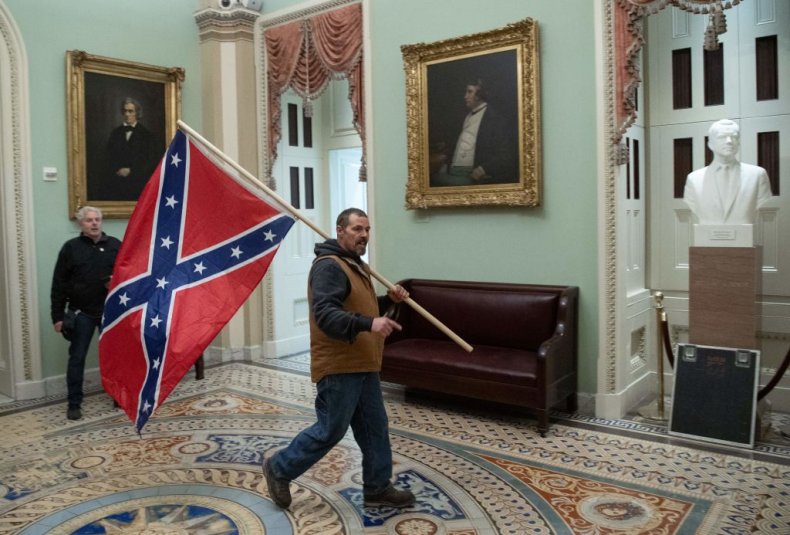 Trump urged his supporters to descend on Washington, D.C. on January 6 for "wild" demonstrations as Congress met to certify Biden's win. At a massive rally that morning, Trump told his supporters to "fight like hell" and to march to the Capitol. Hundreds of his supporters did as he said, breaching the Capitol with some threatening violence against Vice President Mike Pence and other lawmakers.
Many of the president's followers have been misled to believe that Biden won the election through widespread voter fraud. Trump and his loyalist supporters have pushed the baseless conspiracy theory through social media and traditional media outlets, but the allegation lacks evidence. More than 50 lawsuits filed by Trump and his supporters attempting to overturn Biden's victory have failed in state and federal courts. Judges appointed by the president and other Republicans have stated in their rulings that lawyers did not provide evidence to back the extraordinary claims.
Former Attorney General William Barr said in early December that there is "no evidence" of widespread fraud that would change the results. The Cybersecurity and Infrastructure Security Agency at the Department of Homeland Security, which was led by a Trump appointee, asserted in November that the election had been "the most secure in American history."