GOP Rep Nancy Mace Says 'More Republicans' Would've Backed Impeachment if It Wasn't Rushed
Representative Nancy Mace, a South Carolina Republican, on Sunday condemned President Donald Trump's actions ahead of the U.S. Capitol riot, saying that more GOP lawmakers would have joined with Democrats in impeaching the president if the process hadn't been so rushed.
Ten Republican representatives voted with House Democrats to impeach Trump last Wednesday, after the president helped incite his supporters to storm the Capitol on January 6 in an effort to overturn President-elect Joe Biden's Electoral College victory. At a demonstration ahead of the assault, Trump told his supporters to march to the legislative building and to "fight like hell" to keep him in office as Congress convened to certify Biden's win. Five people died in the violence that ensued.
Mace, a freshman Republican congresswoman, strongly criticized Trump after the riot but declined to back the impeachment effort. She explained her decision in further detail Sunday during an interview with NBC News' Meet the Press.
"No matter even if you think the president is guilty as hell, like many—many do believe there has to be due process, there has to be an investigation, we have to go even if it's through special committee work or judiciary. Those things needed to happen in order for impeachment really. I think you would have gotten more Republicans on board if it were done with due process and with an investigation," Mace said.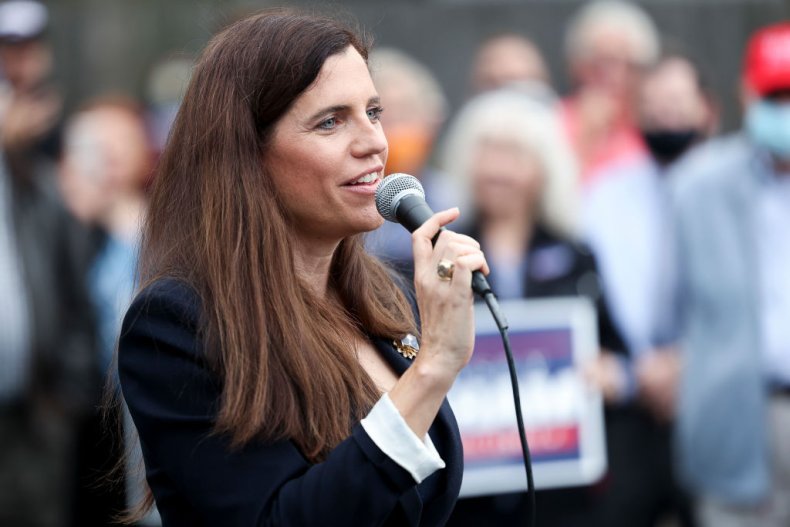 The GOP congresswoman said she believed Trump did need to be held "accountable" for his actions.
"We do need to find a way to hold the president accountable, and we're doing that in the press," Mace said. She explained that she wants "to be a new voice for the Republican Party," pointing out that she has spoken out "strongly against the president" and "against these Qanon conspiracy theorists that led us in a constitutional crisis."
"It's just wrong and we got to put a stop to it," the South Carolina Republican said.
Although most Republican House members did not back impeachment—with some vocally defending the president—GOP House Minority Leader Kevin McCarthy blamed Trump for the violence that had occurred a week prior to the vote.
"The president bears responsibility for Wednesday's attack on Congress by mob rioters," McCarthy, who represents California's 23rd District, said during a House debate ahead of the impeachment vote. "He should have immediately denounced the mob when he saw what was unfolding." But McCarthy voted against impeachment.
In the end, 10 Republicans voted alongside Democrats to make Trump the first president in U.S. history to be impeached twice. The highest-profile GOP lawmaker to back impeachment was Representative Liz Cheney of Wyoming, the chair of the House Republican Conference.
"There has never been a greater betrayal by a President of the United States of his office and his oath to the Constitution," Cheney, the No. 3-ranking House Republican, said in a Tuesday statement ahead of the Wednesday vote.
Fellow Republican Representatives John Katko of New York, Adam Kinzinger of Illinois, Anthony Gonzalez of Ohio, Fred Upton and Peter Meijer of Michigan, Jaime Herrera Beutler and Dan Newhouse of Washington state, and Tom Rice of South Carolina and David Valadao of California voted to impeach Trump as well.
Trump has convinced many of his supporters that Biden won the election through widespread voter fraud. There is no evidence to support these claims, but the president and his supporters have pushed baseless conspiracy theories since November. The allegations have been thoroughly litigated, with more than 50 lawsuits brought by Trump and his supporters failing in state and federal courts. Judges appointed by Trump and other Republicans have noted in their rulings that lawyers did not present evidence to support the extraordinary claims.
The Cybersecurity and Infrastructure Security Agency at the Department of Homeland Security, which was led by a Trump appointee, said in a November statement that "there is no evidence that any voting system deleted or lost votes, changed votes, or was in any way compromised." Former Attorney General William Barr, who was widely seen as one of Trump's most loyal and effective Cabinet members, said at the beginning of December that there is "no evidence" of voter fraud that would change the election's outcome.
Newsweek reached out to the White House and the Trump campaign for comment but did not immediately receive a response.