The U.S. Department of Agriculture plans to make direct payments to farmers and ranchers to support the U.S. food supply chain amid the COVID-19 pandemic, according to a new report.
Reuters reported on Tuesday that the USDA could spend up to $15.5 billion on its plan to shore up the country's food supply and prevent any shortages arising as Americans stock up on products to avoid leaving their homes regularly.
Three sources told the news outlet that the emergency fund would use part of the $23.5 billion included in the coronavirus relief package passed by Congress last month, as well as USDA funds.
It was also reported that the agriculture plan could be unveiled this week, along with further plans in the event of Congress passing additional emergency coronavirus funding.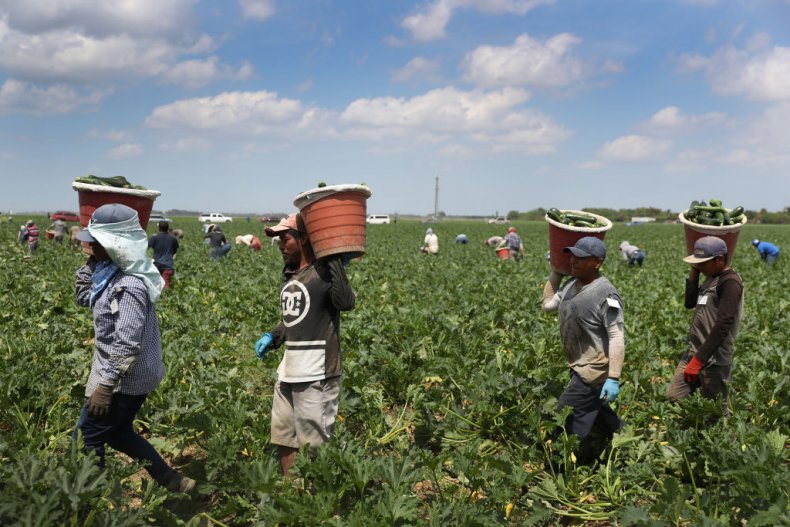 On April 10, Agriculture Secretary Sonny Perdue tweeted: "At the direction of Donald Trump, USDA is using all financial resources we have been given to develop a program that will include direct payments to farmers & ranchers hurt by COVID-19 and other procurement methods to help solidify the supply chain from producers to consumers."
In an statement, an USDA spokesperson said: "Details on the program will be forthcoming shortly."
Newsweek has contacted the American Farm Bureau Federation for comment and will update this article with any response.
The American Farm Bureau Federation's Congressional Relations Director Andrew Walmsley told Reuters that the funding was "not enough to cover all of agriculture," but instead a "first step" to backing U.S. food supplies.
"We expect there will be more aid going forward," he told the news outlet.
Reuters reported that $9.5 billion of the $15.5 billion plan would come from funds allocated to agriculture spending in the $2 trillion coronavirus relief package.
The further $6 billion of funding will reportedly be tapped from the USDA's Commodity Credit Corporation.
Details of the planned $15.5 billion relief package for the agriculture sector have come after reports of food going to waste as the novel coronavirus impacted supply chains and farmworkers.
The New York Times reported on Saturday that gallons of milk were being dumped, while huge amounts of vegetables and eggs were also going to waste.
Farmworkers and their representatives also told CNN that they were working in unsafe conditions—lacking protective and sanitary equipment that would prevent them from getting ill as well as knock-on disruptions to the U.S. food supply chain.
Farmers could be among those to receive payments in new proposals for small business relief funding put forward in Congress last week.
Senator Chuck Schumer (D-NY) and House Speaker Nancy Pelosi (D-CA) have demanded that $125 billion of a proposed $250 billion in additional coronavirus relief for small businesses be provided to farmers, as well as family-, women-, minority- and veteran-owned businesses.