Trump Administration Diverted $10 Million From FEMA To Fund ICE's Immigration Crackdown: Document
The Trump administration diverted nearly $10 million from the Federal Emergency Management Agency's budget to support the Immigration and Customs Enforcement agency's crackdown on undocumented immigrants, a document revealed on Tuesday shows.
Senator Jeff Merkley (D-Ore.) released the document on Tuesday, asserting that the Trump administration took $9,755,303 away from FEMA's budget earlier this summer, just ahead of hurricane season, to support ICE's Enforcement and Removal Operations [ERO] team, which is responsible for overseeing the arrests and deportations of immigrants determined to be in the U.S. illegally.
"As Hurricane Florence bears down, I discovered today that the Trump administration is taking money away from FEMA so that they can pay to put more asylum seekers in detention," Merkley said in a tweet. "This is a scandal," he added.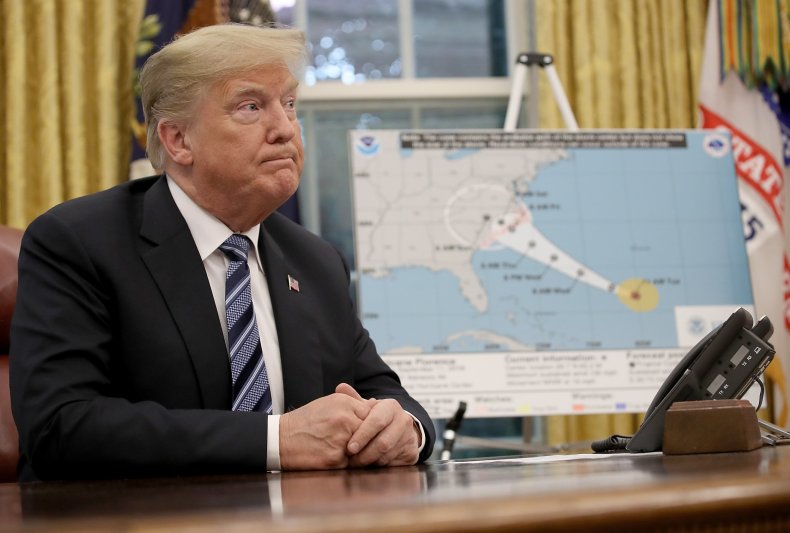 "Unbelievable? Yes. Reprehensible? Yes. But it's true,"Merkley said, sharing the document on Twitter. "Look for yourself."
The document, titled "Department of Homeland Security FY 2018 transfer and reprogramming notifications," appears to show nearly $10 million being transferred from FEMA "operations and support" and transferred to ICE's ERO unit.
Department of Homeland Security spokesperson Tyler Q. Houlton confirmed on Tuesday that money was transferred from FEMA to ICE. However, he denied accusations that the money was diverted from disaster relief funds.
"Under no circumstances was any disaster relief funding transferred from FEMA to immigration enforcement efforts," Houlton said in a Twitter statement.
"The money in question—transferred to ICE from FEMA's routine operating expenses—could not have been used for hurricane response due to appropriation limitations," he said.
Read more: Trump Condemned Over 'Blatantly False' Claim Hurricane Maria Response Was 'Incredible Success
The DHS spokesperson said "DHS/FEMA stand fiscally and operationally ready to support current and future response and recovery needs."
Without naming Merkley, Houlton hit out at the senator's claim, calling it a "sorry attempt to push a false agenda at a time when the administration is focused on assisting millions on the East Coast facing a catastrophic disaster."
Indeed, Hurricane Florence continues to barrel towards the Southeast coast as a dangerous Category 4 storm.
More than 1 million people are under mandatory evacuations in the Carolinas and Virginia, with millions more set to be affected by the storm if it continues its current trajectory.