'He's Rattled': Trump Administration Has Not Planned for Recession as President Worries About Re-election Chances—Report
Amid talk of a U.S. recession, President Donald Trump is reportedly paranoid that economists are biasing their data against him to prevent his re-election in 2020, a downturn that his administration has not prepared for.
According to The Washington Post, Trump is anxious and has been calling business leaders from his New Jersey golf course this week for their views as administration officials try to soothe him with optimistic briefings about the underlying strength of America's economy.
"He's rattled," one unnamed Republican with knowledge of the conversations told the Post. "He thinks that all the people that do this economic forecasting are a bunch of establishment weenies—elites who don't know anything about the real economy and they're against Trump."
The president fears what a recession would mean for his chances of re-election in 2020. He has made much out of the period of strong economic growth, taking credit for it all. But he has also sought to shift responsibility for any negatives away from himself—or simply deny they exist.
Jerome Powell, chair of the Federal Reserve, is a regular target of Trump's ire when any numbers in the economy go south, particularly the stock markets. He was angered last December by the rate hike, which he thought would take the wind out of growth's sails.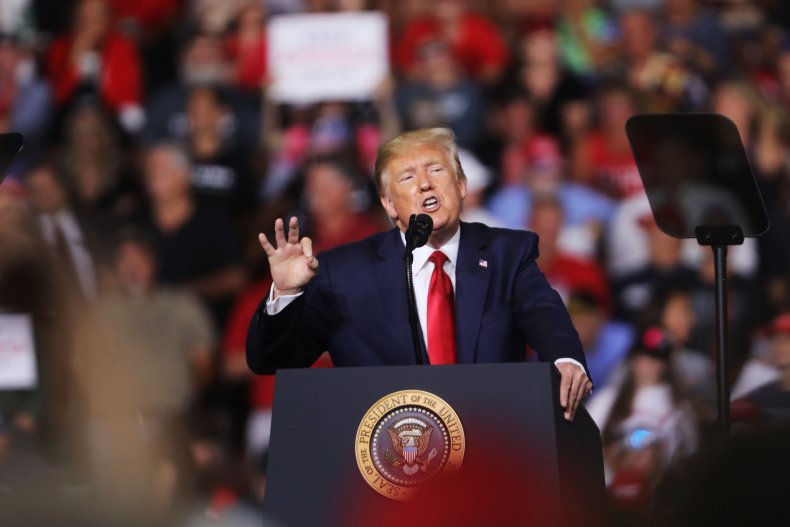 The Fed reverse that hike with a rate cut at the end of July. Now, Trump is accusing the Fed of moving too slowly, and continually making the wrong calls on rates. Investors are increasingly concerned about Trump's undermining of the Fed's independence.
"Our problem is with the Fed. Raised too much & too fast. Now too slow to cut. Spread is way too much as other countries say THANK YOU to clueless Jay Powell and the Federal Reserve," Trump tweeted yesterday.
"We should easily be reaping big Rewards & Gains, but the Fed is holding us back. We will Win!"
One of the major concerns not just for the domestic economy, but also the world's, is the U.S.-China trade war initiated by Trump, which appears to be escalating. Trump is set to introduce a further 10 percent tariff on $300 billion of Chinese goods in September. China plans to retaliate but talks between Washington and Beijing on a new trade deal are ongoing.
This week, Trump claimed that his tariffs on China are having virtually no impact on American consumers. However, academic research suggests that the entire burden of the tariffs is borne by American consumers and businesses.
The Post reported that Trump officials are not planning for a recession because they do not believe it will happen and fear that by making preparations they will lend credence to the idea that a downturn is coming.
The graphic below, provided by Statista, illustrates historic lengths of U.S. economy expansion cycles.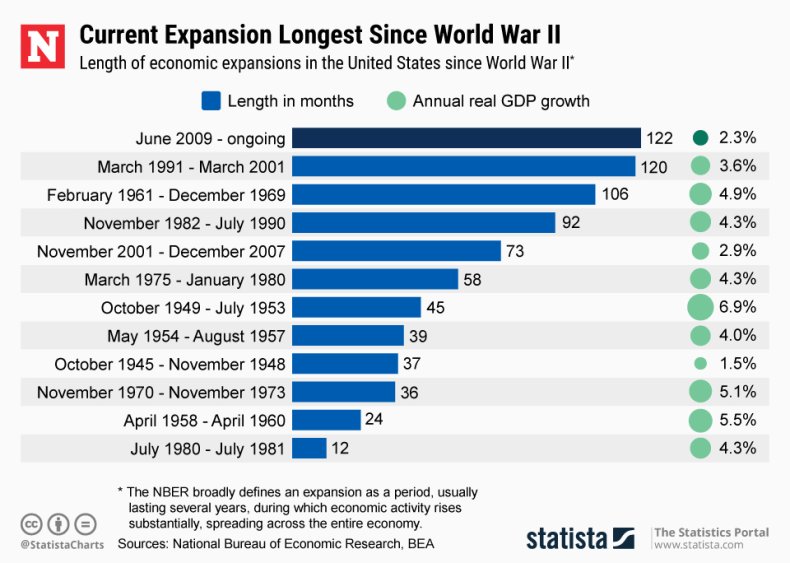 This article was updated to include an infographic.