Donald Trump Claimed the Impact of His China Tariffs on American Consumers Is 'Virtually None'—But That's Not What the Evidence Says
President Donald Trump claimed that the impact of his China tariffs on American consumers is "virtually none" so far, despite emerging economic evidence suggesting they are suffering a substantial loss because of the trade war.
While it is still early for researchers to obtain a conclusive and comprehensive picture of just how Trump's ongoing, escalating tariffs are impacting the economy, the data available so far is not good for the protectionist administration.
"Our research finds that the 2018 U.S. tariffs have so far been entirely paid by U.S. consumers and firms, as confirmed by three separate independent studies," Stephen J. Redding, Harold T. Shapiro '64 Professor in Economics at Princeton University, told Newsweek.
Since taking office in January 2017, Trump has opened up trade conflicts with China, Canada, Mexico, and the European Union, among others. He is using tariffs to force trading partners to the negotiating table, claiming America is ripped off on the current terms of various deals.
Talks continue with China, with which Trump began the biggest trade conflict. The president is optimistic about reaching an agreeable trade deal between Washington and Beijing, but in the meantime, the tariff war is escalating, and both sides are hurting as a result.
A new 10 percent tariff on around $300 billion of Chinese goods is due to begin on September 1. But on Tuesday, the Trump administration announced that some of the goods on that list will not face the tariff until December 15, while others would be removed entirely.
Those goods removed were done so because of "health, safety, national security and other factors," the U.S. Trade Representative said in a release.
Goods with a delayed tariff were consumer products, including "cell phones, laptop computers, video game consoles, certain toys, computer monitors, and certain items of footwear and clothing."
As Trump prepared to board Air Force One at Morristown, New Jersey, on Tuesday, a reporter asked him if there would be further tariff delays beyond December to those products.
"No, we're doing this for Christmas season, just in case some of the tariffs would have an impact on U.S. customers, which, so far, they've had virtually none," the president said.
"The only impact has been that we've collected almost $60 billion from China—compliments of China. But just in case they might have an impact on people, what we've done is we've delayed it so that they won't be relevant for the Christmas shopping season."
Princeton's Redding co-authored a paper published in March 2019 with David Weinstein, the Carl S. Shoup Professor of Japanese Economy at Columbia University, and Mary Amiti, Assistant Vice President at the Federal Reserve Bank of New York. The paper was for the National Bureau of Economic Research.
Their paper looked at the statistical evidence of what impacts Trump's 10-50 percent tariffs on $283 billion of foreign imports implemented last year were having on the American economy. Their conclusion regarding consumers was different to Trump's.
The academics estimated that consumers and importers suffered a $3 billion loss each month because of added tax costs and a further $1.4 billion in what are called "deadweight losses," meaning a lower income as a result of buying imports that were cheaper before the trade war.
"We find that the U.S. tariffs were almost completely passed through into U.S. domestic prices, so that the entire incidence of the tariffs fell on domestic consumers and importers up to now, with no impact so far on the prices received by foreign exporters," the paper concluded.
"We also find that U.S. producers responded to reduced import competition by raising their prices."
And it wasn't only China paying the tariffs. In fact, the researchers found that American consumers and firms transferred $12.3 billion to the government in the form of tariff revenue because domestic importers were paying the same prices as before to foreign exporters.
"Given that we find no effect of the tariffs on the prices received by foreign exporters, this tariff revenue is a pure transfer from domestic consumers to the government," the paper said.
A similar paper on Trump's trade war was also published in March.
This one was co-authored by Pablo D. Fajgelbaum, Associate Professor of Economics at UCLA; Pinelopi Goldberg, Elihu Professor of Economics at Yale and Chief Economist at the World Bank; Patrick J. Kennedy, a grad student at UC Berkeley; and Amit K. Khandelwal, the Jerome A. Chazen Professor of Global Business at Columbia GSB.
They found the annual consumer and producer losses from higher import costs as a consequence of Trump's trade wars to be $68.8 billion in 2018 alone.
Moreover, their paper estimated that even in the scenario where buyers of foreign goods pivoted to American producers and the government, there was still a net negative impact of $7.8 billion annually to the economy.
"Our analysis suggests that the tariff burden has fallen on U.S consumers and firms that purchase imports, as opposed to the foreign firms that export these goods to the U.S," Khandelwal told Newsweek.
Since those papers, Trump has hiked the 10 percent tariff to 25 percent on the $200 billion of Chinese goods targeted last year. Now, on September 1, around $300 billion more Chinese goods will face a 10 percent tariff, with more coming later down the line.
His new "USMCA" trade deal with Canada and Mexico, negotiated after scrapping the pre-existing NAFTA agreement, remains unratified by the U.S. Congress. Talks between the U.S. and EU are ongoing and tariffs between the two remain in place.
Back in January, the New York Fed highlighted data on the impacts that tariffs were having on washing machine prices, to illustrate how consumers are being hit.
A year beforehand, the Trump administration slapped a tariff of between 20-50 percent on washing machine imports. Over the following year, washing machine prices spiked by around 2.3 percent on average.
The evidence to date suggests things will only get worse for American consumers as Trump's trade wars rumble on, unresolved, particularly the one with China.
The White House did not respond immediately to Newsweek's request for comment.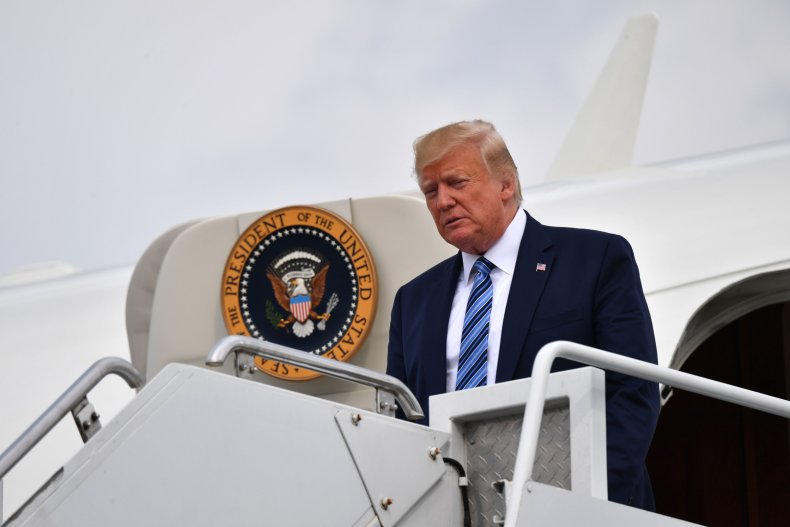 This article was updated with a comment by Amit K. Khandelwal.